Monday Minute
No. 107 | May 31, 2010

"Summer" Movies
If I were Bruce Springsteen (fat chance), I might have written a song called "21 Screens (and Nothin' On)."  I remember the days when two or four screens at a theater were a lot, but today anything with less than half a dozen seems quaint.  Somehow, though, a trip to the local megaplex fails to provide the one thing you'd expect to find:  choice.
The problem is not the number of screens, it's the movies that are playing.  Twenty-one screens don't mean a thing when the only films showing are Prince of Persia, Robin Hood, Iron Man 2, Shrek Forever After, and Sex and the City 2.  One obvious problem is the lack of anything new—sequels and remakes rule—but there is something else missing in that list:  a film for grownups.
I met a friend last week and we planned to go to a movie.  After seeing what was playing, we very nearly skipped the movie altogether.  There was nothing we wanted to see.  I realize we're not the target demographic of Hollywood, but we do have broad tastes.  We like lots of different movies.  It really shouldn't be so hard.
It wasn't always this way, but somewhere around the time of Jaws in 1975, Hollywood discovered the "summer movie."  Like a monster that can't be contained, the summer movie has grown bigger and badder, not to mention, more brainless and uninspired.  Which wouldn't be so frightening except that Hollywood doesn't make anything but summer movies anymore—the summer movie is the monster that devoured Hollywood, at least that part of the place that used to do anything else.
Summer movies are not just for summer, of course.  Even Memorial Day weekend, the unofficial start of summer, arrives well after the start of the summer movie season.  You see, there are now just two seasons in Hollywood:  Oscar season, which lasts from Thanksgiving till New Year's, and summer, which covers everything else.
Since the movie biz doesn't wait for the summer solstice, neither will I.  This week, a theme about "summer" movies, films that tie in with the season in one way or another, though not ones that fit the usual Hollywood definition of the term.
Our theme this week
"Summer" movies (not soon playing at a theater near you)
The Endless Summer (1966)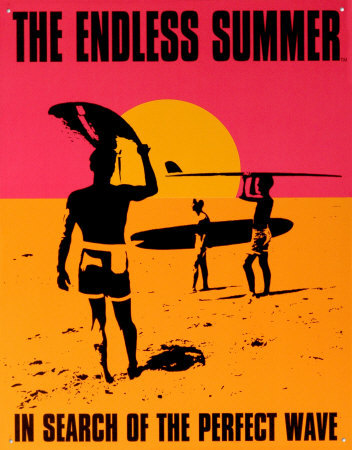 Have surfboard, will travel.
The Endless Summer is a simple but great film title.  It captures the essence of an idea with undeniable appeal, especially to the young, whose sense of time has not been contaminated by the so-called realities of adult life.  (It would be a great title for the Beach Boys too; Endless Summer is the name of the band's very successful greatest hits collection of 1974.)
The Endless Summer is a surf film.  It's not just about a sport, though—it's about a way of life.  No scenes with Gidget, thank you, this one's a documentary—one part home movie, one part travelogue.  Two surfers from Southern California, Mike Hynson and Robert August, travel the world, hopping from one surf spot to another, catching waves in Malibu, Senegal, Ghana, South Africa, Australia, New Zealand, Tahiti, and Hawaii.  Bruce Brown shot the surfers on his 16-mm camera and provides the narration.  Highlights of their trip include Cape St. Francis, near the southern tip of Africa, and the Pipeline, on the north coast of Oahu.  The film works best when it sticks to the surf scenes, and like nothing before, it captures the sheer beauty of the action and the courage and thrill of the sport.
Brown had started making micro-budget surf films in the '50s, and for The Endless Summer he raised $50,000, still a tiny sum but ten times what he'd ever had before.  Brown never had backing from any Hollywood film distributors.  In New York, he opened the film at a theater he rented himself.  It ran for a year.  The Endless Summer went on to make $20 million, spawned a couple of sequels, and helped define a subgenre of film that's still popular today.
---
The Endless Summer
 (1966)
Bruce Brown, director
---
"Theme to
The Endless Summer
"
The Sandals
---
Quote of Note
Willard
:  Are you crazy?  Goddamn it, don't you think its a little risky for some R and R?
Kilgore
:  If I say it's safe to surf this beach, Captain, then its safe to surf this beach!  I mean, I'm not afraid to surf this place.  I'll surf this whole fucking place!
—Captain Benjamin Willard (Martin Sheen), Lieutenant Colonel Bill Kilgore (Robert Duvall),
Apocalypse Now
(1979)
…58…59…60.