Monday Minute
No. 182 | October 18, 2010

The Crystal Ball
If you're a regular reader of MAD About Movies (and why wouldn't you be?), you may have noticed that all of the movies featured on the front page up to now have one thing in common—each is a movie that has already been released.  I find it much easier to write about movies that I've actually seen.
This week, however, something completely different.  Each day will feature a movie I haven't yet seen—and very likely, neither have you.  All are movies that are not yet out, at least not here in the U.S., but are due to be released between now and the end of the year.
Recent weeks here have featured stars and movies from the not-so-recent past, so I'm rather interested in looking ahead for a change.  The good news about doing this now is that end-of-year movies are typically among the year's best.  I won't be surprised if a few of this week's films make top ten lists and get recognition at awards time.  (You may note that Jackass 3D has already opened, so it does not qualify).
Since I've yet to see the films, I'll have less to say than usual (which is not only convenient but necessary, since I have some other pressing commitments).  Also, despite the title above, don't expect any predictions about who'll take home statuettes on Oscar night.  Yes, there are sites that will do that for you, but making predictions, or even caring who wins, before seeing the films seems to miss the point entirely of what movies are all about in the first place.
Without further ado, let's get to it:  a few of the movies I look forward to seeing later this year.
Our theme this week
Movies that open later in 2010
Fair Game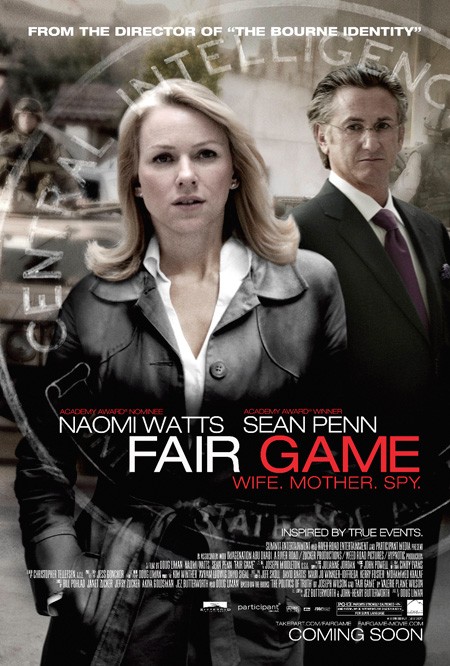 The story
The Valerie Plame story:  U.S. ambassador Joseph Wilson authored a controversial 2003 op-ed questioning evidence that the Bush administration had used to justify the invasion of Iraq; the White House retaliated by leaking his wife Valerie Plame's status as a CIA agent to a friendly source in the media.  It was a case of dirty tricks in high places, based on Plame's memoir of the same name.
Reasons to see it
The Plame affair is one of the most important stories of the past decade, a window into the corrupt powers that led our nation into war under false pretenses and worked to destroy anyone who dared to get in their way.  In this case, the media didn't bring down the presidency when wrongdoing was discovered, but did the administration's dirty work when needed.  Director Doug Liman (The Bourne Identity) has shown he knows how to make a good thriller (though slick effects aren't needed here as much as telling the story straight).   Naomi Watts is almost always worth watching.  Sean Penn costars.
Release date (U.S.)
November 5 (limited)
---
Fair Game (2010)
Doug Liman, director
Valerie Plame (book,
Fair Game
); Joseph Wilson (book,
The Politics of Truth
); Jez Butterworth, John-Henry Butterworth (screenplay); writers
Doug Liman, director of photography
Naomi Watts, Sean Penn, Sam Shepard
Trailer
---
Quote of note

"The Watergate burglary, it was a Haldeman operation.  The whole business was run by Haldeman, the money, everything.  It won't be easy getting at him.  He was insulated somehow, you'll have to find out how.  Mitchell started doing covert stuff before anyone else.  The list of the people involved is longer than anyone can imagine.  It involves the entire U.S. intelligence community—FBI, CIA, Justice.  It's incredible.  The cover-up had little to do with the Watergate foul-up.  It was mainly to protect the covert operations.  It leads everywhere.  Get out your notebook.  There's more.  I think your lives are in danger."
—Deep Throat (Hal Holbrook),
All the President's Men
(1976)
…58…59…60.