Friday Minute
No. 176 | October 8, 2010

Roaring Nineties

Our theme this week
Actors in their 90s, still going strong
Featured this week (theme introduction)
Monday         —   Eli Wallach
Tuesday         —   Norman Lloyd
Wednesday    —   Michael Gough
Thursday        —   Ernest Borgnine
Kirk Douglas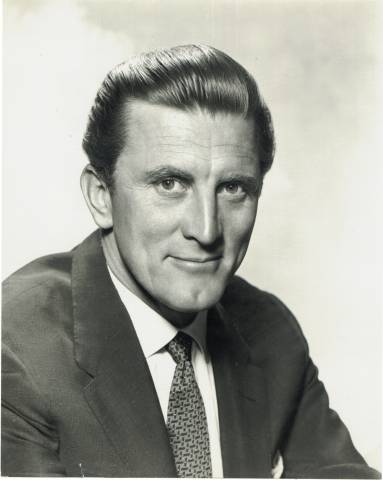 Born December 9, 1916
Age 93
I'm a Kirk Douglas fan.  I haven' t always been one, but the more films of his I got to see, the more I admired him.  I'm particularly fond of Ace in the Hole and Paths of Glory—two great movies, and two great performances—but he's done strong work in many films and whenever I catch him in one that I hadn't seen before, I'm more often than not impressed.
Douglas got his start in Amsterdam, upstate New York, the son of Russian immigrants and the brother of six sisters.  The family was poor, and Douglas (then known as Izzy Demsky) was determined to escape town and make it as an actor.  He studied drama and found work on Broadway, but before he had gotten far in his career, the war intervened.  He served in the Navy.
He got a break after the war, with the help of his friend Lauren Bacall, getting a part in The Strange Love of Martha Ivers, in 1946.  For his big screen debut he played a drunken district attorney married to the richest lady in town (Barbara Stanwyck).  Douglas was effective, though the role of a weakling was unlike the strong, intense characters he came to be known for later in his career.
He continued acting in film noir.  In Out of the Past (1947), a classic of the genre starring Robert Mitchum, Douglas was impressive as gangster Whit Sterling.  In I Walk Alone (1948) he played a crooked nightclub owner; it was the first of seven movies he made with Burt Lancaster. 
Douglas earned raves and an Oscar nomination as boxer Midge Kelly in Champion (1949).  Next he played a jazz musician in the haunting Young Man with a Horn (1950), a man in love with his trumpet and married to Lauren Bacall.  Ace in the Hole (1951), directed by Billy Wilder, featured Douglas as a cynical, down-on-his-luck reporter, in a story revealing the dark heart of the news business.  Vincente Minelli's The Bad and the Beautiful (1952) was another dark tale, this time set in Hollywood, with Douglas in an Oscar-nominated role as a film producer.
For the next decade and more, Douglas was among the top stars in the business, working often, and often in memorable performances.  He played Vincent Van Gogh in Lust for Life (1956),  Doc Holliday in Gunfight at the O.K. Corral (1957), and the uncorrupted French Colonel Dax in Stanley Kubrick's brilliant Paths of Glory (1957).
Spartacus (1960) was one of the better sword-and-sandals epics, with Douglas in the title role, and as executive producer, the man who brought in director Stanley Kubrick after filming had already started.  Lonely Are the Brave (1962), about a modern-day cowboy, was the actor's favorite role.  In John Frankenheimer's Seven Days in May (1964), Douglas played a patriotic Marine colonel while military plotters are on the verge of a virtual coup.
Douglas directed a couple of movies in the '70s (Scalawag and Posse), and continued to act for several more decades, mostly on the big screen and sometimes on television.  He teamed with Lancaster one last time in 1986 for Tough Guys.  In 2003, he played the patriarch of a dysfunctional clan in the aptly titled It Runs in the Family, a film notable for uniting three generations of Douglases onscreen:  Kirk, his first wife, Diana, their son Michael and grandson Cameron.
Since the 1980s, Douglas has turned more of his attention to writing.  He's published several memoirs, including The Ragman's Son, in 1988, which recounted his difficult life growing up in poverty.  He has also written a few novels, and nowadays he shares his thoughts about the world on his blog.
Douglas suffered a stroke in 1996, but like the determined heroes he played on film, he persevered, regaining the ability to speak, and he used the experience to reevaluate his life.  He has married twice, and he and his current wife, Anne, have been together 56 years.
The Motion Picture Academy awarded Douglas with an Honorary Oscar in 1996, for his "50 years as a creative and moral force in the motion picture community."  Among the many accolades he has received, the American Film Institute presented him with its Life Achievement Award in 1991.  (His son Michael won the AFI honor in 2009.)
Postscript
The five featured performers of the week aren't the only nonagenarian actors still around.  Not to say that this completes the list, but here are a few others (some better known for TV work): Harry Morgan (High Noon, M*A*S*H), age 95; Frank Cady (Ace in the Hole, Green Acres), 95; Herbert Lom ("Pink Panther" films), 93; Allan Arbus (M*A*S*H), 92; Efrem Zimbalist Jr. (77 Sunset Strip), 91; Al Molinaro (Happy Days), 91; Alan Young (Mister Ed), 90.  And as I mentioned Monday, Mickey Rooney celebrated his 90th in September.
By now you may be saying, Hey, aren't there some other living Oscar winners who are over 90?
Indeed, there are.  Three, in fact.  We'll get to them—and other women actors—next week.
---
Ace in the Hole (1951)
Billy Wilder, director
Walter Newman, Lesser Samuels, Billy Wilder, writers
Charles B. Lang Jr., director of photography
Kirk Douglas as Charles Tatum
---
Paths of Glory (1957)
Stanley Kubrick, director
Humphrey Cobb (novel); Stanley Kubrick, Calder Willingham, Jim Thompson (screenplay); writers
Georg Krause, cinematographer
Kirk Douglas as Colonel Dax
 MAD About Movies on Paths of Glory here.
---
Spartacus (1960)
Stanley Kubrick, director
Howard Fast (novel), Dalton Trumbo (screenplay); writers
Russell Metty, director of photography
Kirk Douglas as Spartacus
---
Lonely Are the Brave (1962)
Kirk Douglas:  "Of all the movies I have made, this is my favorite."
---
Quote of note

"Don't worry.  Some of the best movies are made by people working together who hate each other's guts."
—Jonathan Shields (Kirk Douglas),
The Bad and the Beautiful
(1952)
…58…59…60.