Monday Minute
No. 87 | May 3, 2010

Plight of the Piano Player
Time was, a piano player in a movie was there for the obvious purpose, to offer a song or some background music.  Think Sam (Dooley Wilson) in Casablanca, or Cricket (Hoagy Carmichael) in To Have and Have Not, or the pianists in countless musicals.  The piano player was the steady hand, the confidant, the untroubled eye of the storm.
Those were the days.  The poor piano players haven't had it so good of late.  Victims of misfortune, living lives of desperation, fleeing malevolent forces, at times their own worst enemy.  It's enough to make you wonder if they should have taken up the tuba instead.  Or maybe accounting.
Whatever the case, the lives of piano players, miseries and all, have made for some especially good movies.
Our theme this week
Piano-playing protagonists in peril
Shoot the Piano Player (Tirez sur le Pianiste) (1960)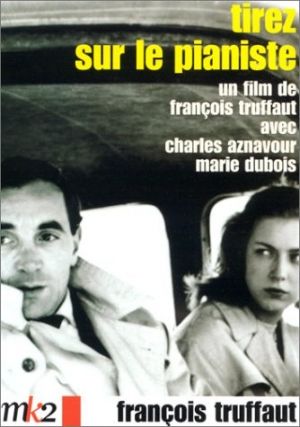 Perhaps piano players can point a finger at François Truffaut.  A year after his debut feature, The 400 Blows, when the New Wave was still new, Truffaut directed this provocatively titled film.  Piano players have been under the gun ever since.
Shoot the Piano Player stars French singing legend Charles Aznavour (an unlikely pick for Entertainer of the Century in a Time poll), in the role of Edouard Saroyan, a once-famous classical pianist who's taken a new identity as Charlie while playing in dive bars.  He's trying to escape the past—his wife had killed herself—though he's hopelessly in its clutches.  A waitress who loves him knows his secret, and trouble ensues when his brother needs help, on the run from gangsters.
The film is part comedy, part thriller, and though perhaps not his greatest creation, essential Truffaut.  The director plays with movie conventions like a kid with a toy.  Not content to follow the old traditions, he bends the rules of genre, mixes up the time sequence, adds in some novel techniques, and pays homage to some favorites, while in the process helping to invent a new form of moviemaking.
---
Shoot the Piano Player

François Truffaut, director
Trailer
---
Shoot the Piano Player

Charles Aznavour, Marie Dubois
---
Shoot the Piano Player

Charles Aznavour et al.
---
Quote of Note
Anita Smythe:
  Now, darling, remember what the psychoanalyst said.  The child mind must never be coerced.  One must use reason and persuasion.  Now, dear, practice your piano and Mama will buy you something nice.
Joy Smythe
:  What?
Anita Smythe
:  Anything you like.  What do you especially want?
Joy Smythe
:  A machine gun!
—Anita Smythe (Dorothy Christy), Joy Smythe (Jane Withers), 
Bright Eyes
(1934)
…58…59…60.