Monday Minute
No. 67 | April 5, 2010

Play Ball
I love baseball.  I love movies.  I wish I could say that I love baseball movies.  I do like some of them, and some I like quite a bit, but among all the films set on the baseball diamond there are too few gems.
Part of the problem is the sports movie syndrome.  Sports are intrinsically dramatic events themselves, but what provides much of the drama in sports—the uncertainty of the outcome—doesn't translate easily to film.  Movies are scripted, the outcome predetermined, and win or lose, even the tensest drama on the field becomes melodrama onscreen.
Sports movies, generally, know better, and the best of them are about the athletes, not the games.  That goes for baseball films too, yet other sports seem to have had better luck  in Hollywood.  Take boxing.  Raging Bull is a superb film about the life of a fighter, on the short list of great movies, period, since the 1970s.  Other films about boxers include Million Dollar Baby, Rocky, and Ali.  I can't think of a single baseball film that I'd rank on par with any of them.
Baseball fans—and movie fans—are still waiting to see the first great movie about the sport.  You could put it this way:  if there were a Hall of Fame for movies (and there should be), not one inductee would be a film about baseball.  The flaws of baseball films tend to be the common flaws you see in many genre pictures:  they're manipulative, or too predictable, or not as funny as they try to be, or too full of themselves when they want to be serious.
It's been said the sports movies are chick flicks for guys.  That may seem harsh, but it's not a bad description.  Many of them make assumptions about gender roles, with a certain point of view.  Themes are often about manhood (with much to say about fatherhood and country), and whether the films rely on cliché and stereotype or take a fresh approach is up to who made the film.
Better baseball movies shouldn't be difficult for filmmakers willing to explore bigger themes.  My advice, not that anyone asked:  Play it straight.  Don't go for the easy genre effects.  A few real-life stories that could make good movies:  Jackie Robinson (he starred in his own movie once, long ago, and Spike Lee has been itching to do a new film about him), Curt Flood (an historic figure with an untold story), and Moe Berg (one fascinating character).
My plea for better baseball movies doesn't mean good ones haven't been done before.  They have, and they'll be featured in our theme this week.  Each day I'll look at a different category:  documentaries, biopics, kids at play, comedies, and dramas. 
Let's play ball.
Our theme this week
Baseball movies
Today's feature
Baseball Documentaries
Best in class
The Life and Times of Hank Greenberg (1998)
Honorable mention
Baseball (1994)— Ken Burns's PBS series is a monumental achievement, a history of the game from its origins to the late-20th century.  It may touch all the bases, so to speak, but at 19 hours, it's not exactly light on it feet.  Every fan should see it at least once; that might be asking enough.
When It Was a Game (1991) — A nostalgic but effective look back at baseball from the 1930s to '50s, based on home movies from players and fans of the era.  An HBO film, followed by sequels in 1992 and 2000.
The Life and Times of Hank Greenberg
Class tells.  It sticks out all over Mr. Greenberg.
— Jackie Robinson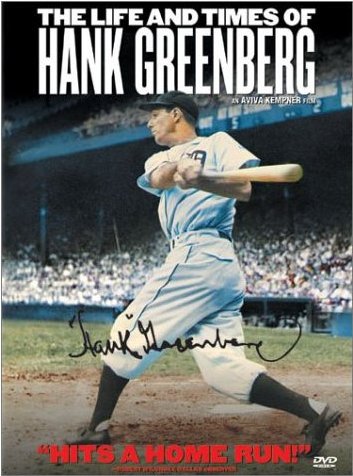 This is the most honest film of the week.  It's a simple story told straight:  the life of an old ballplayer, one of the greats, and an unvarnished view of the times in which he lived.  The story unfolds in standard documentary fashion, film clips from times past mixed with interviews from more recent years.  You get to see Hank Greenberg in his glory days and hear from him as an older man looking back.
The default slant for most baseball movies is that earlier times were better times, but you don't get that here.  The 1930s and '40s were tough times, especially for a Jew, and especially in Detroit, where Greenberg played most of his career.  It was home to Henry Ford and Father Coughlin, who both contributed to the local anti-Semitic fervor.  Fans and ballplayers, including some of Greenberg's teammates, treated the slugger with endless abuse, yet he reacted with class, letting his bat do most of the talking.
Hank Greenberg was one of the great home run hitters of the game.  His total of 331 lifetime homers would have been been closer to 500 had he not lost 4 1/2 years while serving in the military.  He hit 58 in 1938, equaling the record for right-hand hitters and just two short of the overall mark of Babe Ruth.  (Perhaps he'd have had a better shot at the record if he wasn't Jewish, according to this recent article.)  Greenberg was twice MVP of the league, twice a World Series champ, and the first player to make $100,000 for a season.  He was a hero to the Tigers fans of Detroit and to Jews everywhere.  He comes across as a likable figure who did his job and enjoyed the game.  His Hall of Fame baseball career was a memorable accomplishment, but because Greenberg broke down barriers for Jews, his legacy to the game and to society is even greater.  The Life and Times of Hank Greenberg documents that legacy.  It's a good, solid film, and a well-done remembrance of a life worth remembering.
---
The Life and Times of Hank Greenberg

Aviva Kempner, director
A quick clip (too quick); more below.
---
The Life and Times of Hank Greenberg

Click here to watch the trailer
 (1:00) in a new window.
Click below or
here
 to watch the film (1:35:02) in a new window.
---
Quote of Note

"They're more than nasty little snobs, Kathy.  Call them that, and you can dismiss them too easily.  They're persistent traitors to everything this country stands for, and you have to fight them, not just for the Jews, but for everything this country stands for."
—Philip Green (Gregory Peck),
Gentleman's Agreement
(1947)
…58…59…60.