Monday Minute
No. 42 | March 1, 2010

Oscar Déjà Vu
Someday if you sit down to watch the film Notorious you may begin to wonder what the Notorious B.I.G. is doing in a Cary Grant film.  How could that be?  Well, Notorious is not one film, but two.  There's Notorious (1946) and Notorious (2009).  The year tells you which one, and that popular convention of appending dates to movie titles is often needed because of Hollywood's notorious habit of reusing old titles for new movies.
No one knows exactly why there's such a shortage of film titles.  Rumor has it one studio blew the budget on craft services and had to fire its title department.  Other reports are that more titles used to exist, but the cleaning crew took them when no one was looking.
In any case, the reuse of old titles leads to the age-old question:  Haven't we seen this picture before?
Often the answer is "Yes!"  But we're a forgetful bunch, apparently, which may explain why there are at least eight film versions of Little Women (and it's been a few years since the last—I'm afraid we're due for another).
The Motion Picture Academy may have had a few memory lapses itself.  As far as I know, there's only been one Best Picture prize awarded to a film called Gone With the Wind, and though I haven't checked, I'm betting no previous Best Picture nominee used the title Precious: Based on the Novel "Push" by Sapphire.  But on a few occasions the Academy has nominated a film for Best Picture after a film with the same title had been nominated before.  It's happened five times, in fact.
Noting that, I hope, doesn't encourage anyone to name their next movie Casablanca or On the Waterfront or Midnight Cowboy.  No, that would not be a good idea.  Just as baseball retired Jackie Robinson's number 42, Hollywood should find a way to retire a few old movie titles.  If you do want to make the next Citizen Kane, don't say I didn't warn you.
Our theme this week
Film titles with two Oscar nominations for Best Picture
Moulin Rouge (1952, 2001)

Moulin Rouge (1952)
Director:  John Huston
Writers:  John Huston, Anthony Veiller; screenplay based on Pierre La Mure's biographical novel Moulin Rouge
Cast:  José Ferrer (Henri de Toulouse-Lautrec, and his father, the comte), Colette Marchand (Marie Charlet), Suzanne Flon (Myriamme Hayam), Zsa Zsa Gabor (Jane Avril)
Oscar Summary:  7 nominations, including Picture, Director, Actor (Ferrer), Supporting Actress (Marchand); 2 wins (Art Direction, Costume Design)

Moulin Rouge! (2001)
Director:  Baz Luhrmann
Writers:  Baz Luhrmann, Craig Pearce
Cast:  Nicole Kidman (Satine), Ewan McGregor (Christian), John Leguizamo (Henri de Toulouse-Lautrec), Jim Broadbent (Harold Zidler), Richard Roxburgh (Duke of Monroth)
Oscar Summary:  8 nominations, including Picture, Actress (Kidman); 2 wins (Art Direction, Costume Design)

The essentials
There have been at least five films titled Moulin Rouge.  These two are the most recent and the best known.  (One of the earlier releases, by the way, had introduced the song "Boulevard of Broken Dreams," in 1934.)  Both films are set in fin de siècle Paris.  Both feature the character of French painter Henri de Toulouse-Lautrec.  There the similarity ends.  The two films are far more different than that exclamation mark in the title.
At first glance the John Huston film may seem a bit old-fashioned.  The cinematography, in garish Technicolor, and the very loud costume design, may be overdone.  The accents are an odd mix for a group of Parisians—French, American, and Zsa Zsa Gabor's, which is neither.  The acting is not always a style we're used to seeing today.  But the story is not only solid, it's an effective and moving portrait of the great Post-Impressionist painter Henri de Toulouse-Lautrec.  The film is essentially a character study, and the character may have had a special resonance for Huston.  The director was a painter in his own right ("Nothing has played a more important role in my life," he wrote in his autobiography), and he, like Toulouse-Lautrec, struggled to overcome the long shadow of a prominent father.  We meet the French painter at the Moulin Rouge, the famous cabaret of Pigalle, where he sketches the scene while downing a bottle of cognac.  Amid a world of vibrant color, the artist alone is darkly clad, as he is most of the movie.  A childhood accident has left him deformed (the film skirts the issue of inbreeding, believed to have been in part responsible for his health problems) and destined to be unloved.  His life changes when he meets the streetwalker Marie.  He falls in love, but their relationship is difficult.  When she leaves, he is unable to work.  He searches for her, and what he eventually finds is success as an artist, a deepening sense of self-pity, and in the end, when it is too late, the admiration of his father.  Unlike his contemporary Van Gogh, Toulouse-Lautrec was "a painter of the street and of the gutter."  Respect, like love, was not something that came easily for the artist during his brief life.  José Ferrer portrays Toulouse-Lautrece with a combination of purpose and restraint, and his scenes with Colette Marchand as the fiery Marie are among the film's best.
The Toulouse-Lautrec of the 2001 film, in a hammy performance by John Leguizamo, bears no relation to the José Ferrer character, nor the real-life artist.  In Baz Luhrmann's vision, he's the leader of a musical troupe, and mostly on the periphery.  The main action is the secretive love affair between the courtesan Satine and the bohemian Christian, mixed with intrigue provided by the duke, the wealthy investor who's paying for the show that's to open at the Moulin Rouge, not to mention the services of Satine.  The show is called "Spectacular Spectacular," and it's filled with plenty of singing singing and dancing dancing.  The musical features songs from Elton John, Madonna, the Police, Nirvana, and a dozen or two other artists you don't normally associate with a story set in 1899.  Luhrmann has said the inspiration for the film was a Bollywood musical.  That may explain why it goes in a thousand different directions at once.  It was certainly a novel production, a hyperactive music video stretched out to two hours.  At the time it was well-received by critics and popular with audiences.  I doubt, though, the sheer impatience of the storytelling will wear well, and the more hip and current of the two Moulin Rouge films is the one more likely to look dated, someday if not already.  Huston's film may be a bit stodgy but it's still very watchable, and worth a look.
Beyond the final credits
In the John Huston film, there's a scene with Toulouse-Lautrec painting Colette.  He says she can have the painting if she likes it.  She's curious:
Colette:  How much is a painting worth?
Henri:  It all depends who painted it.
Colette:  One of yours, I mean.
Henri:  It's too soon to tell.
Colette:  How do you mean, too soon?
Henri:  Some 300 years ago a man named Da Vinci painted a portrait of a woman.  Her husband did not like it and would not pay for it.  Today it hangs in the Louvre and no one man in the world has enough money to buy it.
Colette:  What good does that do—what's his name, the painter?
Henri:  He had his reward.  He painted it.
Lucky for Henri that he had his reward.  But a century later, so did somebody else.  The painter's "La Blanchisseuse" sold in 2005 for $22.4 million.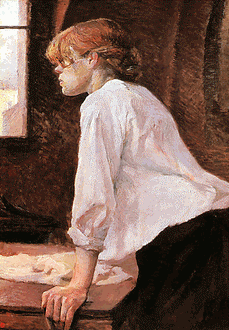 La Blanchisseuse (The Laundress), 1884
Henri de Toulouse-Lautrec
---
Moulin Rouge
(1952)
John Huston, director
Trailer
---
Moulin Rouge
(2001)
Baz Luhrmann, director
"Tango de Roxanne"
---
All You Need to Know About Toulouse-Lautrec
---
Quote of Note
Kitty March
: Well, I was going to do this myself, but, uh…[
handing her toenail polish to Christopher Cross
]…Paint me, Chris!  They'll be masterpieces.
—Kitty March (Joan Bennett), Christopher Cross (Edward G. Robinson),
Scarlet Street
 (1945)
…58…59…60.