Monday Minute
No. 77 | April 19, 2010

O Preston, Where Art Thou?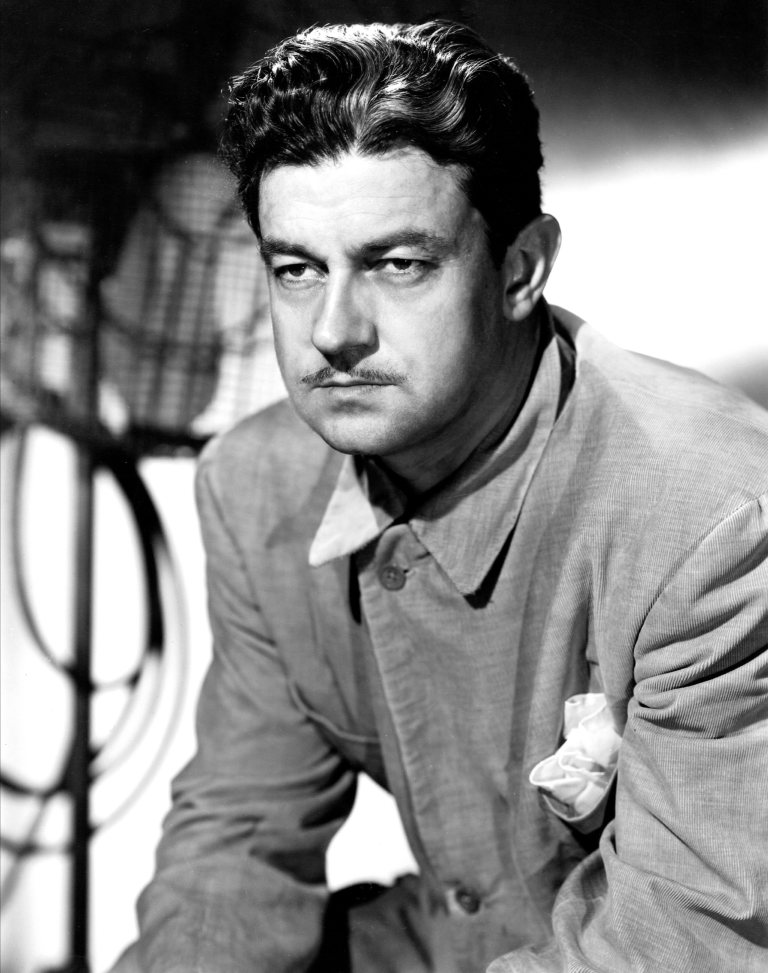 This week we celebrate the man who invented kissproof lipstick.  (That's what the bios tell us, so it's as good as true.)  I've never used the stuff myself, but it's one of those things that in no small way makes the world a better place.  Less mess, more kissing:  a combination we all can appreciate.  If only a gaggle of great statesmen could be so fruitful.
What sort of man invented kissproof lipstick?  Was he a Valentine with a chemistry lab?  A lover with a neat streak?  An inveterate romantic?  None of the above.  The man who invented kissproof lipstick was at heart a troublemaker.
Born Edmund Preston Biden in Chicago at the close of the 19th century, he is known to us today as Preston Sturges of Hollywood, the 1940s film director.  Sturges in fact was more than a director.  After a stint with his mother's cosmetics business, he turned to writing plays and screenplays.  Unhappy with changes others had been making to his film scripts, he itched for more control over his work.  Paramount finally gave him a shot behind the camera.  He was cheap:  his fee was $10.  With The Great McGinty, Sturges became the first filmmaker of Hollywood's sound era to get a "written and directed by" credit.  Thus it would be for the rest of his brief but brilliant career.
In the five years from 1940 to 1944, Sturges made a remarkable eight movies (of his twelve directing efforts).  It was a blaze of manic impulse, subversive wit, and mad genius.  Sturges loved to break the rules.  He took societal conventions and turned them upside down.  He made a mockery of the Production Code.  He paid tribute to anarchy.  Most of all, as anyone who's seen his films knows, he made people laugh.
Comparing films from different eras is a tricky thing.  We forget the dreck from long ago; we remember the classics.  But if you want to make the case that movie comedy was better back then, the Sturges oeuvre should be Exhibit A.  Sturges was hardly the last funnyman to work in movies, but there's no one making films like his today.
Something else we seem to be missing is a proper appreciation of Sturges's work.  We have a proliferation of movie lists but too few give Sturges his due.  Case in point:  the current IMDb list of top 250 films, and not a single Sturges movie among them.  Cultural amnesia, anyone?  The AFI, which should know better, omitted Sturges in its 1998 list of "100 Movies" (he did make the 2007 update, but just once).
Debating the movies on movie lists is a rabbit hole I'd rather not go down.  I have to remind myself not to take the things seriously—but the lack of Sturges is not even funny.
Films directed by Preston Sturges
The Great McGinty (1940)
Christmas in July (1940)
The Lady Eve (1941)
Sullivan's Travels (1941)
The Palm Beach Story (1942)
The Miracle of Morgan's Creek (1944)
Hail the Conquering Hero (1944)
The Great Moment (1944)
The Sin of Harold Diddlebock (1947)
Unfaithfully Yours (1948)
The Beautiful Blonde from Bashful Bend (1949)
The French, They Are a Funny Race (1955)

Our theme this week
Films of Preston Sturges
The Great McGinty (1940)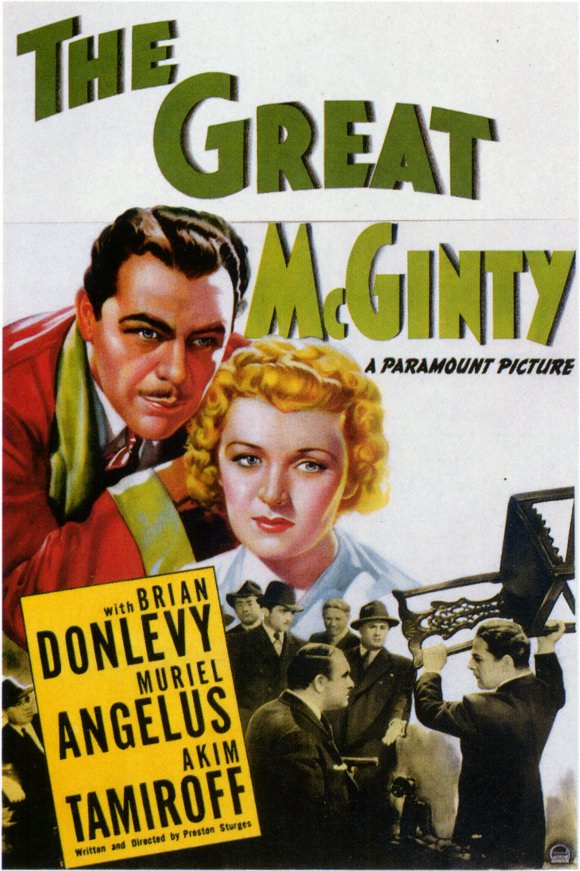 I got to Preston Sturges late.  Somehow I made it though grade school, high school, college—and who knows how many movies—without any memory of the man.  Then one day I read in the paper about the "genius" behind a new movie out on VHS.  It got me to the video store and I've been hooked ever since.
That movie was The Great McGinty, a funny and scathing look at politics.  If Mr. Smith Goes to Washington strikes you as hopelessly sentimental and naïve, this is the film for you. 
Brian Donlevy stars as Dan McGinty, a bum looking for a meal and a couple of bucks.  He not only sells his vote for mayor, he sells it 37 times.  That kind of ambition impresses the crooked party boss (Akim Tamiroff) who had devised the scheme to rig the election.  Next thing, McGinty is running for office himself, landing in the mayor's, and later the governor's, chair.  He marries for convenience, and his wife (Muriel Angelus) convinces him to try to do some good.  No Capraesque ending here, the change of heart leads to his downfall.  As the opening title explained:  "This is the story of two men who met in a banana republic.  One of them never did anything dishonest in his life except for one crazy minute.  The other never did anything honest in his life except for one crazy minute.  They both had to get out of the country."
The Great McGinty is a very good movie, even if it doesn't rank among the best of Sturges (a high standard indeed).  Nevertheless, it does account for the only Oscar that Sturges ever won, for original screenplay.
---
The Great McGinty
(1940)
Preston Sturges, writer-director
William Demarest, Brian Donlevy, Akim Tamiroff
---
The Great McGinty

Brian Donlevy, Akim Tamiroff
---
Quote of Note

"If it wasn't for graft, you'd get a very low type of people in politics.  Men without ambition.  Jellyfish!"
—Skeeters, the Politician (William Demarest),
The Great McGinty
(1940)
…58…59…60.