Friday Minute
No. 181 | October 15, 2010

Living Legends
Our theme this week
Living actresses who are 90 and older
Featured this week (theme introduction)
Monday         —   Luise Rainer
Tuesday         —   Maureen O'Hara
Wednesday    —   Betty Garrett
Thursday        —   Joan Fontaine
Olivia de Havilland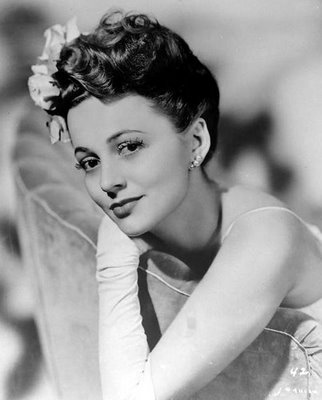 Born July 1, 1916
Age 94
Among the very few actresses who qualify for this week's theme, two are sisters.  In yesterday's feature on Joan Fontaine, we noted that the two are indeed special—the only sisters (or siblings, for that matter) to win Oscars for acting.  Both won Best Actress statuettes, and Olivia de Havilland, in fact, won two.  Some good genes there.
Olivia, the elder by a year, was the one more determined to be an actress.  In 1934 she was about to enter drama school when she got the chance to understudy for the role of Hermia in a Los Angeles stage production of A Midsummer Night's Dream.  Opening night she filled in, got good reviews, and played the part through its run.  Warner Bros. soon cast her for the same role when it adapted the play for the screen, and the 18-year-old de Havilland put off drama school to make movies instead.
She made four films in 1935, including the sea adventure Captain Blood, with Tyrone Power, their first of eight films together.  All were directed by Michael Curtiz except They Died with Their Boots On (1941), with Raoul Walsh at the helm.    Among the others, The Charge of the Light Brigade (1936), The Adventures of Robin Hood (1938), and Dodge City (1939).
De Havilland earned her first Oscar nomination for the biggest picture of the time, Gone with the Wind (1939).  She played Melanie Hamilton, the gentle, orphaned daughter of an affluent family who marries her gentlemanly cousin, Ashley Wilkes, to the dismay of Ashley's admirer, Scarlett O'Hara.  De Havilland is one of the last surviving members of the film's cast.
She earned a Best Actress nomination for Hold Back the Dawn (1941), as the prospective bride for Charles Boyer, who angles to marry an American so he can get into the country.  De Havilland starred with Henry Fonda in The Male Animal (1942), and with Bette Davis in In This Our Life (1942).  She made a couple more films while under contract to Warners, before winning a landmark case that freed her to make the kind of movies she wanted to, and changed forever to what degree studios could control talent.
She made To Each His Own (1946) at Paramount, a soap about a small-town mother with an illegitimate son.  Though not considered now to be a career highlight, her performance did earn an Oscar, her first win.  She played the good and evil twin in The Dark Mirror (1946), a noirish murder mystery directed by Robert Siodmak.  She earned critical acclaim and another Oscar nod for The Snake Pit (1948), playing a woman in an insane asylum who can't remember how she got there.
Her greatest achievement may have been as the homely Catherine Sloper in The Heiress (1949), William Wyler's screen adaptation of the Henry James novel Washington Square.  The cast included Montgomery Clift, Ralph Richardson, and Miriam Hopkins, and among the four Oscars that the film won, one was de Havilland's second award for Best Actress.
After fifteen busy years at the top, de Havilland made fewer movies after her mid-thirties, and eventually she moved away.  "Hollywood became a very depressing place in the early 1950s," de Havilland said in an interview last year. "The golden age had obviously ended and television had ended it.  Where studios were making 100 movies a year in the 1930s, they were now making 25 or 10.  There was a sense of terminal decline, of great depression."
Some of her notable later films include Not as a Stranger (1955), Stanley Kramer's directorial debut; Hush…Hush, Sweet Charlotte (1964), costarring Bette Davis (with de Havilland filling in for Joan Crawford); Pope Joan (1972); and Airport '77 (1977). 
The estranged relationship between de Havilland and Fontaine has been fodder for writers over the years, but if the two sisters have nothing to say to each other, they have nothing more to say to the press.  In de Havilland's words:  "That is one subject on which I never speak.  Never."  Perhaps if she finishes her autobiography, she'll have a change of heart.  Though I wouldn't count on it.
Olivia de Havilland lives today in Paris, where she has made her home since the 1950s.
Postscript
As we wrap up the week, let's note a few other grandes dames of the acting world who have passed the 90-year mark and live on:  Barbara Billingsley (Leave It to Beaver, Airplane!), age 94; Zsa Zsa Gabor (Moulin Rouge), 93; Celeste Holm (All About Eve), 93; Phyllis Diller (A Bug's Life), 93; Janet Waldo (The Jetsons), 92; Marjorie Lord (The Danny Thomas Show), 92; Doris Singleton (I Love Lucy), 91; Jayne Meadows (Lady in the Lake), 90.  Here are some others due to celebrate their 90th this year:  Nanette Fabray (The Band Wagon), October 27; Ann Rutherford (Gone with the Wind), November 2; Noel Neill (Superman), November 25.
As noted last week, Gloria Stuart (Titanic) died September 26, at the age of 100.  The British comedian and film star Norman Wisdom (The Night They Raided Minsky's) died on October 4, at the age of 95.
---
The Heiress (1949)
William Wyler, director
Henry James (novel), Augustus Goetz, Ruth Goetz (play, screenplay); writers
Leo Tover, director of photography
Final Scene / Spoilers
Olivia de Havilland as Catherine Sloper, Montgomery Clift as Morris Townsend, Miriam Hopkins as Aunt Lavinia
---
The Snake Pit (1948)
Anatole Litvak, director
Mary Jane Ward (novel), Frank Partos, Millen Brand (screenplay), writers
Leo Tover, director of photography
Olivia de Havilland as Virginia Stuart Cunningham
---
Quote of note
Aunt Lavinia
:  How can you be so cruel?
Catherine
:  Yes, I can be very cruel.  I have been taught by masters.
—Aunt Lavinia (Miriam Hopkins), Catherine Sloper (Olivia de Havilland), 
The Heiress
(1949)
…58…59…60.