Wednesday Minute
No. 104 | May 26, 2010

Shades of Gray

Our theme this week
Black-and-white movies since 1990
Featured this week (theme introduction)
Monday         —   The Man Who Wasn't There (2001)
Tuesday         —   Clerks (1994)
Ed Wood (1994)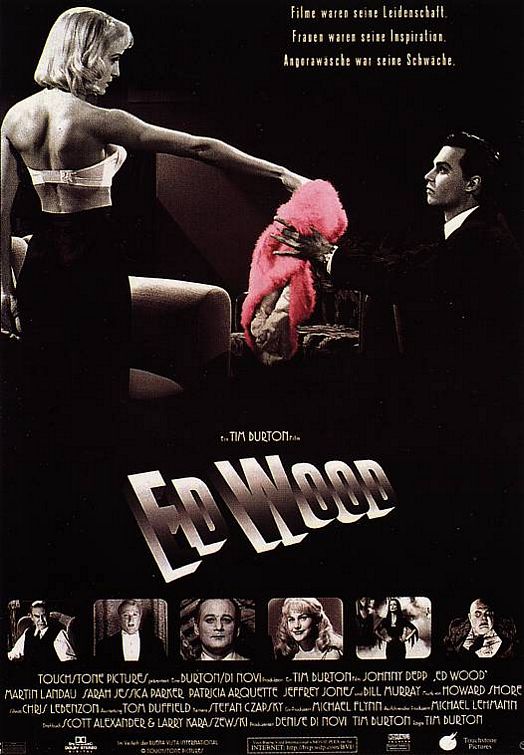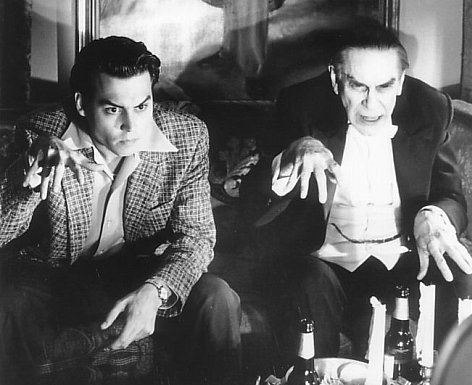 Cinematographer:  Stefan Czapsky
Yesterday a cheaply made film, today a film that celebrates cheaply made films.
It's hard to imagine Ed Wood in anything but black-and-white.  Ed Wood made black-and-white movies—he seemed to live in a world without color—and Tim Burton's biopic of the 1950s director was true to its subject. 
Today Ed Wood is a beloved figure, in large part because of Burton's movie and Johnny Depp's endearing performance.  But there was a time when Wood was a subject of mockery, famously the maker of the worst movies ever made.  No one now would accuse him of making great movies, but as camp classics his films are entertaining in ways that Wood might not have intended but are achievements nonetheless.  There is something to be said for that.  The talent to entertain is a rare thing, and Wood's legacy is greater than that of some other more respectable, but forgettable, filmmakers of his time.
Making a movie is no easy task.  It's not a job for the easily discouraged.  It takes a certain amount of optimism.  That's a quality that Wood had in abundance.  He seemed utterly blind to the million reasons that he couldn't do what he wanted to do.  He forged ahead regardless.  He was the intrepid filmmaker, the artist who couldn't be stopped, and in some ways a hero to anyone who ever stepped behind the camera, or anyone who dreamed of doing so.
The Tim Burton film follows Wood in his struggles to make a career in Hollywood.  He wants to make a movie of Christine Jorgensen's life, but when he can't get the rights, he films a fictionalized story about a transvestite called Glen or Glenda.  That 1953 movie is a breakthrough of sorts, and Wood makes more movies during the '50s (the scope of the Burton film), culminating, at the end of the decade, in Plan 9 from Outer Space.  Along the way he meets and befriends Béla Lugosi (portrayed, in a memorable, Oscar-winning performance, by Martin Landau).  Wood doesn't provide Lugosi with a career comeback, but he does give the actor work in his final years.  Wood also has a chance meeting with his hero, Orson Welles.  Wood never gets much closer than the periphery of Hollywood.  But most of all, he makes movies, and that's what counts.
---
Ed Wood
 (1994)
Tim Burton, director
Stephan Czapsky, cinematographer
Trailer
---
Ed Wood
 (1994)
Johnny Depp, Martin Landau
The Octopus
---
Plan 9 from Outer Space
 (1959)
Edward D. Wood Jr., director
Plan 9 from Outer Space (1:18:21)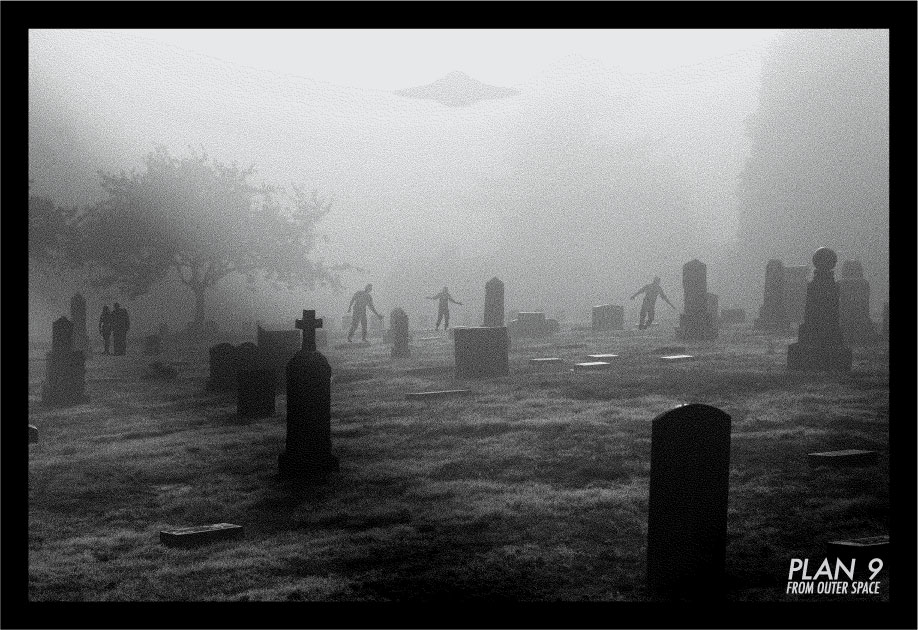 [Click the pic and give it a minute or two to connect.]
Greetings, my friend.  We are all interested in the future, for that is where you and I are going to spend the rest of our lives.
---
Quote of Note
Ed Wood
:  And cut!  Print.  We're moving on.  That was perfect.
Ed Reynolds
: Perfect?  Mr. Wood, do you know anything about the art of film production?
Ed Wood
:  Well, I like to think so.
Ed Reynolds
:  That cardboard headstone tipped over.  This graveyard is obviously phony.
Ed Wood
:  Nobody will ever notice that.  Filmmaking is not about the tiny details.  It's about the big picture.
Ed Reynolds
:  The big picture?
Ed Wood
:  Yes.
Ed Reynolds
:  Then how 'bout when the policemen arrived in daylight, but now it's suddenly night?
Ed Wood
:  What do you know?  Haven't you heard of suspension of disbelief?
—Ed Wood (Johnny Depp), Ed Reynolds (Clive Rosengren), 
Ed Wood
 (1994)
…58…59…60