Monday Minute
No. 52 | March 15, 2010

Humour Me
They're not like us.  Their sense of humour wouldn't pass a spell check.  They write funny, they speak funny, and—best of all—they make their movies funny. 
What's funny for the British is not the same as for Hollywood.  British comedies often have a bite we don't see this side of the Atlantic.  They take comedy seriously there.  They don't play around.  They'd just as well paint it black.  Our palette tends to run toward the blue.  That's not to say British comedies have more laughs.  Often there aren't as many.  It's funnier that way.
This week I'll feature five comedies, each inspired, and each in its own unmistakable way from Britain.  They'll range from political satire to romantic comedy to farce.  Let's start in the 1960s and make a stop in each decade since.
Our theme this week
British comedies from the 1960s to today
Dr. Strangelove or:  How I Learned to Stop Worrying and Love the Bomb (1964)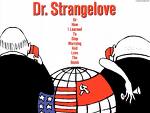 Three questions, three answers
Wait a second.  Stanley Kubrick was not British.  He was born in New York and was an established name in Hollywood.  Isn't it cheating to include his film in a list of British comedies?
True, Kubrick was born a Yank.  But he moved to England for a reason—to have the creative freedom to make films he couldn't make in Hollywood.  His first film there was Lolita, in 1962.  He stayed for Dr. Strangelove, in part because British star Peter Sellers was legally unable to leave the country.  Kubrick remained in Britain the rest of his life.  No doubt if he had continued working in the U.S., his films would have been quite different, and some he might not have made at all.  Kubrick wasn't born British but his career proves the point—they make films different over there.
Can you really call Dr. Strangelove a comedy?  What's so funny about nuclear annihilation and the end of the world as we know it?  Besides, where are all the jokes?
"Gentlemen, you can't fight in here!  This is the War Room."  C'mon, that's one very funny line, among others, but it's true,  the subject matter isn't your everyday comedy material.  If you want to see the subject played straight, see Fail-Safe, the Sidney Lumet thriller that came out the same year.  There are no jokes in Fail-Safe.  There's nothing funny at all.  Then you can see how inspired a comedy Dr. Strangelove is.  A black comedy like Kubrick's works in part because of its point of view.  It takes the audience a step back so it can see the absurdity of what's going on.  And what was going on was a world gone mad.  The film was made in the shadow of the Cuban missile crisis.  Tensions were at their Cold War high.  Like death, there wasn't a thing anybody could do about it.  So what do you do?  Tremble in fear, or laugh?  Lumet's film offers one answer, Kubrick's another.
Half a century later, the Cold War is over, we're no long at the brink, we haven't blown ourselves up.  Do you think that's a sign that politics has advanced and that our leaders today are more enlightened?
That's not even funny.  If they made that into a movie they'd have to call it fantasy.
Three more from the 1960s
Alfie (1966)
The Italian Job (1969)
Anything by Richard Lester
---
Dr. Strangelove
(1964)
Stanley Kubrick, director
Trailer
---
Dr. Strangelove
(1964)
Peter Sellers (President Merkin Muffley / Dr. Strangelove), George C. Scott (General 'Buck' Turgidson), Peter Bull (Russian Ambassador Alexi de Sadesky)
"Mein Fuhrer!  I can walk!"
---
Quote of Note

"Mathematicians won the war.  Mathematicians broke the Japanese codes, and built the A-bomb.  Mathematicians like you.  The stated goal of the Soviets is global communism.  In medicine or economics, in technology or space, battle lines are being drawn.  To triumph, we need results.  Publishable, applicable results.  Now who among you will be the next Morse?  The next Einstein?  Who among you will be the vanguard of democracy, freedom, and discovery?  Today, we bequeath America's future into your able hands.  Welcome to Princeton, gentlemen."
—Helinger (Judd Hirsch),
A Beautiful Mind
(2001)
…58…59…60.