Monday Minute
No. 112 | June 7, 2010

Derrick and the Dominoes
"Drill, baby, drill!" is not an argument meant to win a debate.  It's a slogan mocking the idea that we should even have a debate.  But like it or not, it's been the de facto energy policy of the country for many decades.  Presidents for as long as anyone can remember have been promising change.  Nothing happens.  Maybe now the time has come.  We shall see.
I generally don't aim to be topical with weekly themes, but the story that's dominating the news is not going away.  Oil gushes into the Gulf of Mexico today, and it will again tomorrow, and the day after.  Based on the latest predictions, the gushing will continue until August, if not Christmas.  This isn't just a news story.  It's history as it happens.
Before we get to the five films of the week, you may want to look at a clip from the great Robert Flaherty, a filmmaker with a fondness for exotic locations and the people who live in them (Nanook of the North, Man of Aran).  Near the end of his career he filmed Louisiana Story.  A film about life on the bayou, it's a relatively early depiction of the effects of oil.  When a cajun family finds oil bubbling up in their swamp, they lease the land to an oil company, which erects a derrick to drill 14,000 feet into the earth.  After a blowout, the rig is soon capped, but mostly the film portrays the harmony of industry and nature, and the promise of oil to bring prosperity to the people.  The film won accolades at the time.  It is arfully done, though today it seems somewhat naïve.  There may be a reason for that.  The film was funded by Standard Oil of New Jersey.
The film has value, in any case.  It offers us a glimpse of Louisiana life that doesn't exist anymore.  There's no oil derrick in the clip here, just a cajun boy with a lot of courage, and an alligator.
Louisiana Story (1948)
Robert Flaherty, director
Virgil Thomson, composer (the only film score to win a Pulitzer Prize for Music)
Our theme this week
Films about oil, and what it does to people
Giant (1956)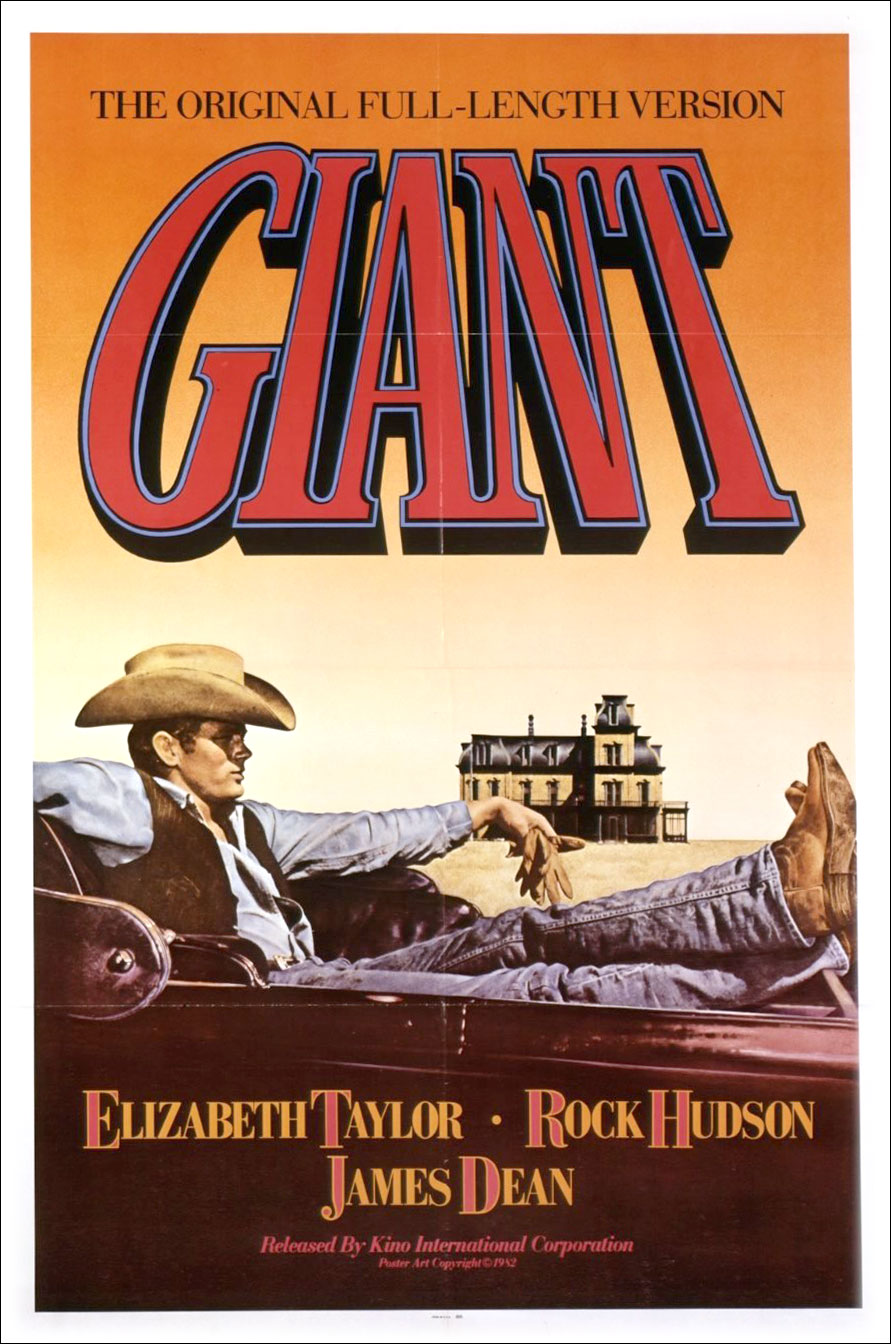 Don't bother to watch the movie unless you have nothing else to do for three hours and twenty-one minutes.  They don't call it Giant for nothing.
In the last of his three great film performances, James Dean co-stars as Jett Rink, a worker on a ranch in Texas owned by the Benedict family.  When Luz Benedict (Mercedes McCambridge) dies, she leaves a small plot of land to Jett.  Before long, he strikes oil, and that changes everything.  Tensions run high between Jett and the rest of the Benedicts, including Bick and Leslie (Rock Hudson and Elizabeth Taylor), before Jett heads off to start an oil drilling company.  Jett goes from rich to super-rich.  During the war Jett persuades Bick to get into the oil business, and soon Bick and the Benedict family are wealthier than even before.  They are all rolling in it, though not particularly happy, and feuding.  Jett is worst off, ending up a pathetic drunk.  Ain't oil grand?
More than just a story about the bad fortunes of getting rich, Giant is also a reminder that poor treatment of Mexican Americans has a long history.  The Benedicts are less than enlightened in their attitudes toward immigrants, but after some time—and children, intermarriage, and grandchildren—Bick, at least, has a change of heart.
Adapted from the Edna Ferber novel, the film garnered ten Oscar nominations, including a posthumous nod for Dean, who died before the film opened.  George Stevens won the Best Director prize.  The film did great box office, setting a record for Warner Bros., its top grosser until Superman in 1978.
One casting note, from the "please check that woman's ID" department:  Elizabeth Taylor played the mother of the late Dennis Hopper and Caroll Baker.  Yet Taylor was only four years older than Hopper, and is a year younger than Baker.
---
Giant
(1956)
George Stevens, director
Trailer
---
Giant
(1956)
George Stevens, director
James Dean, Rock Hudson, Elizabeth Taylor
---
Quote of Note
Leslie Benedict
:  Money isn't everything, Jett.
Jett Rink
:  Not when you've got it.
—Leslie Benedict (Elizabeth Taylor), Jett Rink (James Dean),
Giant
(1956)
…58…59…60.