Friday Minute
No. 11 | January 15, 2010

At the Movies
Our theme this week
Movies set in movie theaters
Featured this week
Monday         —   Sherlock Jr.
Tuesday         —   The Purple Rose of Cairo
Wednesday    —   The Last Picture Show
Thursday        —   Inglourious Basterds
Cinema Paradiso
The essentials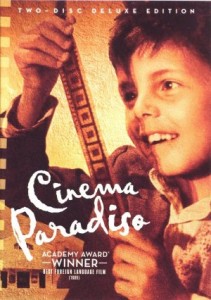 Cinema Paradiso is a beautifully rendered love letter to the movies.  It could be described in other ways—a coming of age story, a nostalgic look at the past—but above all it seems to me a deeply felt movie about movies.  It gets to the power that cinema has, a window to learning the important things, a force that can move us as few things can.
No surprise for a film of this much feeling, Cinema Paradiso is Italian.  Director Giuseppe Tornatore made the film in 1988 (released in the U.S. in 1990), and much of the story, told in flashback, is set in post-war Italy, a time when Italian film was flourishing.  Tornatore no doubt was deeply touched by the films of the era.  The theater in this film is more than just a place for entertainment or escape.  It's a place where the important things in life happen.  It's a place of discovery.  It's a place of worship.
Toto (Salvatore Cascio as a boy, Marco Leonardi as a teen) is a fatherless boy who loves movies and loves spending time at the Cinema Paradiso, the local movie house.  He befriends Alfredo (Philippe Noiret), the projectionist, then serves as Alfredo's apprentice, and after a time becomes the projectionist himself.  Toto learns about life from Alfredo, and from the movies.  Toto grows up, leaves his small town, and becomes a famous film director.  Years later, Toto, now Salvatore (Jacques Perrin), learns that Alfredo has died, and he pays a visit to his old village.  It's his first time back in decades.  He discovers that Alfredo has left him a gift, a reel of film.  It's a collection of clips from movies of the past, scenes that were censored at the time, scenes of passion and love.  As Ennio Morricone's beautiful score plays, Salvatore watches the clips, transfixed.  For many who watch Cinema Paradiso, it's hard not to have the same reaction.
Beyond the final credits
In one scene in Cinema Paradiso, a fire breaks out when a film strip is overheated.  That was a real danger with old films.  Celluloid was first developed in the mid-1800s and used for film photography beginning in the 1880s.  As a nitrate-based compound it was useful but also highly flammable, and fires in theater projection booths were not uncommon.  A French movie theater caught fire in 1897, killing more than 180 people.  In 1927, a fire broke out during a movie in Montreal, killing 77 children.  A 1937 fire destroyed all the original negatives of pre-1935 films released by Fox Pictures.  In 1978, a fire at the U.S. National Archives destroyed the original negatives of more than 300 films.  No need to worry, though—it's not a concern when going movies these days.  The industry converted from nitrate film base to flame-resistant acetate and polyester film bases during the 1950s. 
---
Cinema Paradiso 
(1988)
Jacques Perrin
---
Quote of Note

"You are not in Kansas anymore. You are on Pandora, ladies and gentleman."
— Colonel Miles Quaritch (Steven Lang), 
Avatar
(2009)
…58…59…60.