Wednesday Minute
No. 4 | January 6, 2010

Celluloid Heroes
Our theme this week
The celluloid heroes of "Celluloid Heroes"
Featured this week
Monday         —   Greta Garbo
Tuesday         —   Rudolph Valentino / Béla Lugosi
Bette Davis
But stand close by Bette Davis
Because hers was such a lonely life
The essentials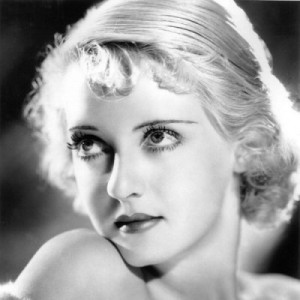 Bette Davis was one of the preeminent film actors of the 20th century.  She was talented and unafraid, both onscreen and off, fighting for the roles she played and in her roles fighting for what her characters believed they deserved.  She poured her considerable energy into the performances she gave, often at a caliber worthy of awards.
Davis was a Yankee from Massachusetts.  She arrived on Broadway in 1929, and a year later, in Hollywood.  After several films with Universal, she signed with Warner Bros. in 1932.  She won raves from the critics for her portrayal of the unsympathetic Mildred Rogers in the 1934 adaptation of Maugham's Of Human Bondage.  A write-in campaign was launched to earn her an Oscar when she was left off the ballot.  It wasn't successful, but the outcry over her snub led to permanent change in the Academy rules for nominating actors; no longer would a small committee decide.  She won Best Actress the following year, for Dangerous, and called the award a "consolation prize."  After The Petrified Forest (1936), costarring Humphrey Bogart in his firm notable role, she was cast in a series of films she considered mediocre.  She tried, unsuccessfully, to get out of her contract with Warner Bros.  Jezebel (1938), directed by William Wyler (with whom Davis was romantically linked), was a return to success.  She won another Oscar for her memorable performance as a spoiled Southern belle, not unlike the big role the next year of Scarlett O'Hara, for which she was a fan favorite though she did not win the part.  In 1939 she made the tearjerker Dark Victory (again with Bogart), in a role she'd later claim was the favorite of her career.  Other successes followed, including All This, and Heaven Too (1940); The Little Foxes (1941), her third and final film with Wyler; Now, Voyager (1942), with the famous final scene with Paul Henreid; and Mr. Skeffington (1944), notable for torments behind the scenes.  Some less successful years followed, with critics calling Beyond the Forest (1949) the end of her career.  Jack Warner finally released her from her contract.  She was not gone from the screen for long.  As Margo Channing in All About Eve (1950), the big Broadway star who falls victim to creeping age and a young, scheming rival, Davis was back on top.  The film is considered one of the greats, and her performance among the finest.  She worked less often in the years that followed yet did make some memorable films, including the psychological horror movies What Ever Happened to Baby Jane? (1962), opposite her rival of many years, Joan Crawford, and its sequel Hush… Hush, Sweet Charlotte (1964).  In her later years she worked in television, appeared on talk shows, and wrote books.  She died in 1989 at 81.  The epitaph on her tombstone reads:  "She did it the hard way."
Beyond the final credits
Bette Davis was the first actress to win an AFI Life Achievement Award, and she was second among actresses on the AFI's selection of "50 Greatest American Screen Legends" in 1999.  She was the first actor, male or female, to receive ten Academy Award nominations, winning two Oscars along the way.
George Sanders
If you covered him with garbage
George Sanders would still have style
The essentials


George Sanders was born in Saint Petersburg.  When he was 11, revolution came to Russia and his British parents moved the family to England.  He found regular work in films starting in the mid- to late-'30s, and during the war years he played the lead in two film series:   The Saint (five times as thief Simon Templar) and The Falcon (four times as detective Gay Lawrence).  Sanders worked with top directors during the '40s, including Alfred Hitchcock (Rebecca [1940], Foreign Correspondent [1942]), Fritz Lang (Man Hunt [1941]), and Otto Preminger (Forever Amber [1947]).  His memorable films included the gothic drama The Picture of Dorian Gray (1945) and the romantic fantasy The Ghost and Mrs. Muir (1947).  Sanders's persona was the suave sophisticate with the mordant wit, and never was it put to better use than in Joseph L. Mankiewicz's classic All About Eve (1950).  He gave a first-rate performance in the legendary role of Addison DeWitt, the critic and cynic who was able to see through rising star Eve Harrington ("You're an improbable person, Eve, and so am I.  We have that in common.  Also, our contempt for humanity and inability to love and be loved, insatiable ambition, and talent.  We deserve each other.")  Sanders won an Oscar, one of six wins for the film and the only one for acting (five actors were nominated, including Bette Davis).  Sanders worked steadily, if not so memorably, for years afterward, often as the charming heel.  He appeared in the first Pink Panther film, 1964's A Shot in the Dark, and as Batman villain Mr. Freeze on television.  Sanders was married four times, twice to a Gabor sister (Zsa Zsa and Magda).  His health declined in his later years.  In April 1972, in a hotel in Spain, Sanders took an overdose of barbiturates, leaving behind this suicide note:  Dear World, I am leaving because I am bored. I feel I have lived long enough. I am leaving you with your worries in this sweet cesspool. Good luck.  (See the blog for more.)
Beyond the final credits
David Niven was friends with George Sanders and wrote about him in Bring on the Empty Horses, a collection of reminiscences published in 1975.  According to Niven, Sanders said in 1937, when Sanders was 31, that he would commit suicide at 65.  He was true to his word. 
---
All About Eve 
(1950)
Bette Davis, Gary Merrill, Anne Baxter
---
Man Hunt
(1941)
George Sanders, Walter Pidgeon
---
Quote of Note

"Oh Jerry, don't let's ask for the moon. We have the stars."
— Charlotte Vale (Bette Davis),
Now, Voyager
(1942)
…58…59…60.