Monday Minute
No. 17 | January 25, 2010

Best of the Decade
Here are the best movies of the past ten years.  Sez who?  Sez the critics, that's who.   How do I know?  I can look it up, and you can too.
One distinct change for moviegoers last decade was having easy access to the opinions of movie critics, and lots of them.  (You could argue that critics matter less than ever before, and there's some truth to that, but I like to think the critics, at least some of them, still count.)  Way back when, if you wanted to know if a movie was worth seeing, you'd look in your newspaper and see what the local reviewer thought.  The four stars (****) next to some reviews meant very good.  Then for a while the gold standard was "Two Thumbs Up!" from Roger and Gene.  That worked pretty well in the pre-internet days.  Now everything is online, just a few mouse clicks away, and the measure of a movie's worth is all about the numbers—one at Metacritic, one at Rotten Tomatoes.
Both websites provide links to a wide variety of reviews from critics.  The two sites are useful for that, if nothing else.  But at each site it's a number that matters.  Each takes all the words, all the reaction, for all the critics (or a lot of them, anyway) and reduces their combined assessment to a single number, an average.  The methodologies are different.  Metacritic assigns a number for every review and uses a weighted average to calculate a "Metascore" between 0 and 100.  Rotten Tomatoes judges each review as either positive or not and provides a "Tomatometer" rating, a percentage of reviews that are favorable.  Green scores (60 and above) are desirable at Metacritic.  The "Certified Fresh" seal (75% and up) is the benchmark at Rotten Tomatoes.
How do the two sites compare?  Rotten Tomatoes is somewhat older (it launched in 1999, Metacritic in 2001) and somewhat more popular.  Metacritic, in my opinion, is somewhat more useful.  Rotten Tomatoes looks at nothing more than a reviewer's thumbs-up or thumbs-down.  Metacritic tries to gauge the level of intensity or excitement behind an opinion, not just whether it was positive or not.  If a film's response is widely positive but not especially enthusiastic, it may do better at Rotten Tomatoes than Metacritic.  I tend to like films that push the limits one way or another, which may mean a more enthusiatic but divided response, and perhaps a lower score at Rotten Tomatoes than it "deserves."  The way I see it, if everyone likes a film, what's left to argue about?  And if no one dislikes a movie, it may not have been trying hard enough.
That said, here's my caveat about both sites:  No one number tells you very much about a movie.  Movies should be talked about, even debated.  But rated?  I don't see great value in it.  Should the pleasure we take in watching a film be reduced to a number?  Do movies need to be graded like a student's math homework?  Don't we get enough scores from watching sports?  If I ask what you think about a movie, I'm interested in more than "I'd give it an 8."  I'd like to know what you think.  My advice:  read the reviews.  Take the numbers with a great big grain of salt.
Even if the numbers shouldn't matter, for many people they do (you know who you are).  So—here goes, anyway—let's see what movies scored top numbers in the past decade.  The two sites don't always agree, so I'll be picking among their choices for best-reviewed films.  The selections skew toward the tops films at Metacritic.  A Taste of Others (2001), for example, scored 100% at Rotten Tomatoes (along with quite a few others), but 78 at Metacritic.  It doesn't make the cut.  Other exceptions include Army of Shadows (99/97%) and Killer of Sheep (94/97%), which truly are films from previous decades, not the 2000s.
The two sites are very much in sync for the movies we'll cover this week.  The Metacritic and Rotten Tomatoes numbers, with one tiny exception, are all above 90/90%.  (One final reminder:  this week's theme is not my list of best films of the decade.  That you'll find over at the blog.)
Our theme this week
Best movies of the decade at Metacritic and Rotten Tomatoes
The Hurt Locker
The essentials
Metacritic:  94
Rotten Tomatoes:  97%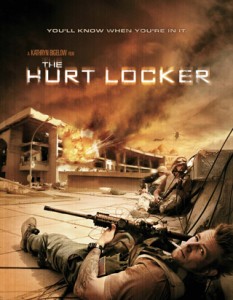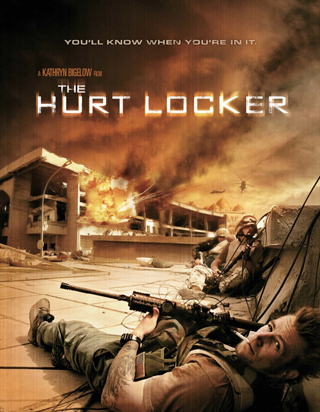 Of the many events in the eventful decade that just passed, two stand above the rest.  The first is the tragedy of 9/11, an attack of one historic morning (though the rise and threat of terrorism is a decades-long story).  The second is another tragedy, the war in Iraq, which began in March of 2003 and continues to this day.  Movies have been made about 9/11, though no great ones.  More movies have been made about the Iraq war, some of them quite good, and finally, as the past decade was drawing to a close, a great one:  The Hurt Locker.
Other Iraq War movies have delved into the politics behind the invasion, especially documentaries.  The Hurt Lockerdoes not.  It's the story of a few soldiers at ground level who are in Iraq not ostensibly to fight the enemy but to protect people from danger.  It's a movie that people on either the left or the right might admire.  An apolitical film, though, it's not.  Director Kathryn Bigelow and writer Mark Boal ignore the political leaders and their supposed reasons for the war, but the filmmakers are not playing it safe.  Their focus, with laser-like precision, is on the day-to-day reality of three men in a bomb squad, and in their story the film provides a more lucid understanding of why we are there than hours of political speeches and analysis ever could.  War is a drug.  The addict in the movie is Staff Sergeant William James, played wonderfully by Jeremy Renner.  James does not run from danger.  He can't get enough of it.  He risks his life and the lives of others, even to the point of recklessness.  As you watch you can't help but admire his bravery, yet at the same time shudder at his display of bravado.  The rush of adrenaline is palpable, as James gets his fix again and again, unable to stop himself, despite witnessing and suffering extraordinary loss.  That's what addiction, and war, does to you.  James is hardly the only addict.  Though the film doesn't state it explicitly, the implication is clear.  Addiction is not just James's reason for being in Baghdad—it's ours too.
Beyond the final credits
The screenplay for The Hurt Locker is by Mark Boal, who as a freelance writer was embedded with a bomb squad unit in Iraq.  His one previous film credit was for the story of In the Valley of Elah, a 2007 film about the return of a soldier from Iraq.  The opening quote for The Hurt Locker, however, comes from a 2002 book by Chris Hedges, a former New York Times correspondent who covered wars across the globe over several decades.  The book is War Is a Force That Gives Us Meaning, and the full quotation is "The rush of battle is a potent and often lethal addiction, for war is a drug."
---
The Hurt Locker 
(2009)
Brian Geraghty, Anthony Mackie, Guy Pearce
---
MAD
FilmFest 101
Hint:

The final answer to the puzzle is the title of the American remake of a 1973 film.
---
Quote of Note

"Nobody ever lies about being lonely."
— Private Robert E. Lee Prewitt (Montgomery Clift), 
From Here to Eternity
(1953)
…58…59…60.