Tuesday Minute
No. 3 | January 5, 2010

Celluloid Heroes
Our theme this week
The celluloid heroes of "Celluloid Heroes"
Featured this week
Monday         —   Greta Garbo
Most of the time here at MAD  About Movies I'll cover a single subject per day, but Ray Davies named more celluloid heroes than we have weekdays, so rather than skip anyone this first week we'll double up today and tomorrow.  Today's minute features two actors, hardly alike in many ways, though both born in the 19th century, natives of Europe, and émigrés to Hollywood in the early days of film.
Rudolph Valentino
Rudolph Valentino looks very much alive
And he looks up ladies' dresses as they sadly pass him by
The essentials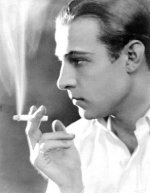 Rudolph Valentino was a star of the silent era and never lived to see the advent of talkies.  He came from southern Italy and after a stop in Paris he arrived in New York, where he found work as a dancer and friendship with a Chilean heiress that turned out badly when her husband had him arrested.  One well-publicized court case and a fatal shooting later, Valentino sought escape from the scandal, traveling west.  He soon was making a career doing bit parts in Hollywood films, often cast as the heavy because of his so-called exotic looks and dark complexion.  The release of The Four Horsemen of the Apocalypse in 1921 brought him stardom.  It was a huge success, one of the biggest hits of the silent era, inspiring a craze for the tango and demand for Valentino as the consummate Latin lover.  He solidified his image as a romantic lead with The Sheik (1921), the film that he may be best remembered for, playing the role of the Arab who is the abductor and eventual lover of a British socialite.  Blood and Sand (1922) was another success, with Valentino as a bullfighter.  After a few underperforming films, Valentino gained a measure of critical acclaim, along with a return to box office success, with The Son of the Sheik (1926).  It would be his last film.  He died six weeks after it opened, the victim of appendicitis and other ailments.  He was 31.  Valentino's death was mourned around the world.  More than 100,000 people lined the streets of New York for his funeral.  Polish actress Pola Negri, claiming to be his fiancée, collapsed at his coffin.  In the hysteria that followed his death, riots broke out and suicides of despondent fans were reported.
Beyond the final credits
Rudolph Valentino was buried in Hollywood.  As legend has it, he was visited every year on the anniversary of his death by a mysterious "woman in black."  She came in a chauffeur-driven car, laid a bouquet of roses on his tomb, wiped away a tear, and left.  There was great intrigue about her identity.  Finally, years later, a woman named Ditra Flame came forward to explain that when she was young and very ill in the hospital, Valentino had visited her, telling her that she would recover and eventually outlive him, and he asked that she visit his grave so that he would not be alone.  Flame had many imitators, causing her to suspend her annual visits after a time, but she resumed them in her final years, before she died in 1984.
Béla Lugosi
Avoid stepping on Béla Lugosi
'Cause he's liable to turn and bite
The essentials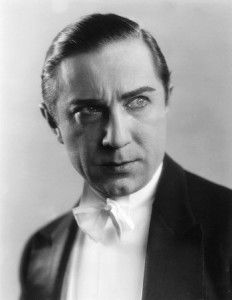 Béla Lugosi was an actor in Hungary, first on stage and later in films.  After the Hungarian Revolution of 1919, he fled the country for Germany and eventually made his way to the U.S.  In addition to some film roles, he acted on Broadway, including a successful run in 1927 as the star of Dracula, which in turn led to work in Hollywood talkies.  Lon Chaney Sr. was set to star in the screen adaption of Dracula (1931), but with his death director Tod Browning cast Lugosi to play the vampire.  It was an iconic performance, a role for which Lugosi will always be remembered.  Lugosi had found success but was also typecast as a horror villain.  He appeared in The Black Cat (1934), The Raven (1935), and four other films with fellow horror icon Boris Karloff, including Son of Frankenstein (1938), with Lugosi memorably playing the hunchbacked assistant Ygor.  In Ninotchka the following year, he played a Russian commissar, a straight, supporting role, but in the 1940s he returned to horror.  In 1943 he finally played Frankenstein's monster in Universal's Frankenstein Meets the Wolf Man (with Lon Chaney Jr. as the Wolf Man), and in 1948 he reprised the role of Dracula for the comedy Abbott and Costello Meet Frankenstein (with Chaney Jr. again as the Wolf Man).  In his later years Lugosi had trouble finding work and trouble with drugs.  Ed Wood, a fan of Lugosi's, hired the actor and gave him star billing again, although Wood's films were hardly A-pictures.  Lugosi appeared in Glen or Glenda (1953), Wood's docudrama about cross-dressing and transexuality, and Bride of the Monster (1955), in which the actor played a mad scientist who meets his end in an atomic explosion.  Lugosi suffered a fatal heart attack in 1956.  He was buried wearing a Dracula costume.
Beyond the final credits
Martin Landau played the role of Béla Lugosi in the 1994 film Ed Wood, winning the Academy Award for Best Supporting Actor.  It was one of the few occasions that an actor won an Oscar for portraying a real-life actor (Cate Blanchett as Katharine Hepburn is one other example).  Lugosi played many memorable roles and is one of the great names in the history of film, but he was never nominated for an Oscar himself.
---
The Son of the Sheik
(1926)
Rudolph Valentino, Vilma Bánky
---
Dracula
(1931)
Béla Lugosi, Edward Van Sloan
---
Point of View

"You will see that this little clicking contraption with the revolving handle will make a revolution in our life—in the life of writers.  It is a direct attack on the old methods of literary art.  We shall have to adapt ourselves to the shadowy screen and to the cold machine.  A new form of writing will be necessary.  I have thought of that and I can feel it coming.
"But I rather like it.  This swift change of scene, this blending of emotion and experience—it is much better than the heavy, long-drawn-out kind of writing to which we are accustomed.  It is closer to life.  In life, too, changes and transitions flash by before our eyes, and emotions of the soul are like a hurricane.  The cinema has divined the mystery of motion.  And that is greatness."
— Count Leo Tolstoy (1828-1910)
…58…59…60.