Thursday Minute
No. 75 | April 15, 2010

April Showers

Featured this week (theme introduction)
Monday         —   "Singin' in the Rain" (1952)
Tuesday         —   "The Rain in Spain" (1964)
Wednesday    —   "Purple Rain" (1984)
Our theme this week
"Rain"-y day songs from the movies
"Raindrops Keep Fallin' on My Head"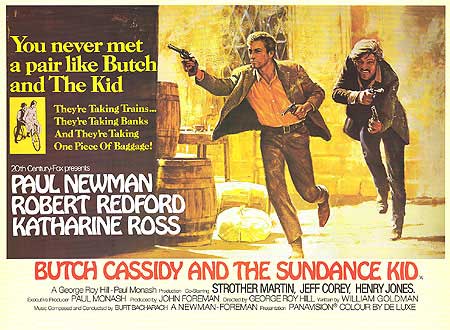 Raindrops keep fallin' on my head
But that doesn't mean my eyes will soon be turnin' red
Cryin's not for me
'Cause I'm never gonna stop the rain by complainin'
Because I'm free
Nothin's worryin' me
Years after William Goldman wrote the screenplay for Butch Cassidy and the Sundance Kid he wrote a book called Adventures in the Screen Trade.  It made famous a three-word mantra describing the way Hollywood works:  "Nobody knows anything."  (Another noted three-word phrase of Goldman's is "Follow the money," from his screenplay for All the President's Men.)  Goldman's point is that success or failure is entirely unpredictable.  His first example of the "nobody knows anything" principle was this:
B.J. Thomas's people, after the first sneak peak of Butch, were upset about their client's getting involved with the song "Raindrops Keep Fallin' on My Head."  One of them was heard to say, more than once, "B.J. really hurt himself with this one."
The song was a #1 hit for four weeks, won an Oscar for Burt Bacharach and Hal David, and ranked 23rd on the AFI's all-time list of American movie songs in 2004.  You could have a great career hurting yourself like that.
Thomas's "people" missed the boat, but they still may have had a point.  Thomas made more than one recording of the song.  In the movie he sings with a rasp, nearly losing his voice.  Another version got radio play.
The movie, raspy singing and all, was a huge hit at the box office, making even bigger stars of the duo playing the title leads, Paul Newman and Robert Redford.  Among other things, the film was a re-invention of the western.  Based loosely on the Hole in the Wall gang, the story follows the outlaws as they rob banks, blow up a train, and run from the law.  Butch and Sundance vie for the attention of Etta Place (the lovely Katharine Ross), and eventually head off to Bolivia, where their destiny awaits.
The musical interlude with the B.J. Thomas song is a definite change of pace.  It worked at the time, but it's hardly what we think of as cutting edge when we think back to the '60s.  Today it seems almost quaint.  (For a contrast, listen to "Born to Be Wild" in another movie from '69, Easy Rider, and you get a taste for what movies were about to become.)
So you may wonder, on a beautiful sunny day, why is B.J. Thomas singing about raindrops falling on his head?
Good question.
Butch Cassidy and the Sundance Kid (1969)
George Roy Hill, director
"Raindrops Keep Fallin' on My Head"
Hal David, lyrics, Burt Bacharach, music
B.J. Thomas, singer
Paul Newman, Katharine Ross
---
Quote of Note
Charlie Chan
:  Man who places self in way of finger of suspicion must not be surprised if he receives poke in the eye.
Paul Arranto
:  You suspect me?
Charlie Chan
:  Suspicion like rain—fall upon just and unjust.  You protect yourself with umbrella of innocence, but at the moment I'm afraid your umbrella have big leak.
—Charlie Chan (Sidney Toler), Paul Arranto (George Lewis), 
Charlie Chan in the Secret Service
(1944)
…58…59…60.