Friday Minute
No. 96 | May 14, 2010

Act Naturally

Our theme this week
Oscar-winning singers-turned-actors
Featured this week (theme introduction)
Monday         —   Cher
Tuesday         —   Bing Crosby
Wednesday    —   Barbra Streisand
Thursday        —   Jennifer Hudson
Frank Sinatra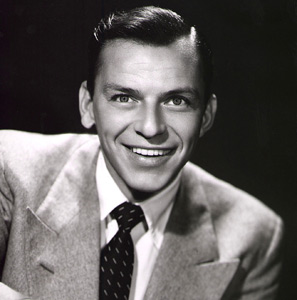 Frank Sinatra was the greatest moonlighter in the history of cinema.  He made more than 50 movies, from the 1940s into the '80s, starring in musicals, thrillers, comedies, and dramas, many of them hits, while earning the respect of critics and more than a few awards along the way.  All the while, he kept his day job.  You may have heard.  He sang a few songs.
Undeniably, Sinatra has a spot on the short list of great entertainers of the 20th century.  From this vantage, his career may look like one success after another.  Yet his enduring fame wasn't inevitable.  He had his highs, and he had his lows.  When he was down, he came back.  In the end he triumphed.  As the song says, he did it his way.
Sinatra's music career had several phases.  He got his start as a singer in a band, with Harry James, then Tommy Dorsey.  Later he was a solo recording artist, working most notably with Nelson Riddle.  Sinatra went through different periods in his film career too, from his song and dance days in the heyday of Hollywood musicals, to an impressive series of dramas in the '50s, to comedy and movie star roles in later years.
A trio of MGM musicals were his most successful films of the '40s.  In each he co-starred with Gene Kelly, and for a couple he played a sailor on shore leave.  Anchors Aweigh (1945) featured "I Fall in Love Too Easily," and On the Town (1949), "New York, New York" (same title as another song that Sinatra would make his own in the '80s).  Busby Berkeley's Take Me Out to the Ballgame (1949) was another hit.
In the next few years his marriage broke up, after a public affair with his next wife, Ava Gardner, and his appeal to bobby soxers was on the wane.  Sinatra turned his career around with From Here to Eternity, the big screen adaptation of James Jones's novel set on the eve of World War II.  He played Private Maggio, a supporting role, and it was an all-around success.  The film was a box office hit and won Best Picture.  Sinatra took home an Oscar for his performance, and established himself as a dramatic actor. 
Sinatra's films of the '50s include his best dramatic performances.  In 1954 he starred in Suddenly as a tough guy out to assassinate the president.  The next year he was a heroin addict in Otto Preminger's The Man with the Golden Arm.  Other films were the drama-musical-biopic The Joker Is Wild (1957) and Some Came Running (1958).  Sinatra continued making musicals, notably Guys and Dolls (1955), as Nathan Detroit, opposite Marlon Brando, High Society (1956), with Bing Crosby and Grace Kelly, and Pal Joey (1957), from Rodgers and Hart, with Rita Hayworth.
Ocean's Eleven (1960) was hardly a great cinematic achievement, yet it put the Rat Pack together, those icons of cool, with Ol' Blue Eyes the ringleader.  The film has been remade, and relatively well, but the aura of the original gang still hasn't been touched.  The Manchurian Candidate (1962) is a classic, with Sinatra in one of his most memorable roles as Major Marco, a Korea vet trying to unravel a bizarre assassination plot.
Sinatra's approach to recording music and to making movies was quite distinct.  He was meticulous with his records, taking long hours for rehearsal and laying down many tracks in the studio.  On the film set, he was in and out, preferring a single take.  With music, he aimed for perfection.   With films, spontaneity.  In either case, no one can argue with the result.
Academy Award nominations
The House I Live In (1946, short subject, Honorary Award)*
From Here to Eternity (1953, BSA)*
The Man with the Golden Arm (1955, BA)
Jean Hersholt Humanitarian Award, 1971*
* Won Oscar
---
The Manchurian Candidate
(1962)
John Frankenheimer, director
Frank Sinatra, Henry Silva
Karate Fight
Sinatra broke the little finger on his right hand while filming the fight.
---
The Man with the Golden Arm
(1955)
Otto Preminger, director
Frank Sinatra
---
Pal Joey
(1957)
George Sidney, director
Frank Sinatra, Rita Hayworth
"The Lady Is a Tramp" (Richard Rodgers & Lorenz Hart)
---
Quote of Note
Rosie
:  Maryland's a beautiful state.
Marco
:  This is Delaware.
Rosie
:  I know.  I was one of the original Chinese workmen who laid the track on this stretch.  But nonetheless, Maryland is a beautiful state. So is Ohio, for that matter.
Marco
:  I guess so.  Columbus is a tremendous football town.  You in the railroad business?
Rosie
:  Not anymore.  However, if you will permit me to point out, when you ask that question you really should say, "Are you in the railroad
line
?"  Where's your home?
Marco
:  I'm in the army.  I'm a major.  I've been in the army most of my life.  We move a good deal.  I was born in New Hampshire.
Rosie
:  I went to a girls' camp once on Lake Francis.
Marco
:  That's pretty far north.  What's your name?
Rosie
:  Eugenie.
Marco
:  Pardon?
Rosie
:  No kidding, I really mean it.  Crazy French pronunciation and all.
Marco
:  It's pretty.
Rosie
:  Well, thank you.
Marco
:  I guess your friends call you Jenny.
Rosie
:  Not yet they haven't, for which I am deeply grateful.  But you may call me Jenny.
Marco
:  What do your friends call you?
Rosie
:  Rosie.
Marco
:  Why?
Rosie
:  My full name is Eugenie Rose.  Of the two names, I've always favored Rosie because it smells of brown soap and beer.  Eugenie is somehow more fragile.
Marco
:  Still, when I asked you what your name was, you said it was Eugenie.
Rosie
:  It's quite possible I was feeling more or less fragile at that instant.
Marco
:  I could never figure out what that phrase meant:
more or less
.  You Arabic?
Rosie
:  No.
Marco
:  My name is Ben, really Bennett.  Named after Arnold Bennett.
Rosie
:  The writer?
Marco
:  No, a lieutenant colonel.  He was my father's commanding officer at the time.
Rosie
:  What's your last name?
Marco
:  Marco.
Rosie
:  Major Marco.  Are you Arabic?
Marco
:  No.
Rosie
:  Let me put it another way.  Are you married?
Marco
:  No.  You?
Rosie
:  No.
Marco
:  What's your last name?
Rosie
:  Chaney.  I'm a production assistant for a man named Justin, who had two hits last season.  I live on 54th Street, a few doors from the modern museum of art, of which I'm a tea-privileges member, no cream.  I live at 53 West 54th Street, Apartment 3B.  Can you remember that?
Marco
:  Yes.
Rosie
:  ELdorado 5-9970.  Can you remember that?
Marco
:  Yes.
Rosie
:  Are you stationed in New York?  Or is
stationed
the right word?
Marco
:  I'm not exactly stationed in New York.  I was stationed in Washington, but I got sick, and now I'm on leave, and I'm going to spend it in New York.
Rosie
:  ELdorado 5-9970.
Marco
:  I'm gonna look up an old friend of mine who's a newspaper man.  We were in Korea together.
—Major Bennett Marco (Frank Sinatra), Eugenie Rose Chaney (Janet Leigh),
The Manchurian Candidate
(1962)
…58…59…60