MAD Contest Puzzles
[1/13:  Please see UPDATE under Contest Details & Instructions at the bottom of the page.]
[2/5:  Thank you for participating in the MAD Launch Contest.  The puzzle answers are here.]
Welcome to the MAD Launch Contest page, and congratulations on making it this far.  Your ability to find this page is a good indicator that you read English, in which case you should have a shot at winning a prize.  To improve your chances, however, it will help to know a few things.
You'll find three movie-themed puzzles below, giving you three ways to enter the contest.  Each puzzle has a final answer, and you can enter the contest by submitting the final answer for one, two, or all three puzzles.  The more correct answers you submit, the better your odds.
You'll also find the contest instructions below, which you'll need to follow if you hope to win a prize.  Contest submissions must be received by January 31, 2010.
Here are the three puzzles:
1.  MMX — a crossword puzzle
2.  FilmFest 101 — a puzzle that's not a crossword puzzle
3.  Favorite Film — a "puzzle" that's not really a puzzle
MMX
The crossword puzzle is available in two formats:  Across Lite (.puz) and Adobe (.pdf).  Take your pick.
     MMX (.puz)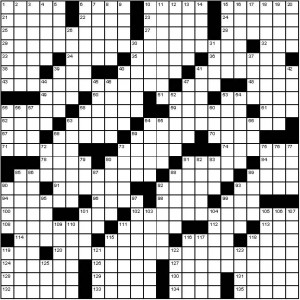 MMX (.pdf)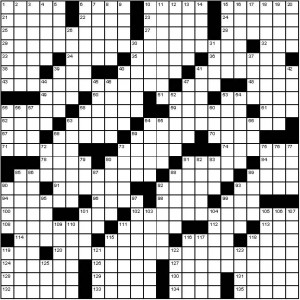 Instructions:
1.  Solve the crossword puzzle.
2.  Follow the special instruction for the MMX final answer.  You can read it by highlighting the four lines below:
      [CLICK HERE FIRST]
      Astute solvers (like you) will note that two clues in the crossword are anagrams
      of each other, with their answers, taken together, forming the title of a 1978 film
      that is consistent in a way with ten of the Across answers in the grid.  The full
      ten-letter film title is the MMX final answer.
      [DRAG CURSOR TO HERE]
      Or, to see the special instruction on a new page, click here.
3.  See below for contest instructions on final answer submissions.
I'd recommend following the order of the instructions as offered, though you're welcome to solve the puzzle any way you wish.
If you need to download a free version of Across Lite or Adobe Reader, here are the links:
Across Lite — Litsoft site (v1.2) or New York Times site (v2.0) (v2.0 recommended, but either will work)
Adobe Reader — Adobe site
FilmFest 101
This puzzle is not a crossword puzzle.  There is no grid to fill in with answers.  In fact, I'll be giving you the answers first.  That'll make this puzzle duck soup, right?
FilmFest Program
FilmFest 101 will be presenting 100 films ranging from the early days of cinema to what's playing now at a theater near you.  Let's take a look at the films in the program.
| | | | | | | | | | |
| --- | --- | --- | --- | --- | --- | --- | --- | --- | --- |
| 10 Things I Hate About You | 2012 | 8 Mile | A Clockwork Orange | A Trip to the Moon | Absence of Malice | American Beauty | And Now... Ladies and Gentlemen... | Around the World in Eighty Days | Au Revoir les Enfants |
| Belle de Jour | Beyond the Forest | Big | Bound for Glory | Braveheart | Broken Blossoms | Cars | Catch-22 | Cléo from 5 to 7 | Dancer in the Dark |
| Dark Passage | Dead Man Walking | Deep Impact | Dial M for Murder | Diner | Easter Parade | Easy Street | Eyes Without a Face | Face/Off | Fallen Angel |
| Forbidden Planet | Frost/Nixon | Gertie the Dinosaur | Harlan County, U.S.A. | His Girl Friday | Hotel Rwanda | How Green Was My Valley | I'm Not There | In Cold Blood | Intolerance |
| La Dolce Vita | Last Year at Marienbad | Lawrence of Arabia | Les Enfants du Paradis | Lolita | Marty | Mask | Mirage | Mr. Arkadin | Mulholland Dr. |
| Mystic River | Network | North by Northwest | Odd Man Out | On the Beach | Patton | Philadelphia | Picnic at Hanging Rock | Planes, Trains and Automobiles | Prizzi's Honor |
| Public Enemies | Pulp Fiction | Rabbit-Proof Fence | Ran | Random Harvest | Rear Window | Repas de Bébé | Shine | Silver Streak | Strangers on a Train |
| Superman | The Blue Angel | The Bourne Identity | The Curse of the Were-Rabbit | The General | The Great Escape | The Great Train Robbery | The Hitch-Hiker | The Hurt Locker | The Kiss |
| The Leopard | The Man | The Pajama Game | The Paradine Case | The Polar Express | The Stratton Story | The Tree of Wooden Clogs | The Winning Team | The Wrestler | Thone of Blood |
| T-Men | Twentieth Century | W. | Walkabout | West Side Story | White Heat | Who's Afraid of Virginia Woolf? | Wuthering Heights | Yojimbo | You're Darn Tootin' |

(If fewer than ten columns display in your browser, click the upper-right button in the top banner to expand the width of the page.)
FilmFest Screening Schedule
The films in the program will be presented in a series of screenings.  Each screening will consist of at least two, but no more than five, films.  Any film may appear in one, but no more than one, screening.  If the description of the screening applies to a film, that film will be presented as part of the screening.  Let's take a look at the screenings.
Film titles with two letter M's
Films starring one-named singer-actors (includes singer-actresses)
Films for which Bruce Springsteen composed and performed original songs
Films in which Hitchcock cameos feature musical instruments
Film titles that are names of trains
Films with scenes of motorcycle crashes involving main characters
Films with protagonists named McQueen
Films with a color of the Irish flag in the title
Films set primarily in Australia
Films directed by women
Films directed by men named Mann
Films based (loosely) on works of Shakespeare
Italian films that won the Palme d'Or at Cannes
French films that won the Golden Lion at Venice
Films from before 1920 in the National Film Registry
Biopics about people who are namesakes of U.S. presidents
Films featuring African-American presidents
Films about the news biz
Films with characters who get a new face through surgery
Films about characters with amnesia
Films with key characters who have reduplicated (i.e., repeating) names
Films with key characters named Wallace
Films featuring Our Gang actors in adult roles
Films featuring the line "What a dump!"
Films with Kevin Bacon

FilmFest Final Screening
The final screening will present those films among the 100 listed in the program that were not presented in the 25 screenings above.  The final screening has exactly one film from each of the twelve past decades of film history (the 1890s through the 2000s).  The films will be presented in reverse chronological order.
FilmFest Final Answer
There are no further instructions.  If you've gotten to this point, you shouldn't need me to spell it out for you.  Congratulations!
If, however, you would still like help with the FilmFest puzzle, you can read MAD Movie Minutes during January for hints.  You'll get a new hint every week.  (Here's one hint to get you started:  the final answer is not listed among the 100 films in the program.)  If you'd like a one-page .pdf file listing the films in the program and the screening schedule, you'll find it here.  Once you have the FilmFest 101 final answer, see below for contest instructions on submissions.
Favorite Film
The third "puzzle" is not a puzzle and does not require any puzzle-solving skills (and there was much rejoicing across the land).  The ability to read English, as noted, will be helpful for understanding the instructions.  Otherwise, you may need a translator (e.g., Babel Fish, Reverso, Bing, or your cousin who's an interpreter at the U.N.; your cousin, though, may want a share of any winnings).
The final answer to the Favorite Film "puzzle" is the answer to the following question:
What is your favorite new film of 2009?
I'm interested in movies that were released last year–that is, not films from previous years (e.g., Slumdog Millionaire or Casablanca), even if you saw them for the first time in 2009.  I'm not going to quibble about exact release dates, especially for some foreign films (no English requirement here), but please be close.  If somehow you made it through all of 2009 without seeing a single new film, do not fear.  You have all January to catch up.
A few other notes:  One, I've asked for your "favorite" new film, which you may consider different than your choice of "best" new film.  However you want to look at it is all right with me.  Just pick one.  Two, to be clear, I'm not asking for your Oscar pick for Best Picture (we can do that some other time).  Finally, please send one film title only, not your top ten list and not multiple favorites that are tied in your mind for #1 (I'll just use the first 2009 film you mention and that will be it).
Once you have your Favorite Film final answer (whew!), see below for contest instructions on submissions.
Contest Details & Instructions
The MAD Launch Contest is an opportunity for you not just to test your wits but to win a prize.  Here are the prizes:
Grand Prize:  $50 — one winner
Pretty Good Prize:  $25 — two winners
Maybe the Best Prize:  MAD About Movies Coffee Mug — five winners
The three puzzles in the contest are free.  The prizes, however, will be awarded to entrants who submit correct answers and pay a nominal entry fee during January.*  The entry fee is $3.50, minimum (any higher amount will be gratefully accepted as well).  It's a single fee whether you submit answers for one, two, or all three puzzles.  That's roughly what you'd pay your local barista to fill that new coffee mug, if you win.  Sounds to me like a good deal.  You can use the "Donate" button on the sidebar to pay via PayPal.  (Note:  The PayPal payment method is less than ideal, especially for small amounts such as this.  Maybe I'll find a better alternative in the future, but for now it's a solution that at least will work.  If you'd like to discuss other options, please send me an email.)
* UPDATE (1/13/10):  Please send in your entry even if you choose not to pay the contest fee (send either one, two, or three of the final answers—even if it's only your "favorite new film of 2009").  There will be a second, separate drawing, and you'll be eligible for a non-cash prize.
As mentioned, your submission can be for one, two, or all three puzzles.  Either submit your final answers for one puzzle at a time (if that works for you) or all at once (preferred).  Please submit your answers via email (see below).  In the Subject line, you need to write either ONE, TWO, or THREE, the number corresponding to the number of puzzle answers you're submitting at the time.  Please include your final answers for the respective puzzles in the body of your message, one final answer per line.  (Please, no need to "show your work."  This is not a math test.  Final answers only.)  If  you make separate submissions for the different puzzles, please indicate that so I know to look for it.  If you make multiple submissions with different final answers for the same puzzle, I'll accept only the last answer you submit.  If your email address for submissions is not the same as for your PayPal account, please let me know so I can tell if you've paid.
The number of correct final answers that you submit will determine your odds for winning a prize (provided you've paid the minimum entry fee).  If you submit a correct final answer for one puzzle, your name goes "in the hat" one time.  If you submit a correct final answer for two puzzles, your name goes in twice.  If you submit a correct final answer for all three puzzles, your name goes in five times.
All contest submissions and entry fees must be received by January 31, 2010 (end of day, Pacific Time).  Answers and winners will be announced the first week of February.
Your final answer submissions should be submitted in an email message:
Email address for submissions — contest[at]minaday.com
Please use the address above for final answer submissions only.  If you have any questions or otherwise need to contact me, please use this email address:  john[at]minaday.com.
The Comments section is open but please, NO SPOILERS.  No discussion of any answers until after January.  Thank you.  (If your comment or question requires any mention or hints of potential answers, send me an email.)
A final word:  Your knowledge of movies will help you solve the puzzles.  Your powers of deduction will help as well.  If you get stuck on a puzzle, I'd suggest you put it aside for awhile and take another crack at it later.  That said, there are no restrictions on how to solve the puzzles (just don't ask me for hints or answers).  Be as resourceful as you want to be.  The best research, by the way:  see a movie.
Good luck and happy puzzling!