MAD Movie Minutes
November 1–5, 2010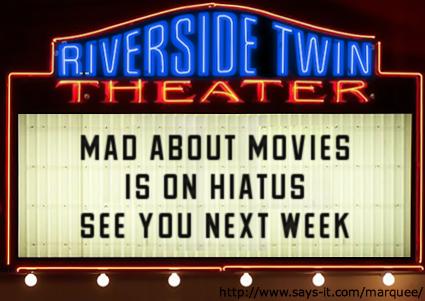 I'll be taking some time this week to attend to other business, to refuel, and if all goes according to plan, to see a few movies too.  Your regularly scheduled program will resume next week.  I look forward to seeing you then.
While you're here visiting the site, I invite you to browse around.  Among the features you may find of interest:
MADness—the Blog
The blog is the site's semi-daily (or semi-weekly) place for other posts about movies and various items of interest—i.e., whatever may be on my mind.  I do expect to have a few new items up on the blog, though the front page will be idle.
The Vault of Minutes Past
The Vault is the archive of all past posts from the MAD About Movies front page, easy to view on a single page.
MAD Crossword Puzzles
The MAD Puzzles page will be updated on Monday, the 1st, with a new pair of Gram Crackers.  As always, an archive of all puzzles from the past year is available too.
Other suggestions to make good use of your time:
The Local Cineplex
There are some good movies at theaters right now.  Go see them.  Here are three in particular I highly recommend:
The Social Network
Never Let Me Go
Conviction

The Local Ballot Box
Election Day is this week.  You know what to do.  (Remember, Republicans vote Wednesday this year!)