Monday Minute
No. 152 | September 6, 2010

Once Is Enough
ONCE, adv.  Enough.
That's Ambrose Bierce, not a man to waste words, in The Devil's Dictionary.  Seems that more than a few actors-turned-directors have read the book.
Acting and directing are different professions offering different rewards.  Actors get the limelight, directors the clout, and that may be why they often trade places.  Who can blame them for wanting both?
The list of actor-directors goes on and on—Chaplin, Welles, Cassavetes, Allen, Eastwood, and many dozens more.  This week we feature a small subset from that roster:  actors who took the reins to direct a film once, but never again.
Note, a couple of this week's filmmakers are still alive and may not be done yet—we'll see—but I will skip the one-timers who either have second efforts on the way (e.g., Tom Hanks, Johnny Depp), have also directed television (e.g., Tommy Lee Jones, Zach Braff), or seem a good bet to get behind the camera again (e.g., Drew Barrymore, Edward Norton).
Our theme this week
Actors who have directed one film only
Marlon Brando:  One-Eyed Jacks (1961)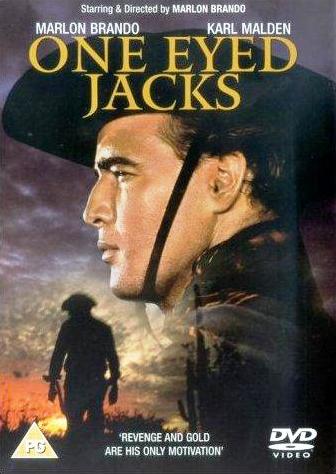 Marlon Brando's production company owned the rights to a Charles Neider novel, a western based loosely on the story of Pat Garrett and Billy the Kid.  Brando hired and fired several writers (Rod Serling, Sam Peckinpaugh, and Calder Willingham) and the intended director (Stanley Kubrick) before getting Guy Trosper to work on the script and hiring himself for his first and only credit as director.
Brando teamed with Karl Malden, his costar in a couple of landmark films a decade earlier, A Streetcar Named Desire and On the Waterfront, both directed by Elia Kazan.  Brando plays Rio and Malden, Dad Longworth, as bank robbers in an ill-fated heist in Sonora, Mexico.  The third partner, Doc, is killed, and as the two try to escape, Dad betrays his friend, adandoning him on a hilltop where Rio is surrounded by Mexican Rurales.  Rio serves five years in prison, then after his release tracks down Dad in Monterey, California, where he is now sheriff.  Rio plots revenge but falls in love with Dad's stepdaughter, Louisa (Pina Pellicer, in the best known of the few film roles in her too-brief career).  Rio's presence is more than Dad can bear, and the sheriff is merciless in inflicting justice on Rio, who is beaten and later jailed on false charges.  After Rio escapes, the two men have their final showdown.
One-Eyed Jacks is a revisionist western, and you can understand what attracted Brando to the material.  The good guys and bad guys are not easy to discern.   Who's wearing the badge doesn't tell you much.  In fact, as the title implies (in a deck of cards, one-eyed jacks are pictured in profile), the lead characters are two-faced, one side public and the other hidden.  (Think the Harvey Dent character in The Dark Knight.)  The film is not a simple morality tale.  It's a swipe at the conventions of westerns, which by the sixties had nearly run their course.  Instead of mesas or Monument Valley, most of One-Eyed Jacks is set at the beach, as west as the West can go, along the white sands of Monterey.  Charles Lamb beautifully captured the scenes, earning an Oscar nomination for cinematography.  It was the last Paramount film to be shot in widescreen VistaVision.
The film runs nearly two-and-a-half hours.  It meanders, more interested in contemplating character than tightly plotted action.  But Brando's version was much longer—four to five hours, apparently—and the studio cut it in half before releasing the film.  That experience may explain why Brando didn't direct again, and why no one would hire him.
Opinion on the film is divided.  Some say it's a classic, some say a mess.  I'd say it's neither, but it is a well-done, involving tale, with plenty of good reasons to see it even if it weren't the only movie that Brando ever directed.
---
One-Eyed Jacks (1961)
Marlon Brando, director
Guy Trosper, Calder Willingham (screenplay), Charles Neider (novel), writers
Trailer
---
Quote of note

"You might be a one-eyed jack around here, Dad, but I've seen the other side of your face."
—Rio (Marlon Brando),
One-Eyed Jacks
(1961)
…58…59…60.