Wednesday Minute
No. 212 | February 9, 2011

Best of 2010

Our theme this week
Top English-language films of 2010
Featured this week
(See Monday post for theme introduction)
Monday         —   Best Films of 2010 (#15 to #11)
Best Films of 2010 (#10 to #6)

#10 — Blue Valentine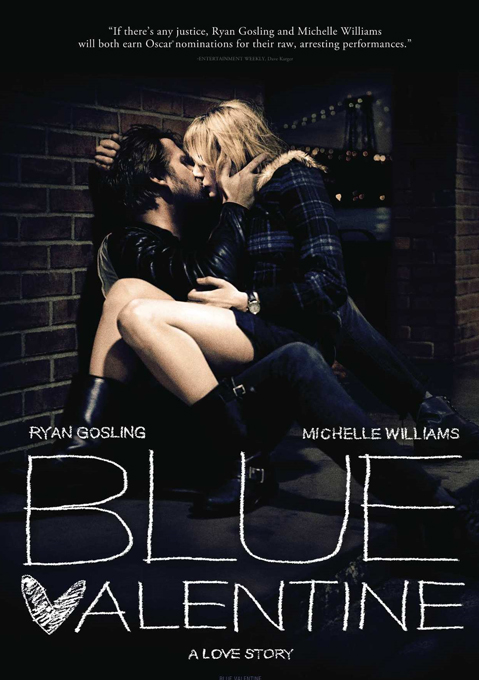 Ryan Gosling and Michelle Williams, two excellent actors who just turned 30, give a couple of their finest performances in Derek Cianfrance's raw and searing Blue Valentine.  It's a story of a couple told in present day and flashback, from their first meeting to final parting.  The film opens with their young daughter standing in a field screaming for her lost dog, and it closes with her running after her dad, who walks away from his family life in a blaze of fireworks.  There's hardly a conventional shot in the whole works.  The photography, like the characters, is off-kilter.  The music, scored by Grizzly Bear, keeps us on edge.  The movie is unpredictable, even volatile, and in the end, unforgettable.
(Blue Valentine at MAD:  review)
#9 — Winter's Bone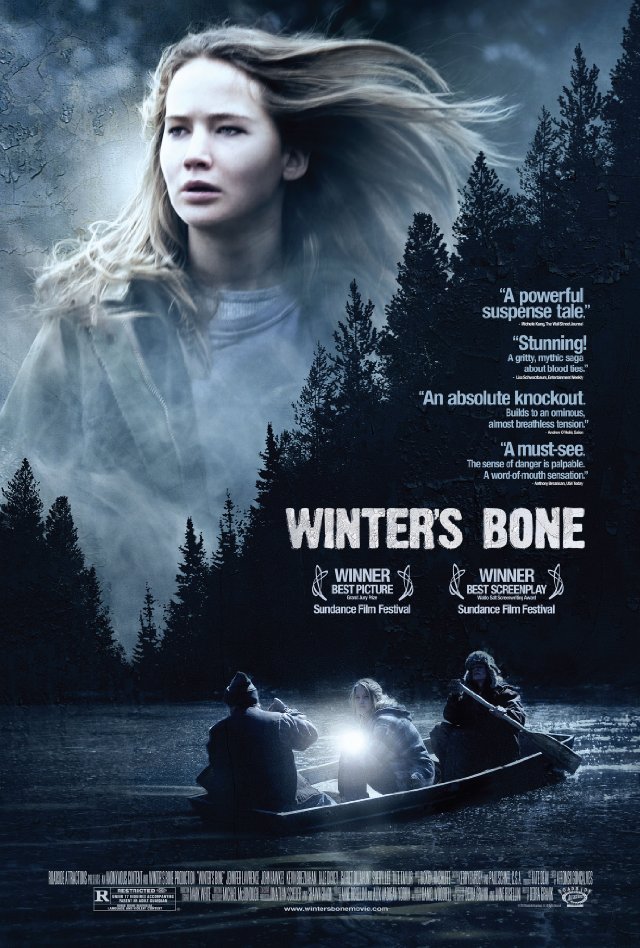 The story in short, from my look at Winter's Bone two weeks ago:
The search for the father is about the oldest story around.  Telemachus, meet Ree.  She's a 17-year-old living in the dirt-poor hills of Missouri.  She has a sick mother, a couple of younger siblings to care for, and a father nowhere to be found.  Unless she finds him in a few days—dead or alive—her family will lose their home.  The hunt is on.  First-rate performances from Jennifer Lawrence as the fearless teen and John Hawkes as her uncle, Teardrop.
It takes money to make movies, but not a lot to make a good one—or even one of the best of the year.  Winter's Bone was made for a sum that would be rounding error for most Hollywood productions (less than the cost of those 30-second ads during the Super Bowl).  The result is a taut, focused film about an implacable heroine in a land we hardly ever see at the movies, the Ozarks.  It's a fine, stirring picture from director Debra Granik.  There's a lesson there for Hollywood, though not one it's likely to learn.
#8 — The Ghost Writer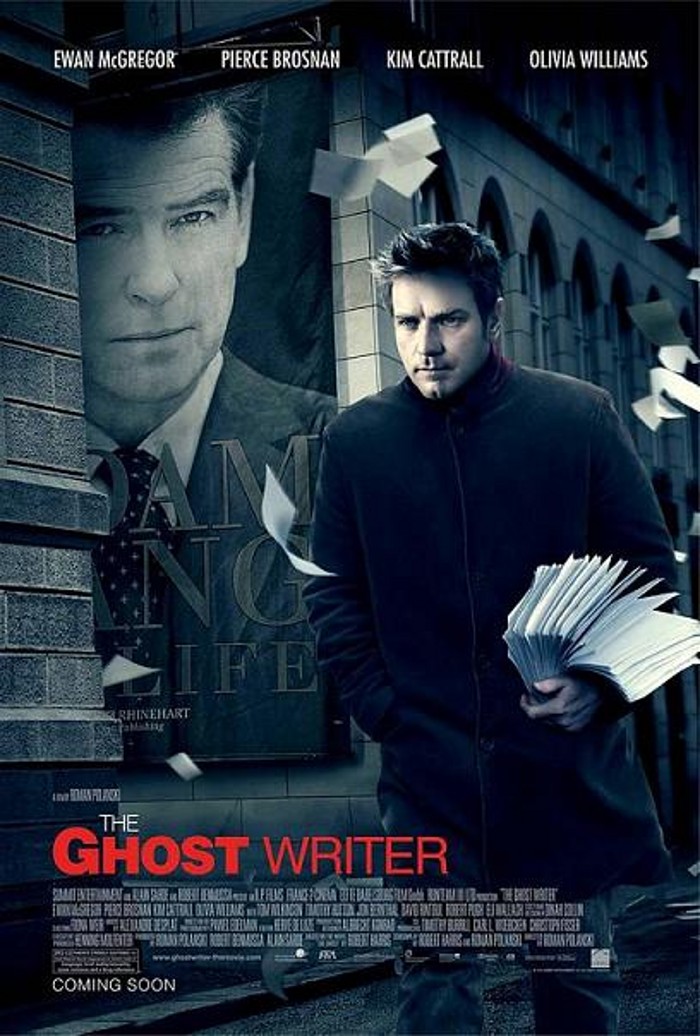 Roman Polanski made plenty of headlines last year, putting a lie to the idea that any publicity is good publicity.  Still under house arrest at the time, Polanski released an especially good movie, though reaction at the time seemed as much a referendum on the director as on the merits of his film.  The Ghost Writer stars Ewan McGregor in the title role, as the hired hand writing the memoirs of Adam Lang, a former British prime minister, and possible war criminal.  Pierce Brosnan plays Lang, in a sterling performance.  The ghostwriter uncovers dark secrets of Lang's past, putting his own life in danger.  Supporting performances from Olivia Williams, as Lang's wife, and Kim Cattrall, as Lang's assistant, add a dash of spice as Polanski lays on the intrigue.  It's a cynical view of politics, in ways, perhaps even paranoid, but with Tony Blair, the model for the Lang character, now the focus of an inquiry in London for his role in the Iraq War, some elements of the film may in time look prescient.
#7 — The Fighter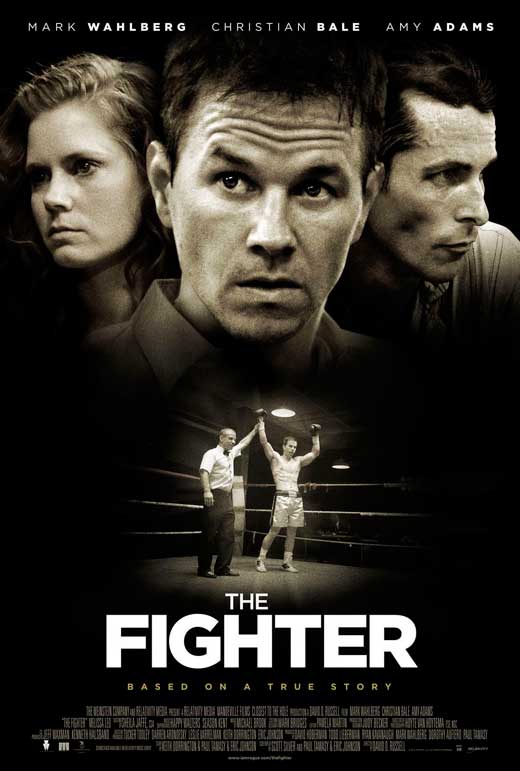 The Fighter is the true-life story of Micky Ward, a welterweight boxer from working-class Lowell, Massachusetts, whose greatest obstacle in pursuit of a championship is his own family.  Micky's half-brother, Dicky Ecklund, is the home favorite, a onetime pug hoping to make a comeback.  The story is entertaining, but the real pleasure of the film is in the performances.  Mark Wahlberg is Micky, the quiet center of the storm, with the three Oscar nominees providing the fireworks:  Christian Bale as Dicky, Melissa Leo as the matriarch of the clan, and Amy Adams as the tough-as-nails girlfriend.  Director David O. Russell is best known for his comic and off-beat works (Flirting With Disaster, I Heart Huckabees), and that sensibility is evident in a few scenes, but overall this is a more conventional work, and one of his most enjoyable.
(The Fighter at MAD:  review and Micky vs. Marky)
#6 — Never Let Me Go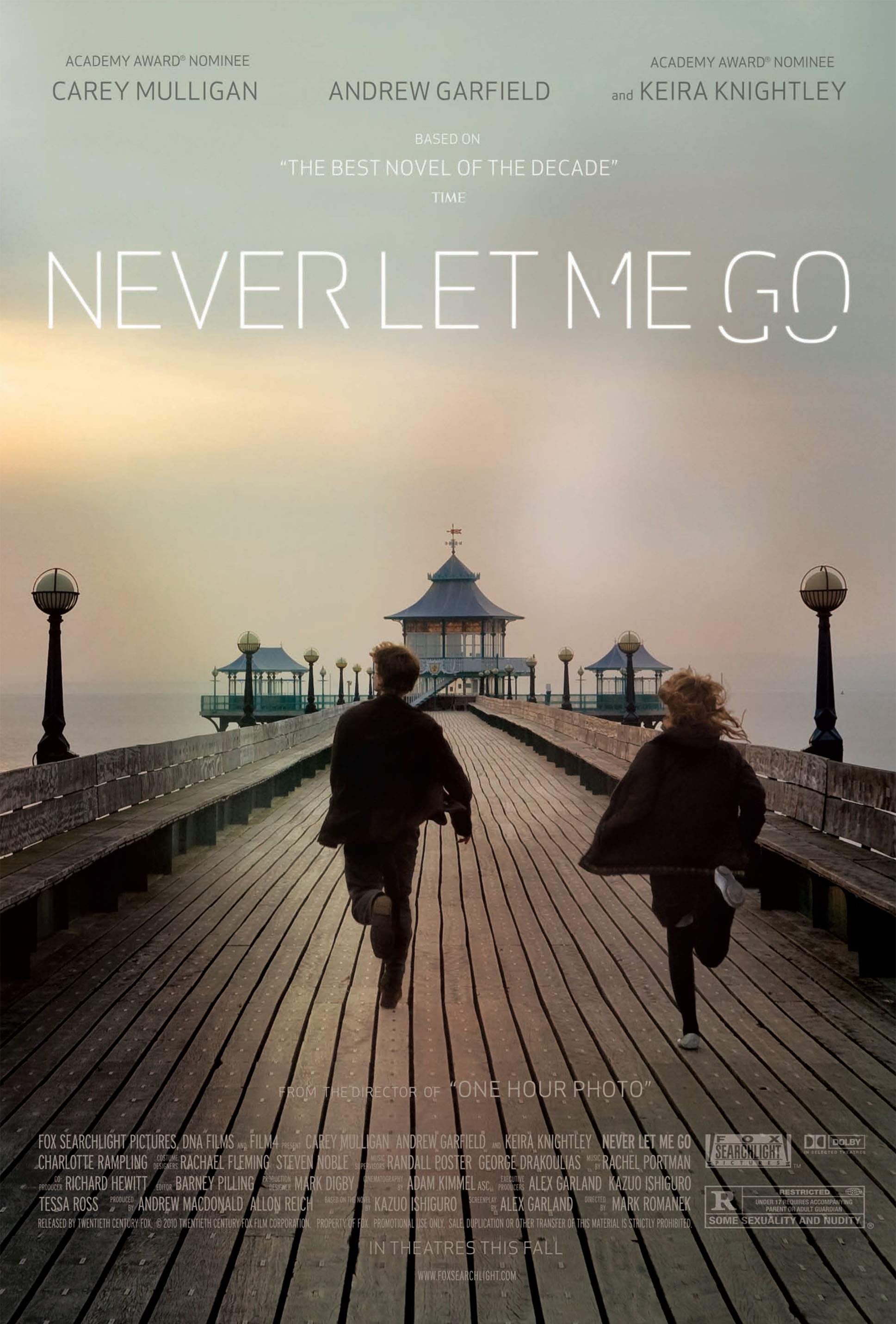 No other film from last year haunted me as did Never Let Me Go.  Based on the wonderful novel of Kazuo Ishiguro, the film tells the story of Kathy H., educated at the English boarding school Hailsham, where students live an idyllic existence while preparing for a special mission in life.  Slowly, the children (and we) learn the role for which they have been selected, and the utopian dream turns into a nightmare.  The film has been called science fiction, but don't expect any special effects or whiz-bang gadgetry.  It's a quiet, unhurried film, uncommonly tuned in to the inner thoughts of its characters.  What is it that makes people dedicate their lives, literally, to service of others?  What allows them to accept an inherently unfair fate?  In a way, Ishiguro's eye, and the film's, has its gaze on a class of society, perhaps more evident in Britain, whose circumstances offer limited freedom and opportunity.  But the story has a deeper resonance.  It's a meditation on life, that too-brief time each of us is given, and the need for us to choose how to spend it.  The film, I felt, came especially alive when Carey Mulligan, the adult Kathy, was onscreen.  Never Let Me Go has much to offer, not the least a chance to see one of the great talents of her generation.
---
Never Let Me Go (2010)
Mark Romanek, director
Kazuo Ishiguro (novel), Alex Garland (screenplay), writers
Adam Kimmel, cinematographer
Carey Mulligan, Andrew Garfield, Keira Knightley
Trailer
---
Winter's Bone (2010)
Debra Granik, director
Debra Granik, Anne Rosellini, writers
Michael McDonough, cinematographer
Jennifer Lawrence, John Hawkes, Garret Dillahunt
Trailer
---
Quote of note
The Ghost
:  You realize I know nothing about politics.
Rick Ricardelli
:  You voted for him, didn't you?
The Ghost
:  Adam Lang?  Of course, I did.  Everyone voted for him.  He wasn't a politician, he was a craze.
—The Ghost (Ewan McGregor), Rick Ricardelli (Jon Bernthal),
The Ghost Writer
(2010)
…58…59…60.