Monday Minute
No. 157 | September 13, 2010

It Was a Very Good Year … 1957
What's wrong with the movies?  That seems to be the question these days.  In the Wall Street Journal this summer, Joe Queenan (not a film critic) asked if 2010 is "The Worst Movie Year Ever?"  In Sunday's New York Times, A.O. Scott (a very good film critic) asks "Are Films Bad, or Is TV Just Better?"
Maybe this part of the year is a good time to complain about the state of the film biz, after summer movies have left a bad taste and the better movies of the fall ("Oscar season") have not yet hit theaters.  In any event, I don't expect anyone (not even fans of Inception) to claim that 2010 is a banner year for movies.  The lament now, as happens every so many years, is, Why don't they make movies like they used to?
My default response to that question is that today's movies aren't as bad as we sometimes think.  We've very much aware of the good and the bad now playing at the cineplex.  The mediocre, soon-to-be-forgotten movies usually outnumber the better ones.  When we think of movies from years past, we often forget the crap.  It's the good ones that comes to mind.  That's the way our minds work, and it's also the way the business works.  Movie companies release for home video only a small fraction of the movies in their vast libraries (less than 4%, believe it or not), and that—usually the good, not the bad—is what we watch, and what writers write about.
With that caveat out of the way, I'm not about to argue that movies today are as good as they always have been.  I'd say the movie business is in a state of crisis.  The problems range from the corporatization of moviemaking, including the takeover and shutdown of the once-thriving independent companies, to the misplaced focus on technology over story, to the general cultural amnesia of many in today's audience.  About Hollywood's troubles, there's more to be said some other time.  But this is hardly the first time in history that the industry has hit a wall, and as before, there's plenty of reason to expect that new filmmakers will emerge to give audiences great movies to watch in years to come.
In any case, when we talk about movies of today, it's always helpful to say, Compared to what?  I thought it might be useful to take a look at one year of movies from the past.  What year?  For the heck of it, let's look at 1957.
In picking that year, I'm trying not to stack the deck.  The 1950s was a very good decade for movies, though other years of the '50s probably were better, and years from other decades (e.g., 1939, 1974) better still.  The year began with the death of Humphrey Bogart, so 1957 marked the end of an era, in one sense.  Television was going strong and had already taken a good chunk of the movie audience.  And some top directors of the time (e.g., Alfred Hitchcock, Howard Hawks, William Wyler, Orson Welles, Vittorio de Sica) did not release a film.
Still, it was a very good year.  Consider the list below of films worth remembering.  Though not all are classics, a few have entered the canon of "essential" films.  Most if not all offered something worthy for fans who went to the theater and bought a ticket* (about the only option to see a movie in those days).
Keys to the highlighted films below:
Italics:  films among the year's top ten at the U.S. box office
Bold:  films with ratings of 8.0 or better at IMDb
Underline:  films receiving Oscar nominations for Best Picture or Best Foreign Language Film
Memorable films (and directors) of 1957:
20 Million Miles to Earth (Nathan Juran)
3:10 to Yuma (Delmer Davies)
An Affair to Remember (Leo McCarey)
Baby Face Nelson (Don Siegel)
Bitter Victory (Nicholas Ray)
The Cranes Are Flying (Mikheil Kalatozishivili)
The Cry (Michelangelo Antonioni)
Designing Women (Vincente Minnelli)
Desk Set (Walter Lang)
The Devil Strikes at Night (Robert Siodmak)
Do Ankhen Barah Haath (Rajaram Vankudre Shantaram)
Edge of the City (Martin Ritt)
A Face in the Crowd (Elia Kazan)
A Farewell to Arms (Charles Vidor)
Fear Strikes Out (Robert Mulligan)
Forty Guns (Samuel Fuller)
Funny Face (Stanley Donen)
The Gates of Paris (René Clair)
Les Girls (George Cukor)
Gunfight at the O.K. Corral (John Sturges)
A Hatful of Rain (Fred Zinnemann)
Heaven Knows, Mr. Allison (John Huston)
He Who Must Die (Jules Dassin)
Island in the Sun (Robert Rossen)
I Was a Teenage Werewolf (Gene Fowler Jr.)
Jailhouse Rock (Richard Thorpe)
Jet Pilot (Josef von Sternberg)
Kanal (Andrzej Wajda)
A King in New York (Charlie Chaplin)
Love in the Afternoon (Billy Wilder)
The Lower Depths (Akira Kurosawa)
Man of a Thousand Faces (Joseph Pevney)
Men in War (Anthony Mann)
Mother India (Mehboob Khan)
Night of the Demon (Jacques Tourneur)
Nights of Cabiria (Federico Fellini)
Nine Lives (Arne Skouen)
Old Yeller (Robert Stevenson)
The Pajama Game (George Abbott and Stanley Donen)
Pal Joey (George Sidney)
Peyton Place (Mark Robson)
The Pride and the Passion (Stanley Kramer)
The Prince and the Showgirl (Laurence Olivier)
Pyaasa (Guru Dutt)
Raintree County (Edward Dmytryk)
The Sad Sack (George Marshall)
Saint Joan (Otto Preminger)
Sayonara (Joshua Logan)
The Seventh Seal (Ingmar Bergman)
Silk Stockings (Rouben Mamoulian)
Slaughter on Tenth Avenue (Arnold Lavan)
The Spirit of St. Louis (Billy Wilder)
The Sun Also Rises (Henry King)
The Tall T (Budd Boetticher)
The Tarnished Angels (Douglas Sirk)
The Three Faces of Eve (Nunnally Johnson)
Throne of Blood (Akira Kurosawa)
The Tin Star (Anthony Mann)
Tokyo Twilight (Yasujiro Ozu)
White Nights (Luchino Visconti)
Wild Is the Wind (George Cukor)
Will Success Spoil Rock Hunter? (Frank Tashlin)
The Wings of Eagles (John Ford)
Witness for the Prosecution (Billy Wilder)
If you went to the movies once a week during 1957, you'd have missed some of those films.  The list is 64 titles long and doesn't even include the five very special films (all "essentials," any way you want to define it) that I plan to feature this week.
If the year 2010 hopes to be as memorable for movie fans 50-odd years from now, it had better get a move on.
* That's not to say I've seen every one of them; for some, the filmmakers are ones whose work is worth knowing; for a number, I've relied on the opinions of others.
Our theme this week
Notable films of 1957
Sweet Smell of Success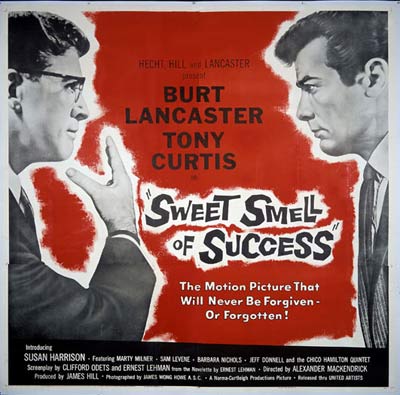 Sweet Smell of Success combined the talents of some of the finest in the business working at the top of their game.  Ernest Lehman, one of Hollywood's great screenwriters, wrote the novella (first published in Cosmopolitan in 1950) and adapted the screenplay.  Before completing the work he fell ill, and noted playwright Clifford Odets was hired to finish the script.  Alexander Mackendrick, returning to America after years at the Ealing Studios, was director (a craft about which he wrote, in On Film-Making, still very much in print).  Cinematographer James Wong Howe and composer Elmer Bernstein, both in the middle of first-rate careers, supplied the pictures and music.  Burt Lancaster and Tony Curtis starred, along with a fine supporting cast that included Susan Harrison and Martin Milner.
Lancaster plays J.J. Hunsecker, a powerful and ruthless newspaper columnist, and Curtis, Sidney Falco, an ambitious and unscrupulous press agent.  Hunsecker wields control over the famous and the mighty, but he can't control his sister, who is involved with a musician.  Hunsecker tells Falco to put an end to her romance, and won't speak to him otherwise.  Falco's business relies on Hunsecker, so he resorts to planting false rumors and phony evidence to frame the musician for a drug bust.  The action leads to a showdown at an apartment complex, where Hunsecker's sister tries to kill herself.
The depiction of Hunsecker, the kingpin before whom others must kneel to kiss his ring, is prescient—and pure acid.  The role of the almighty newspaper columnist may not be what it used to be, but today's media bigwigs still have great clout, able to make and break careers.  The talk show has replaced Hunsecker's table at a New York restaurant, and we don't even blink now when the hosts are more influential, and more comfortable, than the famous names they have on.
Sweet Smell of Success is well-known for its great dialogue, smart, full of wit, and stylized in a way that (unfortunately) we don't see in movies anymore.  The performances by Lancaster and Curtis are especially memorable.  The film is one of the best of its time, and now, more than a half-century later, it looks better than ever.
---
Sweet Smell of Success (1957)
Alexander Mackendrick, director
Ernest Lehman (novella, screenplay), Clifford Odets (screenplay), writers
James Wong Howe, cinematographer
Trailer
---
Sweet Smell of Success (1957)
Tony Curtis, Burt Lancaster, et al.
---
Quote of note

"Don't do anything I wouldn't do.  That gives you a lot of leeway."
—Sidney Falco (Tony Curtis),
Sweet Smell of Success
(1957)
…58…59…60.