Thursday Minute
No. 199 | December 23, 2010

'Tis the Season

Our theme this week
Classic Christmas films
Featured this week (theme introduction)
Tuesday         —   Miracle on 34th Street (1947)
Wednesday    —   A Christmas Carol (1951)
 
It's a Wonderful Life (1946)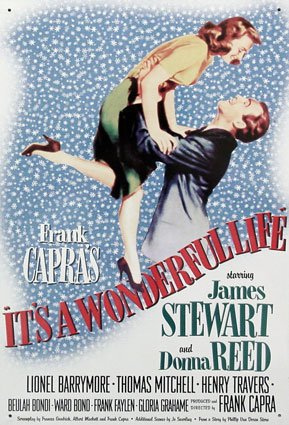 It's a Wonderful Life works on a variety of levels.  One appeal is a nostalgic one, with the film offering an idealized portrait of life from our small-town past.  The world seems fairer and friendlier in Bedford Falls, where folks know their neighbors, their neighbors know them, and the rest of the big, wide world lies far away.  Life seems, if not entirely wonderful, at least kinder, and in many ways, better.
Another element is the David-and-Goliath storyline.  Winsome hero George Bailey, with nothing but his sense of decency and the good will of friends, takes on and triumphs over the corrupting influence of the Scrooge-inspired Mr. Potter.  Score one for the little guy.  Who doesn't love to see the underdog win?
The film is a charming fantasy, as well.  Clarence Odbody, Angel Second Class, makes a visit to save George, and though Clarence is still learning on the job, he works in wondrous ways.  Clarence is the most colorful of a raft of colorful characters, though his eccentric qualities are not appreciated at Nick's Bar when he and George visit Pottersville in the film's fantasy sequence.  (Pottersville is an interesting contrast to Bedford Falls.  I'd say it looks more like our world than the beloved town of George Bailey:  perhaps a sign that the Potters of the real world have prevailed.  But the Pottersville of the film, though nightmarish in some respects, may seem to some viewers like more fun.)
Yet for all that, what makes It's a Wonderful Life the remarkable film that it is, is the character of George.  We follow George's life from boyhood to fatherhood.  George is ambitious, optimistic, courageous, but he's a dreamer who never gets to live his dreams.  Fate throws him a curve at every turn.  George is stuck in Bedford Falls, minding his father's building and loan, living in a "drafty old barn" of a house, married, much to his surprise, to the local girl, Mary, and now with kids.  When a mishap leads to scandal, George sinks to the depths of despair, and in his lowest hour he's about to throw himself off the town's snowy bridge.  Only with the help of the "great gift" from Clarence does George at last come to see that he has, in fact, a wonderful life.  The film provides an extraordinary portrayal of an ordinary man, a fuller look at a life than we often get to see.
George was played, of course, by Jimmy Stewart, in one of his finest performances.  He headed an excellent cast that includes Donna Reed as Mary, Lionel Barrymore as Mr. Potter, and Henry Travers as Clarence.  Frank Capra directed, his first film after the war, during which he made mostly documentaries.
The film was nominated for five Academy Awards, winning none, and earned a mix of good and mediocre reviews from critics.  James Agee said the film was "one of the most efficient sentimental pieces since A Christmas Carol," and though it "outrages" and "insults" it was "nevertheless recommended."  Bosley Crowther, in the New York Times, called the film "a turkey dinner, with Christmas trimmings," that while "emotionally gratifying, doesn't fill the hungry paunch." 
The widespread belief that the movie was a flop at the box office is not quite right.  The film made $3.3 million in rentals, a better-than-respectable sum for the time.  It is true that the movie was forgotten, neglected by critics.  In later decades it was rediscovered, and today the film ranks among the most cherished of holiday favorites.  But It's a Wonderful Life is more than a great Christmas movie.  It's a great movie, period.
As with the other films this week, I'll leave you with a caveat:  the film has been colorized—several times, in fact—but watch the black-and-white version.  That's the one you want to see.
---
It's a Wonderful Life (1946)
Frank Capra, director
Philip Van Doren (story), Frances Goodrich, Albert Hackett, Frank Capra, Jo Swerling (screenplay); writers
Joseph F. Biroc, Joseph Walker, directors of photography
James Stewart, Donna Reed, Lionel Barrymore, Thomas Mitchell, Henry Travers, Gloria Grahame
Trailer
---
It's a Wonderful Life (1946)
George Bailey has a word with Mr. Potter and the loan board
James Stewart, Lionel Barrymore
---
It's a Wonderful Life (1946)
The Final Scenes
George Bailey lives again, and Clarence gets his wings
"Merry Christmas, Bedford Falls!  Hey!  Merry Christmas, old Building and Loan!  Merry Christmas, Mr. Potter!"
---
Enjoy the holiday, all, and see you again next week.  Peace!
---
Quote of note

"You've been given a great gift, George:  a chance to see what the world would be like without you."
—Clarence (Henry Travers),
It's a Wonderful Life
(1946)
…58…59…60.