The Internet came along just in time.  It's the perfect medium for the fifteen bajillion pages written about movies over the past decade or so, a lucky thing for the world's forests.  Had all those pages appeared in book form, no doubt we'd be out of trees and back to writing on stone tablets by now.  I am glad that didn't happen.  I don't think my bookshelves could handle the weight.
So much written about movies, and so much of it about the box office from last weekend and the new films opening Friday.  No surprise, there's lots of interest in what's happening now.  That is, when we're not getting sneak peaks of what's opening next Fourth of July.
Minute A Day About Movies aims to take a broader perspective.  You'll get the old films with new films (or films yet to be) and anything in between.  You'll get the classics, which are classics for a reason and shouldn't be overlooked.  You'll get overlooked films that deserve better.  You may find a fresh angle to what we all know, or see connections between films and filmmakers that may not be obvious.  Anything about film is in scope, but mostly we'll focus on the good stuff, or the better stuff, or the greats.
For better for worse, you'll get my opinion, and you'll have the opportunity as well to share your own.
The format of MAD About Movies is simple.  Each week you'll find a new theme about some aspect of film.  Every theme will have five posts, one each weekday.  In addition to the Movie Minutes featured on the site's home page, you can also check out MADness–the Blog, with more about movies and anything else worth talking about.  If you're puzzle-minded, you may want to look at the Contest page for movie-themed puzzles and a chance to win prizes, or the Puzzles page for an occasional crossword (not necessarily about movies).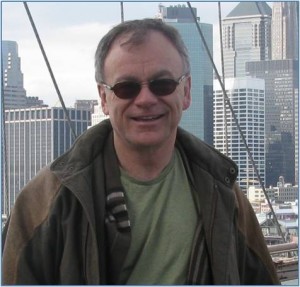 Who am I?  A guy who loves movies.  I love watching movies, reading about movies, talking about movies.  A few years ago I was lucky to collaborate with a dear friend on a film manual, and since then I've hoped to have a chance to write about movies again.  This is that chance.  As you may notice, I also make crosswords.  In recent years I've had a couple of dozen puzzles published in major venues, most of them in the New York Times.  (You can read a little more about me and much more about one puzzle than you ever wanted to know in this interview at the Times's Wordplay blog.)  My day job is in the corporate world.  I live with my lovely wife, Sylvie, and wonderful son, Donovan, in the relatively sleepy corner of Los Angeles known as Woodland Hills–now home to MAD world headquarters.
— John Farmer, 1/1/10