Thursday Minute
No. 234 | April 14, 2011
Sidney Lumet, R.I.P.
.
Over the weekend I was in Utah (surviving, it turned out), and saddened to learn of Sidney Lumet's death.  I had the itch to see one of his films, and when I made it home I put on The Verdict.  No particular reason, except maybe that I hadn't seen it in a while.  It's a film I had admired but it was even better than I remembered.  Paul Newman was brilliant, as good as he ever was, and the film allowed itself a darkness unlike anything you'd see in any movie today.  Lumet made something truly special.  You get a taste in the clip below.
For more of Lumet, check out this conversation with Charlie Rose from 2006.  I recall seeing it the first time.  I'd been a fan of Lumet's films, and I'd read his book a couple of times.  He was a guy I'd stop and listen to anytime.  It's a good interview, and after an engaging discussion about movies, Lumet got to talking about another of my interests, crossword puzzles.  Turns out he was a daily solver of the New York Times puzzle, "In ink!" he was proud to note.  "Except Thursday," he added with a smile.  "Thursday has been getting tougher."  That was sweet to hear at the time.  I was just getting started as a constructor, with a puzzle that had run in the Times that month, on a Thursday, a tricky number with a theme on squares.  It was a kick to think that the director whose work had given me many thrills over the years may have had a few minutes of pleasure with something I had done.  Yet if that's the case, I still got the better end of the exchange.  I owe you, Sidney.  We all do.
Finally, a link to the N.Y. Times retrospective "The Last Word," on the films and life of Sidney Lumet, with reporter Tim Weiner.
Our theme this week
Director Sidney Lumet
The Verdict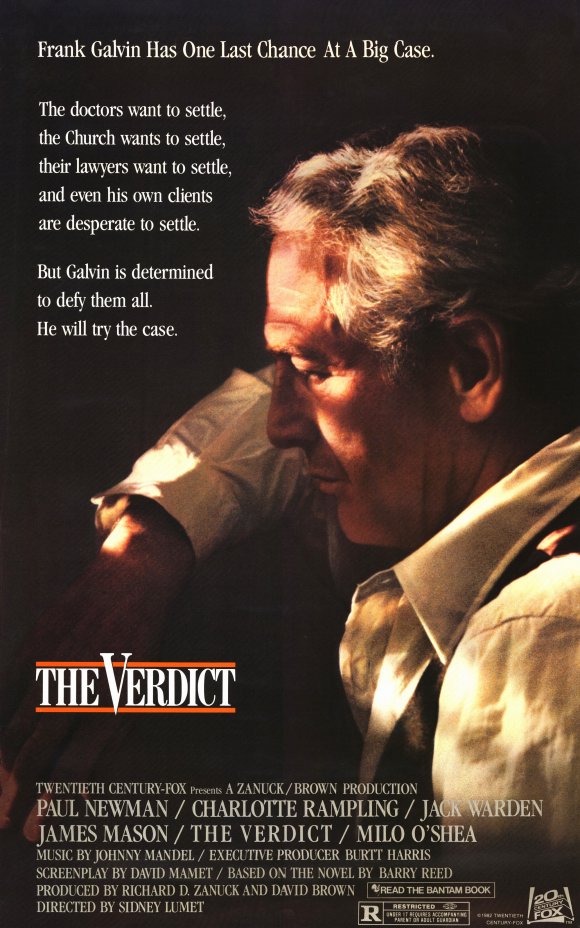 Sidney Lumet, in his own words:
The Verdict, Andrzej Bartkowiak, photographer.  The movie was about a man's salvation, his fight to rid himself of his past.

I wanted as "old" a look as possible.  Art direction had a lot to contribute, and we'll deal with that later.  But light mattered enormously.

One day I brought a beautiful edition of Caravaggio's paintings to my meeting with Andrzej.  I said, "Andrzej, there's the feeling I'm after.  There's something ancient here, something from a long time ago.  What is it?"  Andrzej studied the pictures.  Then, with his charming Polish accent, he pinpointed it.  "It's chiaroscuro," he said.  "A very strong light source, almost always from the side, not above.  And on the other side, no soft fill light, only shadows.  Once in a while he'll use the reflective light of a metal source on the dark side."  He pointed to a young boy holding a golden salver.  On the shadow side of the boy's face, one could discern a slight golden hue.  And that's what Andrzej carried out in the lighting of the movie.

—Making Movies, 1995 
---
The Verdict (1982)
Sidney Lumet, director
Barry Reed (novel); David Mamet (screenplay); writers
Andrzej Bartkowiak, cinematographer
Paul Newman, Charlotte Rampling, Jack Warden, James Mason
---
Quote of note
Hoyle
:  Frank, what would you and your client take—right now, this very minute—to walk out of here, let this damn thing drop?
Galvin
:  My client can't walk, your honor.
Hoyle
:  I know full well she can't, Frank.  You see the padre on your way out.  He'll punch your ticket.  You follow me?
—Judge Hoyle (Milo O'Shea), Frank Galvin (Paul Newman),
The Verdict
(1982)
…58…59…60.