Tuesday Minute
No. 233 | April 12, 2011
Sidney Lumet, R.I.P.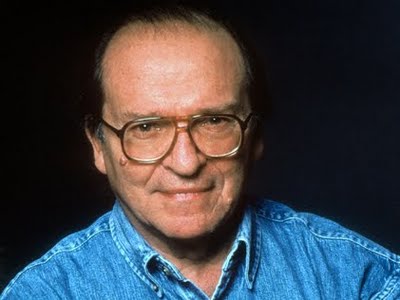 One of the greats died over the weekend.  Sidney Lumet was a brilliant director and a favorite of mine.  He's one of the reasons I fell in love with movies.
I regret to say my schedule gives me little time to say much now.  Instead, you can find many worthy tributes around the Net.  Here's one from Betsy Sharkey in Monday's paper that does a good job of getting at what made Lumet tick—the moral angle, the slice of New York, the fascination with crime and the legal system.  He's been called an actor's director, and that is certainly true, but you could just as well call him an audience's director.  He made movies about people for people—grown-up people, no less—and that, as simple as it may sound, is more and more a rare thing in the "product" that Hollywood turns out.  Lumet was making movies before I was born and was still going strong in his 80s.  Thankfully, he had a long career and made many films, among them some of the greatest of our time (though, like others, he never received due respect at Oscar time).  On the short list of his best work I'd put the following:  Network, Dog Day Afternoon, The Verdict, 12 Angry Men, and Serpico.  Those you probably know.  Certainly check out The Pawnbroker and Prince of the City, if you haven't yet.  His most recent, from 2007, Before the Devil Knows You're Dead, deserved all the raves it received.  Lumet was 86.  He will be missed.
Our theme this week
Director Sidney Lumet
Prince of the City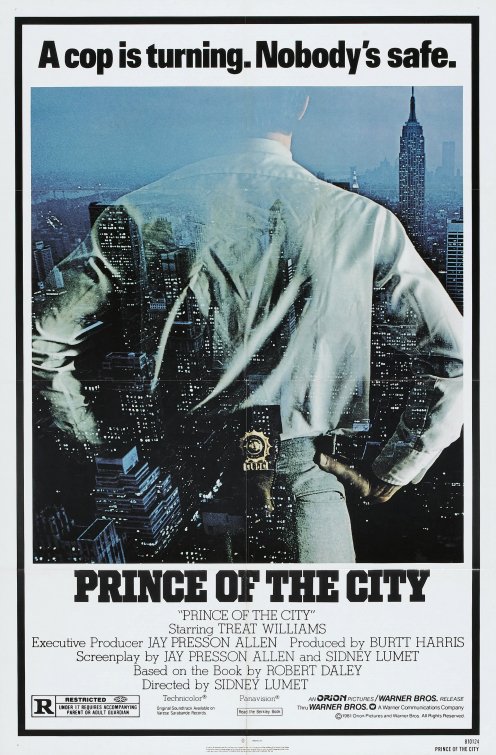 Sidney Lumet, in his own words:
Let me vent my anger first, so it's out of the way.  Critics talk about style as something apart from the movie because they need the style to be obvious.  The reason they need it to be obvious is that they don't really see.  If the movie looks like a Ford or Coca-Cola commercial, they think that's style.  And it is.  It's trying to sell you something you don't need and is stylistically geared to that goal.  As soon as a "long lens" appears, that's "style." … From the huzzahs that greeted Lelouch's A Man and a Woman, one would've thought that another Jean Renoir had arrived.  A perfectly pleasant bit of romantic fluff was proclaimed "art," because it was so easy to identify as something other than realism.  It's not so hard to see the style in Murder on the Orient Express.  But almost no critic spotted the stylization in Prince of the City.  It's one of the most stylized movies I've ever made.  Kurosawa spotted it, though.  In one of the most thrilling moments of my professional life, he talked to me about the "beauty" of the camera work as well as of the picture.  But he meant beauty in the sense of its organic connection to the material.  And this is the connection that, for me, separates true stylists from decorators.  The decorators are easy to recognize.  That's why critics love them so.  There!  I've had my tantrum.

—Making Movies, 1995 
---
Prince of the City (1981)
Sidney Lumet, director
Robert Daley (book); Sidney Lumet, Jay Presson Allen (screenplay); writers
Andrzej Bartkowiak, cinematographer
Treat Williams, Jerry Orbach, Richard Foronjy, Lindsey Crouse
---
Quote of note

"I know the law.  The law doesn't know the streets."
—Daniel Ciello (Treat Williams),
Prince of the City
(1981)
…58…59…60.