Thurday Minute
No. 232 | April 7, 2011
Run for Your Life

Our theme this week
Films about runners and running
Featured this week
Tuesday         —   Chariots of Fire
Without Limits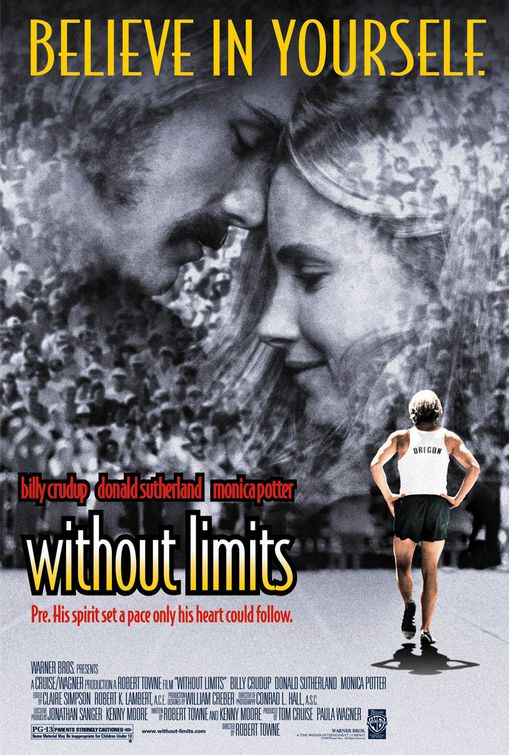 In Chariots of Fire, Harold Abrahams and Eric Littell are runners who race for God and country.  In Without Limits, Steve Prefontaine runs for no one but himself.  Though we're not supposed to admit it in polite society, Pre, as he's known, runs for a more noble cause.  As I see it, running has nothing to do with politics or religion, and filmmakers are wiser to keep them apart.  Prefontaine makes a better subject for a movie, and though I wouldn't claim Without Limits is Best Picture material, in countless ways it's superior to the British Oscar winner. 
The film came out in 1998 and did nothing at the box office, just as Prefontaine, another film about the Oregon track star, starring Jared Leto, did the year before.  The story, and the films, deserved better.
Without Limits, the better version, in my opinion, was brought to the screen by Robert Towne, one of Hollywood's great screenwriters (Chinatown) and occasional director.  (His first directing job was another track story, Personal Best, with Mariel Hemingway.) 
Billy Crudup plays the lead, doing first-rate work to capture the spirit, charisma, and headstrong personality that made Steve Prefontaine a key figure in the running world during the 1970s.  Prefontaine is a front-runner, taking the lead early and often winning without a contest.  When his considerable talent doesn't blow away the field, he has another edge—guts.  He's cocky and uncoachable, but his faith in himself is admirable.  He knows better than anyone else what he needs to do to win.
Pre's coach is Bill Bowerman, a legendary figure at the University of Oregon and later co-founder of Nike, portrayed by Donald Sutherland in an award-worthy performance, one of the finest of his career.  Playing Mary Marckx, Pre's girlfriend, is Monica Potter (inspiration for the Counting Crows song "Mrs. Potter's Lullaby"). 
Well-written, well-directed, and well-acted, Without Limits is small gem, one of those movies you want to seek out, especially if you missed it the first time around.  Though never an Olympic champion, Steve Prefontaine, in his short life, was one of the shining stars of American track, and a figure well worth spending some time with onscreen.
---
Without Limits (1998)
Robert Towne, director
Robert Towne, Kenny Moore, writers
Billy Crudup, Donald Sutherland, Monica Potter
---
Quote of note

"Running, one might say, is basically an absurd pastime upon which to be exhausting ourselves.  But if you can find meaning in the kind of running you have to do to stay on this team, chances are you will be able to find meaning in another absurd pastime—life."
—Bill Bowerman (Donald Sutherland),
Without Limits
(1998)
…58…59…60.