Tuesday Minute
No. 231 | April 5, 2011
Run for Your Life
.
In my choice of themes each week I look to find something that strikes my interest, and this week (another light week, by necessity), I'll take a look at a couple of films about a subject very much on my mind these days.
I started running in the 1970s.  Going for a run has always been my workout of choice.  I would rather go for a run around the neighborhood, or wherever I might be, than go to a gym.  I enjoy the freedom and the solitude of a good long run, and staying healthy, I've found, is much better than the alternative.  In my younger years I ran races regularly, mostly 5Ks and 10Ks, and a couple of marathons, not so much for the competition as just a way to keep in shape.
I don't have what's called a runner's body.  I never did, but the older I get, the truer it is.  My pet theory on aging is that people don't put on years, they put on pounds, and despite my best efforts, it's happened to me.   This year I decided to reverse the trend.  I would sleep better*, eat better, work out more, and for the first time in two decades, run a marathon.
My date with destiny comes this weekend.  Should I survive, I'll be back with another look at movies of one type or another.  Meanwhile, a quick look at two films about—what else—running.
* Another of my pet theories:  the key to health is not diet or exercise, but sleep.
Our theme this week
Films about runners and running
Chariots of Fire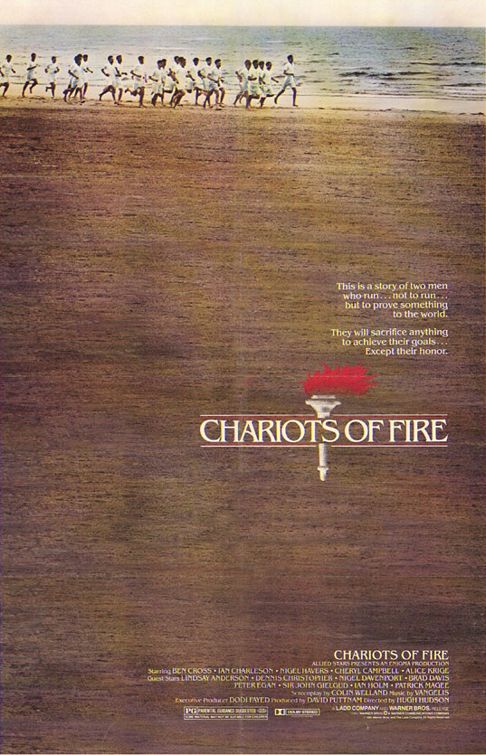 I'd love to say this film is a great inspiration.  But it's not.  Not for runners, and certainly not for movie fans.  I watched it again recently, for the third or fourth time altogether, and what I still can't understand is how the movie was a hit with critics and movie fans in 1981, and even more puzzling, how it won the Academy Award for Best Picture.  There are a handful of Best Picture winners I have not yet seen, but off the top of my head it's hard to think of a less-deserving Best Picture winner in history.
Hagiography is not a popular shelf at the video store and the lives of saints do not make for good cinema.  Not when the filmmakers' only interest is to thrust the saints atop a pedestal.  What we get in Chariots of Fire is not a story about human beings but about icons with all the life drained out.
The main story is set in 1920s England, at Cambridge University, where runners Harold Abrahams (Ben Cross) and Eric Liddell (Ian Charleson), among others, race and train for the 1924 Olympic Games in Paris.  Abrahams is a Jew, an outsider who must overcome the anti-Semitic attitudes of the administration and staff, though in the film he never suffers any real discrimination, let alone, persecution, so we're left to wonder what all the fuss was about.  Liddell is a devout Christian, the son of missionaries, who runs for the glory of God.
If you enjoy movies about the pious and snobbish, this is the film for you.  But my beef, at least what I'll get into here, is the film's failure as a drama.  The essence of any good story is conflict, but at every turn the movie softens its rough edges instead to wallow in pretty pictures:  the period costumes, the historic scenery, and the slo-mo glory of amateur athletes back in the day.  Worse, it's all accompanied by the score of Vangelis, an odd choice that was lauded at the time but seems like a serious misstep to my ears.
Later in the film, on his way to the Olympics, Liddell discovers that he's scheduled to race on a Sunday.  His religious conviction won't allow him to compete on the Sabbath, putting in doubt his chance for a medal.  The filmmakers took some liberties with the actual record, but it amounts to a crisis, as close as the story gets to having one.  Not to diminish Liddell's faith, but it's a rather thin reed to hang a movie on.
More interesting than the film itself is the story behind its success.  It screened at Cannes and was panned by French critics, who may not have appreciated references to "Frogs" in a boring picture about the glory of all things British.  An American, however, came to the rescue.  A young and influential critic named Roger Ebert engineered an "American Critics Prize," the first and only time one has been awarded, and by a 6-5 margin Chariots of Fire came out of Cannes a winner.  Otherwise, its prospects may have been doomed.  The rest, even more than the story onscreen, is history.
---
Chariots of Fire (1981)
Hugh Hudson, director
Colin Welland, writer
Ben Cross, Ian Charleson, Nicholas Farrell, Nigel Havers, Lindsay Anderson, John Gielgud, Ian Holm
---
Quote of note

"Let us praise famous men and our fathers that begat us.  All these men were honored in their generations and were a glory in their days.  We are here today to give thanks for the life of Harold Abrahams.  To honor the legend.  Now there are just two of us—young Aubrey Montague and myself—who can close our eyes and remember those few young men with hope in our hearts and wings on our heels."
—Lord Andrew Lindsay (Nigel Havers),
Chariots of Fire
(1981)
…58…59…60.