Thursday Minute
No. 225 | March 17, 2011
Black-and-White Box Sets, Ten Letters

Our theme this week
Movies about crossword puzzles
Featured this week
Tuesday         —   Crossword Craze Cartoons
UPDATE (3/20):
The 34th annual ACPT is in the books, and you'll find a recap here.
Wordplay (2006)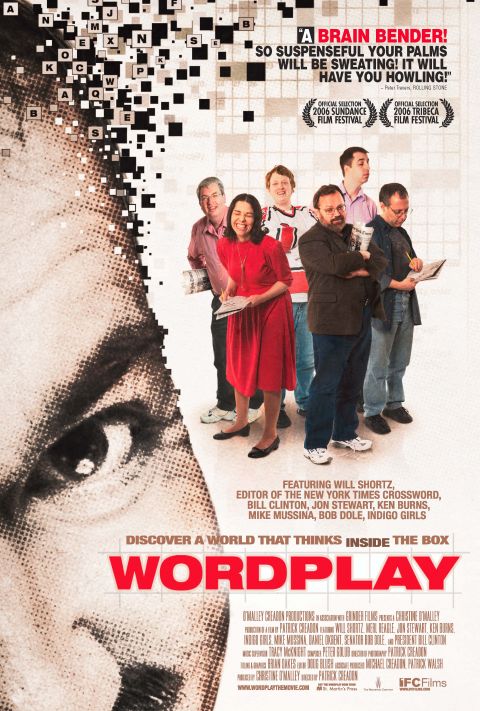 As I was saying Tuesday, crosswords have a long history, going back nearly a hundred years.  Generations have picked up the habit and passed it on, and today millions of people solve puzzles daily—in newspapers, in books, and increasingly, online.  For decades, the premier venue for American crosswords has been the New York Times.  Will Shortz, the clever and much-admired editor at the Times since 1993, is the prime focus of director Patrick Creadon's 2006 documentary, Wordplay, though the film is very much an ensemble affair.  Some famous names are profiled, including Jon Stewart and Bill Clinton, who enjoy their daily battle of wits with Shortz and puzzlemakers.  Merl Reagle, one of the tops in the business, gives a behind-the-scenes look at crossword construction.  Five lightning-fast solvers are featured—Tyler Hinman, Al Sanders, Ellen Ripstein, Jon Delfin, and Trip Payne—who train for the big event of the year, the American Crossword Puzzle Tournament.  The action culminates onstage at the finals, with an unbelievably thrilling finish.
Wordplay is the essential film about crosswords.  It's a well-done, entertaining movie, and a very enjoyable look inside a community that deserves the rare attention it gets here.  It has a colorful cast of characters, with plenty of heart and plenty of smarts.  The film is hardly just for the converted.  It's a treat for puzzle fans and non-fans alike.

American Crossword Puzzle Tournament
March 18-20, 2011
Brooklyn Bridge Marriott, Brooklyn, NY
Will Shortz founded the ACPT in 1978, when 149 solvers competed.  The tournament has grown since then, helped, in part, by the popularity of Wordplay, with nearly 700 attending in recent years.  Most participants go for the fun, not for the prizes, and white-knuckle finishes seem to be routine for the competition—I'll never forget the finals in 2009, the year I attended.  The 34th annual tourney kicks off Friday night and runs through the weekend.  It's not too late to join in on the festivities.  You can find all the details at the ACPT website.
---
Wordplay (2006)

Patrick Creadon, director
Patrick Creadon, Christine O'Malley, writers
Will Shortz, Merl Reagle, Tyler Hinman, Al Sanders, Ellen Ripstein, Jon Delfin, Trip Payne
Jon Stewart, Ken Burns, Mike Mussina, Daniel Okrent, the Indigo Girls, Bill Clinton
Trailer
---
Wordplay (2006)

Meet Ellen Ripstein 
More about Ellen (WSJ, 3/13/2001)
---
Quote of note
Admiral Brindsen
:  I suppose you're one of those fellows who does the Times crossword puzzle in ten minutes.
Ffolkes
:  I have
never
taken ten minutes.
—Admiral Brindsen (James Mason), Ffolkes (Roger Moore),
Ffolkes (North Sea Hijack)
(1979)
…58…59…60.