Tuesday Minute
No. 224 | March 15, 2011
Black-and-White Box Sets, Ten Letters
.
As you may have gleaned from looking around the site, I'm a puzzle guy.  I solve 'em and I make 'em, and so for a couple of days this week I get to indulge by combining two of my passions—movies and crossword puzzles.
This is my regularly scheduled "light" week (and I'm particularly busy anyway), so I will (try to) be brief.  First, a few announcements:

The 34th annual American Crossword Puzzle Tournament is happening this coming weekend, the 18th through 20th.  The fun and games take place at the Brooklyn Bridge Marriott.  It's not too late to take part in the country's oldest and largest crossword competition (as it says at the link, where you'll find puzzles and plenty of info about the tournament).  If you're a crossword fan and anywhere within shootin' range of Brooklyn, go.  (I'm not able to make it this time but had a great experience a couple of years ago and hope to make it back again before long.)
The tournament founder and director is Will Shortz, editor at the New York Times, home to many of the greatest crossword puzzles you'll find anywhere.  Case in point:  the puzzle in today's morning paper.  I absolutely adore this crossword and highly recommend you get to it.  You can pick up the Times, of course, at any Starbucks, or if you're an online subscriber, get the puzzle here.  Kudos to constructor Jeremy Newton for a clever idea and great execution.  It's everything a crossword puzzle should be!  (After you've finished—no spoilers here—you can find this apt movie clip from this post a year ago.)
I've been making puzzles for several years, with a few dozen that have run in the major venues, mostly in the Times.  My latest endeavor has been making a monthly pair of mini-crosswords called Gram Crackers.  You can find them, as always, at the MAD Puzzles page.  Next month's will be going up a few days early, on April Fools' Day.  Consider yourself warned.
Our theme this week
Movies about crossword puzzles
Crossword Craze Cartoons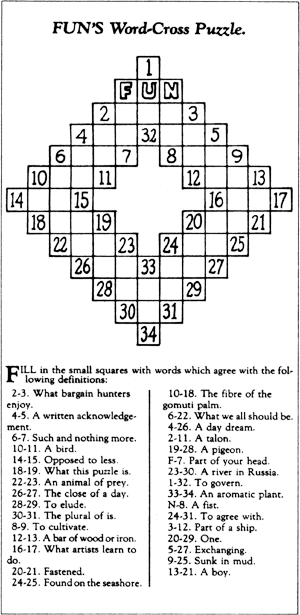 The man credited with the first crossword puzzle in this country is Arthur Wynne, who created something he called a "word-cross" that ran in the New York World on December 21, 1913.  That's a picture of his work above, back when puzzles were at "square one," so to speak, with FUN already there to give solvers a head start.  Crosswords have changed a lot in their century-long history.  You could say they have a checkered past.  One notable time in crossword lore was the 1920s, when among other crazes—flagpole sitting, marathon dancing—the country fell hard for the crossword puzzle.  Puzzle books flew off shelves, contests tested the wits of solvers, and somebody in Hollywood had picked up the habit too.
Today we have a couple of animated short films, a form not much older than crosswords themselves.  Both feature popular characters who starred in dozens of cartoons.  One was Felix the Cat, in his first incarnation, who debuted in 1919 and appeared in today's short, Felix All Puzzled, at the height of the crossoword craze, in 1924.  The other is Alice, a young girl played by Margie Gay, about five years old, starring with a cast of make-believe characters in Alice Solves the Puzzle, in 1925.  The Alice comedies are notable for the man behind the series, Walt Disney, who was still a few years away from creating the toon that changed it all, Mickey Mouse.
Like puzzles, cartoons have changed a lot too.  These shorts are a long way from Pixar, but as Arthur Wynne might have said, you gotta start somewhere. 
---
Felix All Puzzled (1924)

Otto Messmer, director
Felix created by Pat Sullivan, Otto Messmer
Silent Cartoon / Felix the Cat
---
Alice Solves the Puzzle (1925)

Walt Disney, director
Introducing Pete
Margie Gay as Alice
---
The Adventures of "Pongo the Pup" (1923)
Pongo Catches the Crossword Craze
The Brits caught the craze too.
---
Quote of note
Myrtle Sousé (solving a crossword)
:  What's a six-letter word meaning "embezzlement"?
Mrs. Hermisillo Brunch
:  Prison.
—Myrtle Sousé (Una Merkel), Mrs. Hermisillo Brunch (Jessie Ralph),
The Bank Dick
(1940)
…58…59…60.