Friday Minute
No. 223 | March 11, 2011

Rotary Club




Our theme this week
Mayhem, murder, and a telephone in the title
Featured this week
(See Monday post for theme introduction)
Monday         —   Dial M for Murder (1954)
Wednesday    —   Call Northside 777 (1948)
Sorry, Wrong Number (1948)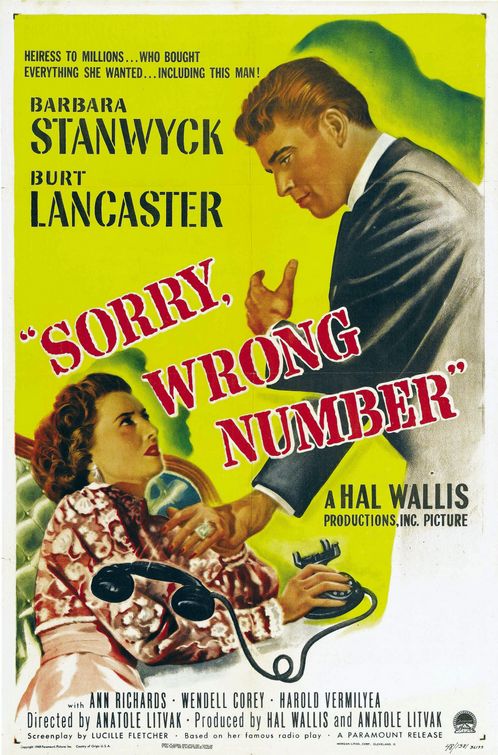 A telephone is never just a telephone.  It's a device serving different roles in this week's featured films.  In Dial M for Murder, it's a trigger for a carefully devised murder plot.  In Call Northside 777, it's a means to answer a desperate plea for help.  In Sorry, Wrong Number, it's a lifeline to the outside world for a wealthy, spoiled invalid—and then a source of terror as the lines are crossed and she overhears two men plan a murder to be carried out that night.
Barbara Stanwyck is Leona Stevenson, the bed-ridden wife, in a role played previously on radio by Agnes Moorehead.  Adapting the 22-minute drama for the big screen gave the filmmakers more time to tell the tale.  One addition was the backstory of Leona and her husband, Henry (Burt Lancaster), shown in flashback.  She's the daughter of a millionaire (Ed Begley) and hardly a likeable character.  She meets and falls for Henry, young, uneducated, and far outside her social sphere.  Leona typically gets what she wants, and despite the objections of her father, she gets and marries her man.  Henry, though, is wrapped up with the wrong crowd, and a crooked character named Morano (William Conrad) blackmails him into plotting her death so he can inherit her estate.
In the bedroom, where the film begins, ends, and returns several times, Leona makes phone calls to piece together the mystery.  She finally discovers the intended victim of the murder plot—herself.  Henry, in a change of heart, telephones her with a warning, and as the police approach his phone booth, he hears her screams over the line.
The ending, and the famous last line, earned legendary status in Hollywood, and the film—a bit of noir, a bit of hokum—is a classic of its kind.  Stanwyck earned her fourth and final Best Actress nomination for her performance.  It was hardly subtle, and actually rather hysterical in bits, and perhaps an inspiration to later generations of scream queens.
One of the great actresses of the golden age, Stanwyck worked another four decades.  As her co-star, six years her junior, Lancaster was just starting out.  He went on to get four Oscar nominations himself, winning in 1960 for Elmer Gantry.
---
Sorry, Wrong Number (1948)
Anatole Litvak, director
Lucille Fletcher (radioplay and screenplay), writer
Barbara Stanwyck, Burt Lancaster, Ann Richards, Ed Begley
Trailer
---
Quote of note

"In the tangled networks of a great city, the telephone is the unseen link between a million lives … it is the servant of our common needs — the confidante of our inmost secrets … life and happiness wait upon its ring … and horror … and loneliness … and …
death!!!
"
—Prologue,
Sorry, Wrong Number
(1948)
…58…59…60.