Wednesday Minute
No. 222 | March 9, 2011

Rotary Club



Our theme this week
Mayhem, murder, and a telephone in the title
Featured this week
(See Monday post for theme introduction)
Monday         —   Dial M for Murder (1954)
Call Northside 777 (1948)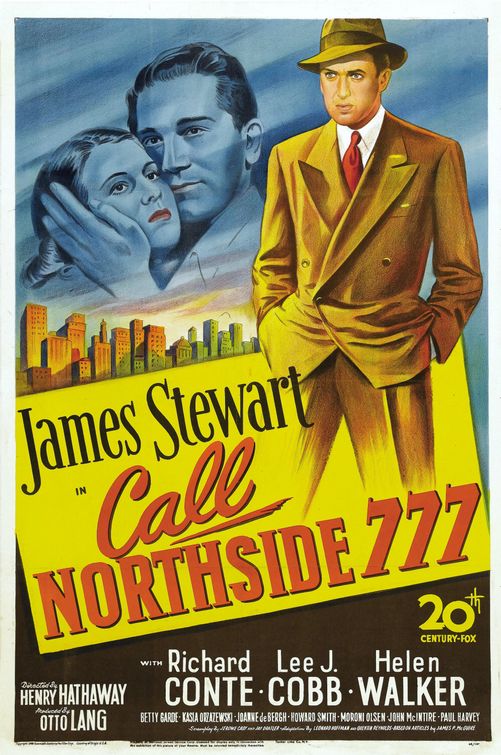 Jimmy Stewart in transition:  that's the best (but not the only) reason for seeing Call Northside 777.  Stewart was just a year or two past It's a Wonderful Life and Magic Town and on his way to rendezvous with Alfred Hitchcock (Rope et al.) and Anthony Mann (Winchester '73 et al.) when he starred as cynical newspaper reporter P.J. McNeal working a story about a twelve-year-old murder.
McNeal's editor, Kelly (Lee J. Cobb), sends him off to find out who's behind an ad in the paper offering $5,000 for the killers of a Chicago cop.  McNeal finds Tillie Wiecek scrubbing floors on the night shift in a downtown high-rise.  Her son, Frank, is serving a 99-year sentence for the murder—but he's innocent, she claims.  The story of the hard-working, ever-faithful mother strikes a sympathetic chord with the public.  But the hard-nosed McNeal remains unpersuaded.
McNeal stays with the story, visiting Wiecek (Richard Conte) in the state pen, witnessing his lie detector test, and eventually coming to doubt his conviction.  McNeal's skeptical attitude serves him well when the authorities try to obstruct his investigation into the crime.  Finally, during a sequence involving photo enlargement and wirephoto transmission—the cutting-edge technology of the day, apparently—he proves that the key witness against Wiecek had lied.
The story of the wrongfully convicted has been told in countless movies, among them The Shawshank Redemption and last year's Conviction.  Call Northside 777 is a good early example.  Based on a true story, the film was shot on location in Illinois, mostly in a realistic, matter-of-fact style.  Though there's never any doubt about where the story is headed, or where the film's sympathies lie, it still provides a moving and compassionate look at the lives of those who receive injustice from the criminal justice system.
Whatever might happen, it's always good to have Jimmy Stewart on your side.
---
Call Northside 777 (1948)
Henry Hathaway, director
Jerome Cady, Jay Dratler (screenplay); Leonard Hoffman, Quentin Reynolds (adaptation); James P. McGuire (articles); writers
James Stewart, Lee J. Cobb, Richard Conte, Helen Walker
---
Quote of note
"PERSONAL—NOTICES.  $5000 REWARD.  For killers of Officer Bundy on Dec. 9, 1932.  Call Northside 777.  Ask for Tillie Wiecek 12-7 p.m."
—Classified newspaper ad,
Call Northside 777
(1948)
…58…59…60.