Monday Minute
No. 221 | March 7, 2011

Rotary Club
Social media is quite the thing.  It's how we make friends these days, and so I hear, how revolutions are made in the Middle East.  If you believe what they tell you on TV, you'd wonder if people had any way to communicate before Facebook and Twitter.  Well, I have it on good authority that there was in fact a social network before The Social Network.  They called it the telephone.
In the post-war years, the country had a new numbering plan.  People moving to the suburbs needed a new way to stay in touch.  Use of phones grew, and Hollywood took notice.
Onscreen, the ubiquitous telephone was hardly an innocent device.  It was often a signal there'd be mayhem and murder afoot.  This week, a threesome of films from mid-century with the telephone getting the most prominent and ominous billing—in the title.
Our theme this week
Mayhem, murder, and a telephone in the title
Dial M for Murder (1954)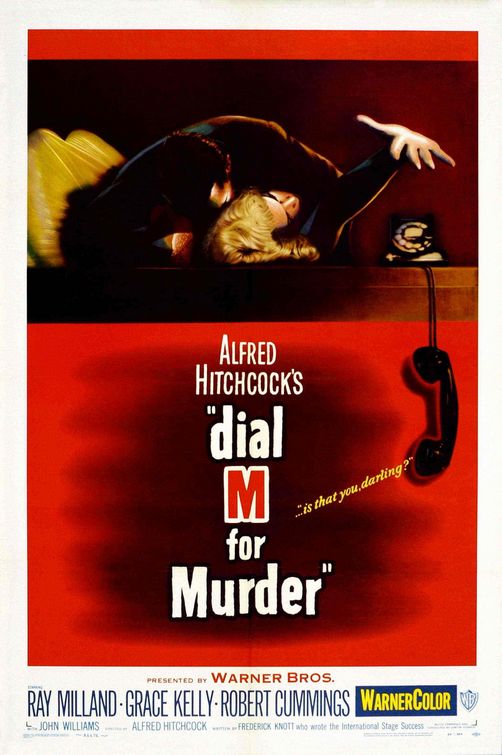 Dial M for Murder is a movie set in London made by Alfred Hitchcock in Hollywood.  Actors Ray Milland and John Williams lend their British accents to the production, starring with Americans Grace Kelly and Robert Cummings.
Milland plays onetime tennis pro Tony Wendice, a husband with murder on his mind.  He's married to Margot, his would-be victim, the wealthy and unfaithful wife played by Kelly, in her first of three roles for Hitchcock.  Cummings is the paramour, a fellow named Mark Halliday.  Williams is the veddy British police inspector who unravels what turns out to be a less-than-perfect crime.
Wendice plans the murder with great attention to detail, blackmailing an old school acquaintance (Anthony Dawson) to carry it out while Wendice himself is safely away from home at a stag party.  Hitchcock pays great attention to detail too, and his execution proves more successful than Wendice's, making for an especially memorable murder scene.  Watch Kelly in her beautiful white negligee (Hitchcock at first planned for a robe but took Kelly's advice), and watch out for those scissors.
Wendice gets to hear it all over the telephone, but he does not become a suspect until after the wrong person is convicted of murder.  His ultimate undoing comes after much business about a latchkey.  It's always something.
Though not as accomplished as the best of Hitchcock (a high standard indeed), the movie does have some great moments.  The director had a long fascination with blackmail and murder—and blondes—and it's all on display here.  Adapted from a play by Frederick Knott, the film feels somewhat stagebound, in part because of the limits of 3-D filmmaking.  In a post-Avatar world, it's hard to see the appeal of 3-D for this story (1 more D than neeeded), but Hitchcock loved to experiment.
Another odd aspect (from our vantage) comes less than an hour into the film, which clocks in at a brisk one-hour-forty-five minutes:  an intermission.  And they say we have short attention spans.
---
Dial M for Murder (1954)
Alfred Hitchcock, director
Frederick Knott (play and screenplay), writer
Ray Milland, Grace Kelly, Robert Cummings, John Williams
Trailer
---
Quote of note
Wendice
:  At exactly three minutes to eleven, you'll enter the house through the street door.  You'll find the key to this door under the stair carpet here.
Swann
:  The fifth step?
Wendice
:  That's the one.  Go straight to the window, and hide behind the curtains.  At exactly eleven o'clock, I shall go to the telephone in the hotel to call my boss.  I shall dial the wrong number.  This number.  That's all I shall do.
—Tony Wendice (Ray Milland), C.A. Swann (Anthony Dawson),
Dial M for Murder
(1954)
…58…59…60.