Monday Minute
No. 205 | January 10, 2011

Artful Steps

Dance and dancers have been featured in many films, across a range of styles from ballroom to disco to street dance and more.  The movies themselves may be musicals or dramas or comedies or stories of romance, and often a combination of the above.  A small subgenre of dance film is the film about ballet.
Films about ballet are less about dance than about art, and about artists, and the choices and sacrifices made by artists in the pursuit of beauty.  These ballet films often blur the lines between reality and illusion, creating a heightened sense of the world inhabited by the artists, reflecting their psychology, their dreams and nightmares.
This week, let's take a look at three films about ballet.  Each is the story of a ballerina, a talented dancer struggling to follow her dreams while contending with formidable forces around her.
Our theme this week
Films about ballerinas
The Red Shoes (1948)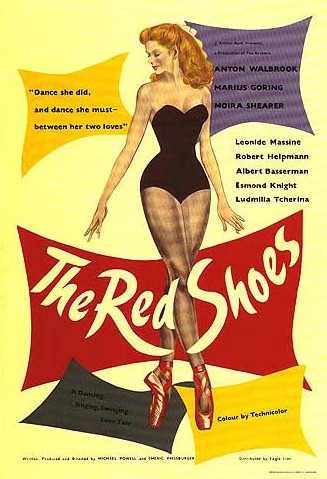 The Red Shoes is the gold standard of ballet films, the towering achievement of the Archers—Michael Powell and Emeric Pressburger—against which all other films of its kind are measured.
The title comes from an 1845 fairy tale of Hans Christian Andersen, about a girl who cannot stop dancing in her red shoes until finally her feet are amputated.  (Not the fairy tale ending you might have expected, eh?)  The Andersen story serves as the basis for the film's centerpiece, a 16‑minute ballet telling the tale of a dancer who dances to utter exhaustion, at which point, once her red shoes are removed, she dies.  The film's larger story follows dancer Victoria Page, played by ballerina Moira Shearer in her first screen role, as she rises from unknown to star of the Ballet Lermontov, dancing in the lead role of its new ballet, The Red Shoes.  Vicky's fate is not unlike that of the dancer she portrays, and the story of the film, as with the story-within-the-story, is an allegory on the nature of ambition and the sacrifices demanded in the creation of art. 
Vicky's answer to the question "What do you want from life?" is "To dance."  That's her passion and her talent, but she is confronted with choices to make between two powerful men.  One is the impresario Boris Lermontov (Anton Walbrook), who spots Vicky's promise in a performance of Swan Lake.  A Svengali-like figure, he makes harsh demands ("A dancer who relies upon the doubtful comforts of human love will never be a great dancer"), but as Vicky's mentor, he can assure her success.  Meanwhile, she falls in love with Julian Craster (Marius Goring), a composer who had joined the dance company at the same time.  When Lermontov and Craster have a falling-out, Vicky leaves the company with her lover, whom she then marries.  Later, in a meeting at Covent Garden, before opening night of the revival of The Red Shoes, the two men battle for Vicky, who is torn between the man she loves and the greatness that would be hers if she returns to dancing with Lermontov.  Her husband leaves, and seemingly out of control she chases after him, ultimately falling in front of a passing train.  Is it a case of suicide, or is it the red shoes she was wearing?
The film is notable for a number of reasons.  It's a classic from the team of Powell and Pressburger, made in the middle of an extraordinary run of films, coming right after Stairway to Heaven and Black Narcissus.  The cinematography of Jack Cardiff, in brilliant Technicolor, is a feast for the eyes.
The filming of The Red Shoes ballet is worth mentioning.  Ostensibly the performance is a stage production, but some innovative film techniques help create an impressionistic effect, and we realize we're not just watching a ballet anymore but more likely the dreamlike imaginings of its star.  It's a rather magical sequence, one that's been an inspiration for other films, among them An American in Paris and a film to be featured later this week, Black Swan.
The Red Shoes is a thing of beauty, a rare film about art that is a work of art in itself.
---
The Red Shoes (1948)
Michael Powell, Emeric Pressburger, writer-directors
Hans Christian Andersen (fairy tale); Emeric Pressburger (original screenplay), Keith Winter (additional dialogue); writers
Jack Cardiff, director of photography
Anton Walbrook, Marius Goring, Moira Shearer
Trailer
---
The Red Shoes (1948)
Robert Helpmann, choreographer
Brian Easdale, composer
The Royal Philharmonic Orchestra, Sir Thomas Beecham, conductor
Moira Shearer, Leonide Massine
The Ballet of
The Red Shoes
, Part 1
---
The Red Shoes (1948)
Robert Helpmann, choreographer
Brian Easdale, composer
The Royal Philharmonic Orchestra, Sir Thomas Beecham, conductor
Moira Shearer, Leonide Massine
The Ballet of
The Red Shoes
, Part 2
---
Quote of note
Boris
:  Why do you want to dance?
Vicky
:  Why do you want to live?
Boris
:  Well, I don't know exactly why, but I must.
Vicky
:  That's my answer, too.
—Boris Lermontov (Anton Walbrook), Vicky Page (Moira Shearer),
The Red Shoes
(1948)
…58…59…60.