Friday Minute
No. 204 | December 31, 2010

It's Kind of a True Story
Our theme this week
Recent movies based on stories of real people
Featured this week (theme introduction)
Monday         —   The Social Network:  Mark Zuckerberg
Tuesday         —   Nowhere Boy:  John Lennon
Wednesday    —   Conviction:  Betty Anne Waters
Thursday        —   Fair Game:  Valerie Plame Wilson
The King's Speech:  George VI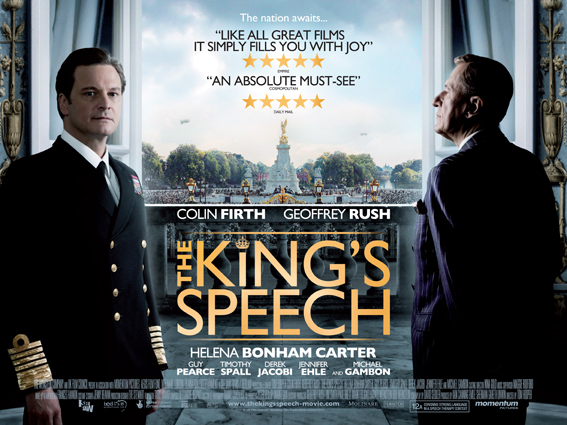 Even if you don't know the story of George VI, The King's Speech offers few surprises.  You can tell where the movie is headed from the first scene on.  Yet it hardly matters.  It may not be the most ambitious of films, but it's effective, providing two hours of comfortable entertainment, and nothing at all shocking (unless a few salty words from the mouth of a duke is more than you care to hear).
The King's Speech is this year's film about the British royals.  There must be a new one every twelve months.  That's the bargain the English have made for putting up with a monarch all the way into the twenty-first century.  Having kings and queens gets pricey after a while, but those blokes are good for a few laughs at that local cinema.  Sometimes they're good for an Oscar.  Something to be said for that.
Colin Firth plays the duke who becomes George VI after his father dies and brother abdicates.  It's a job many would kill for (and over the years, some have), but one that this particular royal has dreaded his whole life.  The king may not do much but he must give speeches.  That's a problem for George, a lifetime st-st-st-stammerer.
Lucky for George, Lionel Logue, a commoner from Australia, renders his unorthodox speech therapy services, and the crown, at the hour of its greatest peril, is saved.
The acting, as you might expect with the royalty of British acting on board, is wonderful.  Geoffrey Rush (the non-Brit here) plays Logue with a charming mix of duty and irreverence.  Helena Bonham Carter is Elizabeth, the devoted queen whose support for her husband never wavers.  If not for her, the Brits may have rid themselves of monarchs long ago.  Firth shines as the hapless king who finally finds his voice.
There's an interesting back-story to the making of this film, an idea that began with writer David Seidler.  You can read about it in my preview of the film from October.
---
The King's Speech (2010)
Tom Hooper, director
David Seidler, writer
Danny Cohen, cinematographer
Trailer
---
The King's Speech (2010)
Colin Firth, Helena Bonham Carter, Geoffrey Rush
---
Quote of note
Queen Elizabeth (as "Mrs. Johnson")
:  My husband's work involves a great deal of public speaking.
Lionel Logue
:  Then he should change jobs.
Queen Elizabeth
:  He can't.
Lionel Logue
:  What is he, an indentured servant?
Queen Elizabeth
:  Something like that.
—Queen Elizabeth (Helena Bonham Carter), Lionel Logue (Geoffrey Rush),
The King's Speech
(2010)
---
Final Friday Five, the monthly mini-quiz
1.  The following actors earned Oscar nominations for playing British royals.  Name the role that each played.
Charles Laughton, 1932-33*
Laurence Olivier, 1946
Peter O'Toole, 1964
Robert Shaw, 1966
Peter O'Toole, 1968
Katharine Hepburn, 1968*
Richard Burton, 1969
Genevieve Bujold, 1969
Vanessa Redgrave, 1971
Kenneth Branagh, 1989
Nigel Hawthorne, 1994
Helen Mirren, 1994
Judi Dench, 1997
Cate Blanchett, 1998
Judi Dench, 1998*
Helen Mirren, 2006*
Cate Blanchett, 2007
* Won Oscar.
2.  The film location of the year is Beantown (and environs).  Name the one film that is not set in Boston or Massachusetts.
Edge of Darkness
Shutter Island
The Ghost Writer
Knight and Day
The Town
The Social Network
Let Me In
Conviction
The Fighter
The Company Men (coming soon)
3.  Place these David Fincher films in order of release.
Alien³
Fight Club
Panic Room
Se7en
The Curious Case of Benjamin Button
The Game
The Girl with the Dragon Tattoo
The Social Network
Zodiac
4.  Name the three films in which both Sean Penn and Naomi Watts costarred.
21 Grams (2003)
The Assassination of Richard Nixon (2004)
The Interpreter (2006)
The International (2009)
Fair Game (2010)
5.  Name the best film of 2010 selected by each of the following critics' groups.
National Board of Review
New York Film Critics Circle
Los Angeles Film Critics Association
Chicago Film Critics Association
Boston Society of Film Critics
San Francisco Film Critics Circle
Washington, D.C., Area Film Critics Association
…58…59…60.