Thursday Minute
No. 203 | December 30, 2010

It's Kind of a True Story
Our theme this week
Recent movies based on stories of real people
Featured this week (theme introduction)
Monday         —   The Social Network:  Mark Zuckerberg
Tuesday         —   Nowhere Boy:  John Lennon
Wednesday    —   Conviction:  Betty Anne Waters
Fair Game:  Valerie Plame Wilson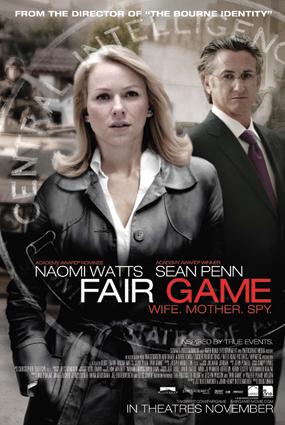 I had included a quote from All the President's Men when I previewed Fair Game in October, and now having seen the latter I'd say it's as close to the 1976 Best Picture nominee as we're likely to get these days.  It doesn't measure up entirely, but that may be more a reflection of different times and different outcomes to the stories than a problem with the filmmaking.
Both films are about wrongdoing in the White House, and both follow a couple of characters as they try to shed light on the truth.  In the earlier film, the crime is a petty burglary at the Watergate complex, and Washington Post reporters Bob Woodward and Carl Bernstein's investigation of the burglary and its coverup lead to the resignation of a disgraced president.  The new film is about lies that the Bush Administration told to lead our country into war against Iraq, and the efforts of two whistleblowers, CIA agent Valerie Plame (dead ringer Naomi Watts, in a first-rate performance) and her husband, Ambassador Joseph Wilson (a fine Sean Penn), to expose the truth.  In the end, neither President Bush nor Vice President Cheney, who is the kingpin in this telling, is brought to justice.  Scooter Libby, advisor to the vice president, is convicted in the scandal, but Bush soon commutes the sentence.  Plame, meanwhile, loses her career as a CIA officer when her cover is blown by the White House as retribution for an op-ed that her husband wrote questioning the administration.
The story of All the President's Men may have shaken people's faith in our government, but at least the system worked.  No feel-good equivalent is to be found in Fair Game's storyline.  The film does try to leave us with a more positive message, but it's only partly successful at dispelling the troubling sense we have watching a gross injustice go unpunished.
The Wilsons are not disloyal to the country.  Rather, they are portrayed as true patriots.  Yet the film is more than just about politics and justice.  It's a personal drama, and we get a look at the pressures that nearly tear apart the Wilson family.  In this respect, Fair Game has a level of involvement not found in the earlier picture, in which Woodward and Bernstein have no life outside of their jobs.
Fair Game is recent history, a history still being written, and people with political agendas are actively working to skew reaction to the film.  For more, this article by David Corn is worth a read.
---
Fair Game (2010)
Doug Liman, director
Valerie Plame Wilson (book,
Fair Game
), Joseph Wilson (book,
The Politics of Truth
), Jez Butterworth, John-Henry Butterworth (screenplay); writers
Doug Liman, director of photography
Trailer
---
Fair Game (2010)
Naomi Watts, Sean Penn
---
Quote of note
Valerie Plame
:  I get death threats every day.  People threaten to kill my husband, to hurt my children.  I went to the agency and I requested security to protect my family.  I was declined because, quote, my circumstances fall outside budget protocols.  If this is a knife fight, sir, right now we're fighting it alone.
Jim Pavitt
:  Joe Wilson versus the White House, huh.  But I feel as a friend I should tell you that those men—those few men in that building over there—are the most powerful men in the history of the world.  How much of a stretch do you think it would be for them to take on Joe Wilson?
—Valerie Plame (Naomi Watts), Jim Pavitt (Bruce McGill),
Fair Game
(2010)
…58…59…60.