Wednesday Minute
No. 198 | December 22, 2010

'Tis the Season

Our theme this week
Classic Christmas films
Featured this week (theme introduction)
Tuesday         —   Miracle on 34th Street (1947)
 
A Christmas Carol (1951)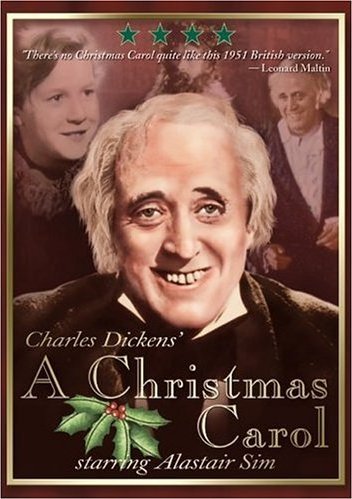 Two of the three films we're featuring this week have become classics in the years since the movies were released.  Today's story, though, was a classic long before the film was made.  Charles Dickens published A Christmas Carol the week before Christmas of 1843.  By Christmas Eve, the first run had sold out.  A new run followed, and the book through today has never been out of print.  Dickens's story has been the subject of countless adaptations (this Wikipedia page lists more than a hundred of them), making it the most popular of Christmas tales since Matthew and Luke.
Dickens was in part responsible for rejuvenating traditions of Christmas and his influence extends to how we celebrate the holiday today.  His story was not one of religion but of spirit—multiple spirits, in fact.  It's a ghost story.  Four ghosts in all visit the miserly and crotchety businessman Ebenezer Scrooge, a character so memorable his name has entered the language.  The first is the ghost of Jacob Marley, Scrooge's long-dead partner, who offers a warning to the man to change his ways.  Then Scrooge  receives visits from the Ghosts of Christmas Past, Christmas Present, and Christmas Yet to Come, who show him scenes of his innocent youth, of the joy in life that he is missing, and of his future neglected grave.  The old man is frightened, and transformed.  Scrooge opens his heart and celebrates the holiday with the family of his clerk, Bob Cratchit. 
The 1951 film was a British production starring Alastair Sim.  It's Sim's portrayal of Scrooge that sets this version above the rest.  He's a grim, tormented soul, and when he talks to ghosts we believe every word of it.  We also believe when he discovers the joy of the season and generosity in his heart.  The world in this telling of the story seems like the world of Dickens:  bleak, dark, and desperate.  But a world in which the miraculous can happen.  And does.
One note about watching at home, a repeat of yesterday's caveat:  the film is in black-and-white, but was colorized years later.  I can't imagine what they were thinking.  In any case, go for the real thing.  Watch the film as it was intended.
---
A Christmas Carol (1951)
Brian Desmond Hurst, director
Charles Dickens (novella), Noel Langley (screenplay), writers
C.M. Pennington-Richards, director of photography
Alastair Sim as Ebenezer Scrooge
Trailer
---
A Christmas Carol (1951)

New York Times film critic A.O. Scott looks at the film

December 2008
---
Quote of note

"God bless us, every one!"
—Tiny Tim (Glyn Dearman),
A Christmas Carol
(1951)
…58…59…60.