Monday Minute
No. 200 | December 27, 2010

It's Kind of a True Story
"But William Randolph Hearst never even had a sled."  As far as I know, no one ever made that complaint about Citizen Kane.  Orson Welles and Herman J. Mankiewicz may have modeled their main character on Hearst but they had the good sense to call him Kane.  They could take liberties with the story and sidestep certain criticism.  Of course, that didn't stop Hearst from trying to destroy the film and Welles's career, but others gave the movie a more generous reception.  Not everyone expected it to be a true story.  It never claimed to be.
Lots of films do claim to be "based on a true story."  I'm not sure what others think when they see a movie billed that way.  Do people believe what they're seeing onscreen really happened?  I tend not to have that expectation.  I assume that dialogue, events, characters, and more have been invented for the film, and whatever passing resemblance the final product has to the life or lives it was based on is not a great concern for me.
That depends, of course, on the kind of movie I'm watching.  A documentary better get its facts right.  A biopic has a looser standard but still ought to capture something of the true character and events of the real-life figures it depicts.  Other films adapting "true" stories have less of a need to stick to the so-called facts.  There are greater truths to be told, and the success of films based on true stories should be measured by how well the films capture the larger story.  Some of the best include Lawrence of Arabia, Raging Bull, and Schindler's List.
Yet quibbles arise, and sometimes an outcry, and it's fascinating to watch the reaction to certain films.  Oliver Stone's JFK was attacked for telling a different history than the history that some politically influential interests would like to have told.  For the record, I don't believe Stone's particular account of the Kennedy assassination, but I do commend his questioning of the official story, and it's a brilliant film, in any case.
Shakespeare's histories took liberties with history too, but nobody today cares much if Richard III is true to the life of the fifteenth-century English monarch.  We go not to discover historical fact, but to experience Shakespeare.
Like the Bard, filmmakers are drawn to real-life stories for dramatic purposes.  So go for the drama, not for history.  It works better that way, and that's a truth older than film itself.
Adapting true-life stories may be an age-old practice, but one that accounts for a lot of work these days in Hollywood.  The past few months have seen a glut of movies of this kind, more than I'll be able to cover in one week.  I plan to highlight five of the films, all late-2010 releases, and as we close out year one at MAD About Movies, we're still on holiday hours, so you can expect a briefer write-up than usual for the rest of the week.
Our theme this week
Recent movies based on stories of real people
The Social Network:  Mark Zuckerberg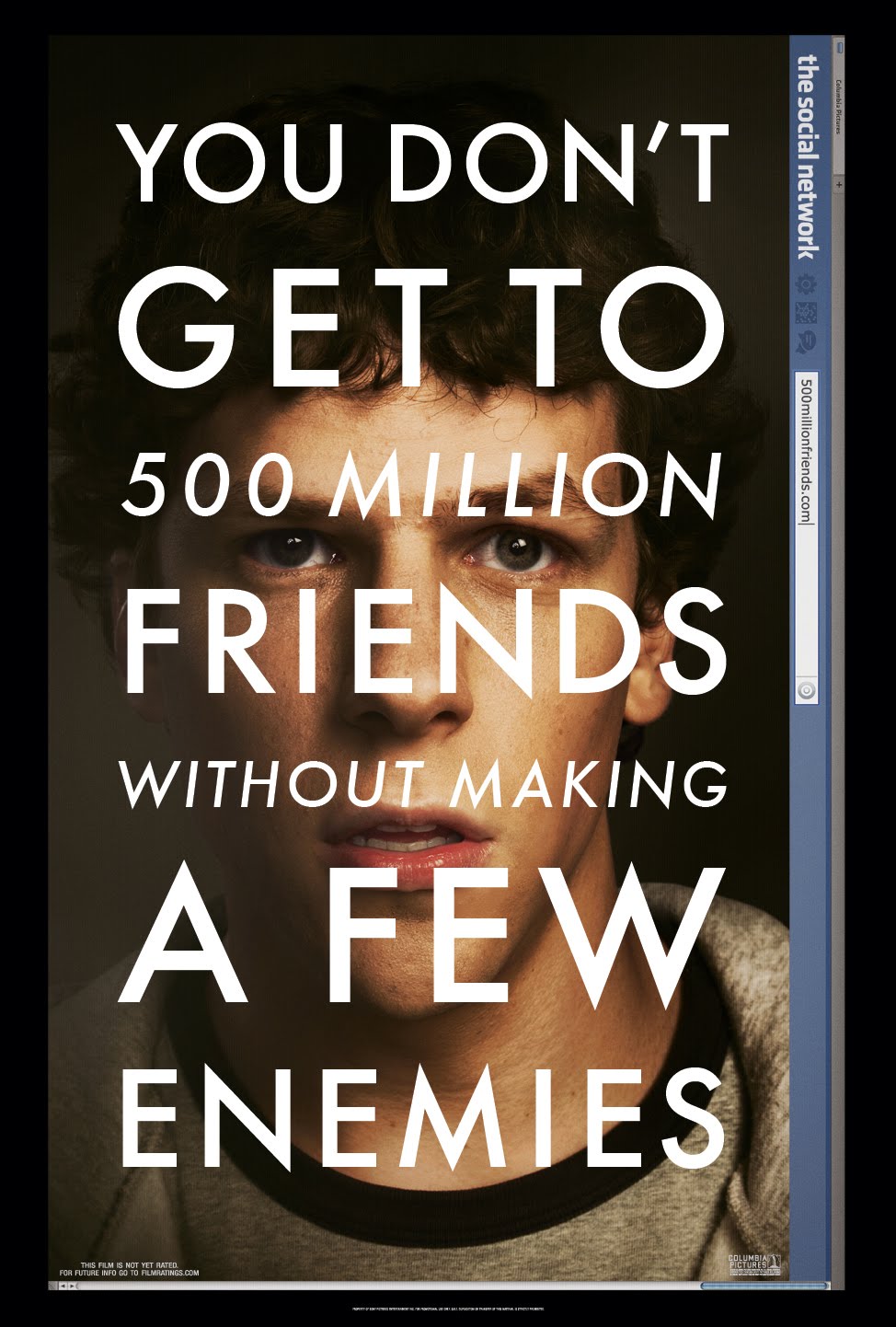 The Social Network tells the story of the founding of Facebook.  Jesse Eisenberg plays Mark Zuckerberg, the Harvard sophomore who started the soon-to-be-famous website in 2004.  You'll find Zuckerberg's green-eyed visage staring at you from the cover of Time magazine's recent issue on Person of the Year.  His meteoric rise is quite a story.  He made a few friends along the way, and a few enemies.  You may have heard.
If you have not yet seen the film, what you think about it may depend on whom you listen to.  The critics have been overwhelmingly positive:  scores of 95 and 96% at Metacritic and Rotten Tomatoes, and top end-of-year honors so far from the National Board of Review and critics groups in Boston and Washington.  Some other voices have been less enthusiastic—Newark Mayor Corey Booker and some writers at the Huffington Post come to mind.  I find the dissenters usually fall into one of a few groups:  people who do business with Zuckerberg, people who would like to do business with him, and the social media utopians who see Zuckerberg at the forefront of the greatest revolution since Gutenberg.
But like the movie or not, most people agree that the depiction of Zuckerberg is negative.  The popular word to describe his film character is "jerk" (here, here, and here; Frank Rich spares the word but says that the film offers a "harsh portrait").  I don't see it that way.
The movie portrays Zuckerberg as a complex character, the good mixed with the bad.  We don't always get nuance in films, but it's one reason why the character seems so believable and why the movie succeeds as it does.  Zuckerberg, in fact, is the most sympathetic character in the film.  He has true talent, unlike his rivals, the Winklevoss twins; he has a clear vision of what his invention may become, unlike his friend Eduardo; he has the discipline to serve that vision, unlike fellow entrepreneur Sean Parker.  Within the story of the film, Zuckerberg pays a price for his success, losing friendships as he builds his company.  He may even be complicit in betraying those close to him, but still the audience's sympathies are with him, not the others.  Near the end of the film, when Zuckerberg says to one of the lawyers, "I'm not a bad guy," it has a definite ring of truth.
How much of the film is faithful to the "truth" of what really happened?  I don't know and I'm not sure it matters.  I suspect Zuckerberg in real life is a better person in many ways, as others have claimed.  And I suspect he is a worse person in some ways, also.  He is no doubt talented, and no doubt flawed.  College is often a time of turmoil, and can any of us look back at those years and be proud of all our moments?  Add the pressures of a new business, especially one with tremendous potential, and it's no surprise relationships were stretched beyond the breaking point.
The film captures the life of students at an elite college—the glamour and the genius—as well as with the combustible pressures of starting a business, the class tensions between old money and new, and the terrible price paid by those who follow their ambition. 
The critics are worth listening to this time around.  The Social Network is a superb movie, the best I've seen so far this year.  The accolades for director David Finch and writer Aaron Sorkin are well-deserved, and Eisenberg and Justin Timberlake do especially good work, leading a top-notch cast.
---
The Social Network (2010)
David Fincher, director
Ben Mezrich (book), Aaron Sorkin (screenplay), writers
Jeff Cronenweth, cinematographer
Trailer
---
The Social Network (2010)
Jesse Eisenberg as Mark Zuckerberg
---
The Social Network (2010)
Justin Timberlake as Sean Parker
---
"The Social Network" Press Conference

New York Film Festival
David Fincher, Aaron Sorkin, Jesse Eisenberg, Andrew Garfield, Justin Timberlake
September 24, 2010
Part 1 (below)
Parts 1, 2, 3, 4, 5
Director's Dialogue
New York Film Festival
David Fincher
September 25, 2010
Part 1 of 6 (more at the link)
---
Quote of note

"If you guys were the inventors of Facebook, you'd have invented Facebook."
—Mark Zuckerberg (Jesse Eisenberg),
The Social Network
(2010)
…58…59…60.