Monday Minute
No. 172 | October 4, 2010

Roaring Nineties
Last Thursday I saw the new Wall Street film.  It was the day after Tony Curtis died, and I sat in the theater wondering what a young Curtis would have done with a role in a movie like that.  We can only imagine, but I bet it would have been fun to watch.
September seemed to be a busy month for saying goodbye.  Among movie people, here are some names appearing on recent obit pages:  Cammie King, Sept. 1 (actress, Gone with the Wind, voice, Bambi), age 76; Clive Donner, Sept. 6 (director, What's New Pussycat?), 84; Glenn Shadix, Sept. 7 (actor, Beetlejuice), 58; Kevin McCarthy, Sept. 11 (actor, Invasion of the Body Snatchers), 96; Harold Gould, Sept. 11 (actor, The Sting), 86; Claude Chabrol, Sept. 12 (director, Les Cousins), 80; Irving Ravetch, Sept. 19 (writer, Hud), 89; Grace Bradley, Sept. 21 (actress, The Big Broadcast of 1938), 97; Eddie Fisher, Sept. 22 (singer, actor, BUtterfield 8), 82; Gloria Stuart, Sept. 26 (actress, The Invisible Man, Titanic), 100; Sally Menke, Sept. 28 (editor, Pulp Fiction), 56; Arthur Penn, Sept. 28 (director, Bonnie and Clyde), 88; Tony Curtis, Sept. 29 (actor, Some Like It Hot), 85.  Some big names, and some you may not recognize though you may know them by their work.
The way it is, we remember people after they're gone (for example, here last week).  Let's do something different this week.  Better we pay tribute while people are still around.  For example, that old familiar face who popped up a few times in the Wall Street sequel, today's featured actor.  It's his second big movie of the year.  Not bad for 94.
All the actors we'll cover this week are in their 90s, still alive and kicking—and what's more, still working, either this year or recently.
Before we get to them, notes on a few other old-timers.
Johannes Heesters — Born in 1903, the Dutch actor began his film career in 1924, and his most recent performance was in 2008.  At 106, Heesters is reported to be the oldest actor still active.
Johnny Holiday — Holiday died last year at the age of 96, working until the end.  He had a busy but brief acting career.  After a retirement of twenty-five years from tending bar, he began performing when he was 89.  (Hey, it's never too late.)
Mickey Rooney — One of Hollywood's all-time greats, Rooney turned 90 on September 23.  He began in movies in the silent era, and he's been active during the past decade, with Night at the Museum in 2006, and three new films due soon.  We took a look at his career during this site's first full week, in January.  Happy Birthday, Mickey!
Our theme this week
Actors in their 90s, still going strong
Eli Wallach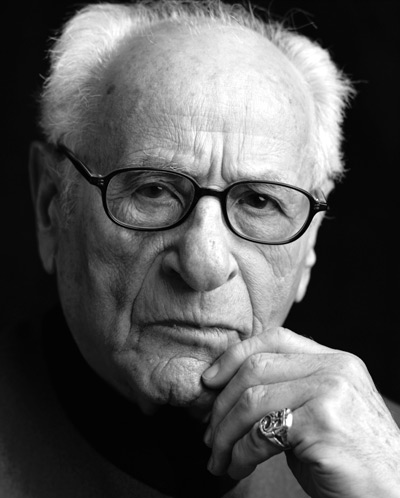 Born December 7, 1915
Age 94
After the war (World War II, that is), Eli Wallach worked on stage and on television, finally making his film acting debut in his forties, in Elia Kazan's adaptation of the controversial  Baby Doll, in 1956.  More than 150 credits (per IMDb) and a half-century later, he is still working and still sharp.  Earlier this year he had a small but memorable role in Roman Polanski's The Ghost Writer.  This fall he's appearing in Wall Street:  Money Never Sleeps, a larger role as an aged moneyman with a twinkle in his eye and a whistle on his lips.  He can still light up the screen.
A legendary character actor, one of Hollywood's best, Wallach had a number of key roles during the 1960s.  He played the Mexican bandit Calvera in The Magnificent Seven (1960), followed by his portrayal of Guido, a widowed cowboy with issues, in The Misfits (1961).  (Clark Gable's Gay:  "What's eatin' you?"  Guido:  "Just life.")  He was in John Ford's How the West Was Won (1962), and was especially memorable in Sergio Leone's The Good, the Bad and the Ugly (1966).  Wallach played Tuco—"the Ugly"—and he later titled his autobiography The Good, the Bad and Me.
Wallach has worked continually over the years, in movies and in television.  He costarred in Steve McQueen's last film, The Hunter, in 1980.  In The Godfather Part III (1990), he played Don Altobello, the elder Mafia boss who double-crosses his old friend Michael Corleone.  Other roles include the liquor store owner in Mystic River (2003) and onetime Howard Hughes associate Noah Dietrich in The Hoax (2006). 
In his personal life, Wallach's wife since 1948 is actress Anne Jackson, and their 62 years together makes for one of the longest and most successful of Hollywood marriages.  Wallach was a longtime friend of Walter Cronkite, since their college days in Texas.  He is, as well, the great uncle of New York Times film critic A.O. Scott.
Wallach has earned a variety of awards for his work over the years, but never from the Motion Picture Academy.  Until now, that is.  Wallach will be presented with a well-deserved Honorary Oscar at an Academy event this November. 
---
Baby Doll (1956)
Elia Kazan, director
Tennessee Williams; writer
Boris Kaufman, cinematographer
Eli Wallach, Karl Malden, Caroll Baker
---
The Good, the Bad and the Ugly (1966)
Sergio Leone, director
Luciano Vincenzoni, Sergio Leone, Agenore Incrocci, Furio Scarpelli, Mickey Knox, writers
Tonino Delli Colli, director of photography
Eli Wallach, Al Mulock
---
Quote of note

"Whoever double-crosses me and leaves me alive, he understands nothing about Tuco.  Nothing!"
—Tuco (Eli Wallach),
The Good, the Bad and the Ugly
(1966)
…58…59…60.