Friday Minute
No. 166 | September 24, 2010

On a First-Name Basis

Our theme this week
Film titles that are first names of women
Featured this week (theme introduction)
Monday         —   Laura (1944)
Tuesday         —   Gilda (1946)
Wednesday    —   Lolita (1962)
Thursday        —   Frances (1982)
Juno (2007)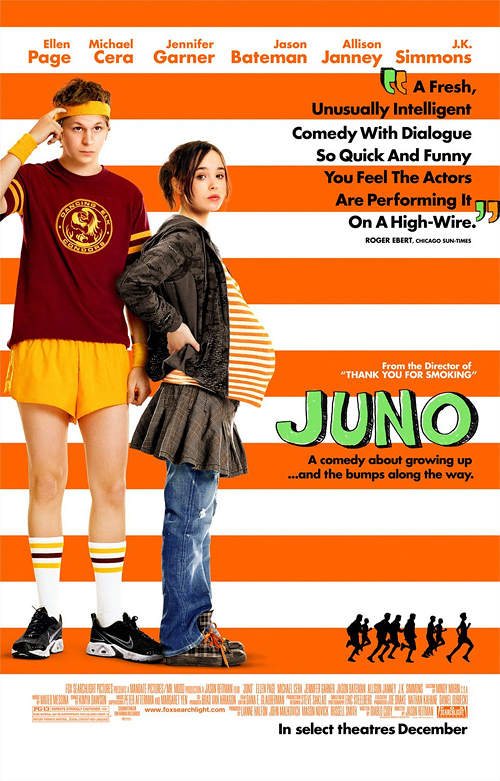 Juno was a surprise hit a few years ago, a low-budget comedy that did blockbuster business.  No comic book characters, no sci-fi storyline, no CGI wizardry—just a teenage girl with a big belly—yet people flocked to theaters to see the film that everyone was talking about.  Critics did a lot of that talking, giving the film many mentions on end-of-year top ten lists, and helping the film earn four Academy Award nominations, including Best Picture.  Juno won one Oscar, for newcomer Diablo Cody's original screenplay.  The story of the film's success became part of its appeal.  It was the little film that could.
Juno is an enjoyable comedy, delivering not only laughs but some tender, sweet moments as well.  The chararcters are very likable, and none more than Juno herself, the sharp-tongued, cynical teen played by Ellen Page, who gave a smart, funny, and truly wonderful performance.  J.K. Simmons and Allison Janney, as Juno's father and stepmother, are also terrific.
Juno's dilemma:  she's sixteen, pregnant, and needs to decide what to do about it.  An abortion?  That seems to be the solution, but then she reconsiders.  The film then follows her growing waistline as she searches for adoptive parents.  A well-off, suburban couple, Mark and Vanessa Loring (Jason Bateman and Jennifer Garner), are an appealing option, but Mark goes nuts, leaving his wife and leaving Juno without a home for the soon-to-arrive bundle of joy.  Meanwhile, Juno's friendship with Paulie (Michael Cera), her classmate and the father-to-be, develops into a loving relationship, which they come to realize just as the baby and a happy ending are due.
As appealing as the movie is, it's probably gotten more praise than it rightfully earned.  The film does take a fresh approach to what could have been an obvious, by-the-numbers story, but its attitude-above-all slant gets tiring after a while.  Like its central character, the film's worldview is limited, seeing only through young eyes.  Juno, and the film, find easy targets to mock in the adult world, but ironic detachment works better in smaller doses.  At least for me, the snarkiest-girl-in-the-room pose feels overdone.  Films, inevitably, are products of their time, so perhaps these shortcomings should be no surprise.
Another sign of the times, the film has been promoted by people with a political agenda as a statement supporting the conservative position on abortion.  It's not.  My simple rule:  don't trust people pushing politics when it comes to movies.
---
Juno (2007)
Jason Reitman, director
Diablo Cody (screenplay), writer
Eric Steelberg, cinematographer
Trailer
---
Juno (2007)
Promo
Diablo Cody and Ellen Page on their favorite lines
---
Quote of note
Mac
:  And this, of course, is Juno.
Mark
:  Like the city in Alaska?
Juno
:  No.
Mark
:  No?  Shall we sit down and get to know one another?
Vanessa
:  Oh, I thought I would get some drinks.  What would anyone like?  I have Pellegrino, or vitamin water, or orange juice, or—
Juno
:  I'll have a Maker's Mark.  Up.
Mac
:  She's kidding.  Junebug has a wonderful sense of humor.  Just one of her many genetic gifts.
—Mac MacGuff (J.K. Simmons), Mark Loring (Jason Bateman), Juno MacGuff (Ellen Page), Vanessa Loring (Jennifer Garner),
Juno
(2007)
---
Final Friday Five, the monthly mini-quiz
1.  Walter Matthau starred in two movies that were directed by actors who directed one film only.  Who are the one-time actor-directors?  (For extra credit, what are the films?)
2.  Here are five movie titles that (appear to) use married women's surnames.
Mrs. Brown
Mrs. Doubtfire
Mrs. Miniver
Mrs. Parkington
Mrs. Soffel
Here are your questions:
a.  Who's the actress who played the title role in two of the films?
b.  In which film did a man play the title role?
c.  Which title does not refer to the name of a character but to the queen of England?
d.  Which film was directed by a woman?
3.  Our list of notable films of 1957 included three directed by Billy Wilder.  For each set of stars, name the film.
a.  Tyrone Power, Marlene Dietrich, Charles Laughton, Elsa Lanchester
b.  Gary Cooper, Audrey Hepburn, Maurice Chevalier
c.  Jimmy Stewart, Murray Hamilton, Patricia Smith
4.  TIFF, the Toronto International Film Festival, wrapped this week.  The festival doesn't have a jury that selects award winners, but it does have a People's Choice Award.  This year's honoree is a British production directed by Tom Hooper, starring Colin Firth as a stammering George VI who is preparing for war.  What's the name of the film?
5.  Name that Zucker!  Match the correct Zucker(___) with the descriptions below.
Barry Zuckerkorn
Buck Zuckerman
David Zucker
George Zuckerman
Jeff Zucker
Mark Zuckerberg
Mort Zuckerman
Nathan Zuckerman
a.  Billionaire publisher of the New York Daily News and editor-in-chief of U.S. News & World Report
b.  1940s-50s Hollywood screenwriter best known for his collaborations with director Douglas Sirk (Written on the Wind, The Tarnished Angels)
c.  Birth name of the actor-writer known as Buck Henry
d.  Philip Roth character played by Gary Sinise in the 2003 film The Human Stain
e.  Elder brother in a trio of collaborators best known for Airplane! and The Naked Gun
f.  President and CEO of NBC Universal
g.  Henry Winkler's character on Arrested Development
h.  Co-founder of Facebook and subject of The Social Network, the new David Fincher movie opening October 1
…58…59…60.