Wednesday Minute
No. 149 | August 18, 2010

Hoofing It


Our theme this week
The incomparable Fred Astaire
Featured this week (theme introduction)
Monday         —   "Cheek to Cheek" / Top Hat (1935)
Tuesday         —   "Begin the Beguine" / Broadway Melody of 1940 (1940)
"One for My Baby (and One More for the Road)"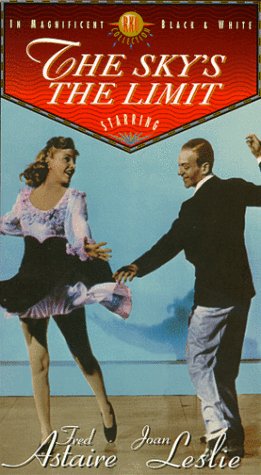 The Sky's the Limit is another RKO musical, this one a wartime story that takes a darker turn.  Fred Astaire plays Fred, a pilot AWOL from the Air Force who ends up in New York.  There he meets and falls in love with Joan, a photographer played by Joan Leslie.  Astaire forgoes his usual role of the happy-go-lucky charmer, paying a price for it with critics and audiences of the time.  Yet his performance offers an interesting side to his persona, demonstrating a range he's sometime not given credit for.
Late in the film, when he thinks he's lost Joan for good, he's drunk and angry and spits out a rendition of "One for My Baby" unlike anything he'd done before.  Please stand clear of the bar.
Harold Arlen and Johnny Mercer wrote the song especially for Astaire, though it's been recorded many times by others, included several times by Frank Sinatra.  The song, famously, was Bette Midler's farewell to Johnny Carson, on his next-to-last night hosting "The Tonight Show."
---
The Sky's the Limit  (1942)
Edward H. Griffith, director
Frank Fenton, Lynn Root, writers
"One for My Baby (and One More for the Road)"
Harold Arlen, music; Johnny Mercer, lyrics
Fred Astaire, choreographer
---
Quote of note

"If Fred Astaire is the Cary Grant of dance, I'm the Marlon Brando."
—Gene Kelly
…58…59…60.