Wesnesday Minute
No. 134 | July 21, 2010

Chick Flicks Not Just for Chicks

Our theme this week
Chick flicks—one guy's take
Featured this week (theme introduction)
Monday         —   When Harry Met Sally… (1989)
Tuesday         —   The Bridges of Madison County (1995)
Terms of Endearment (1983)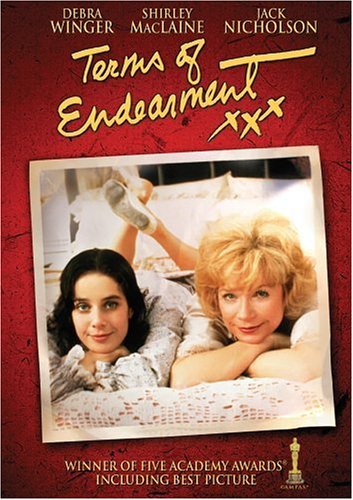 Monday I had noted that the term "click flick" was coined in 1988, so apparently no one was calling Terms of Endearment a chick flick when it was released, though it's sometimes labeled as one now.  I'm not concerned with the label.  It's arguable if any of this week's films are really chick flicks.  The term is too loose a designation to be very useful, and it carries some baggage anyway.  Not too many filmmakers set out to make chick flicks.  They make comedies, dramas, romances, etc., and the chick flick label is usually applied after the fact, fairly or not.  The point of the week's theme isn't to define a genre, but to highlight some quality films about women.
The central drama in Terms of Endearment is the loving but rocky relationship of a mother and daughter, spanning literally from cradle to grave.  Aurora is the meddling mother, played by Shirley MacLaine, and Emma the stubborn daughter, played by Debra Winger.  Against her mother's advice, Emma marries a literature student, Flap (Jeff Daniels).  She struggles with raising the kids while he, now a professor, has an affair with a grad student.  Emma has a fling in return, finding a shy bank officer (John Lithgow) who'll give her some attention.  Meanwhile, the prim and proper Aurora, now 50 and alone, gets involved with her boozy neighbor, an over-the-hill onetime astronaut, Garrett Breedlove, played by Jack Nicholson.  It's fun to watch the two of them, as she tries to tame his wilder ways while he tries to loosen her up.  Then, Emma is diagnosed with cancer, mother and daughter reconcile, and the tears flow.
The movie is a mix of comedy, drama, and melodrama, and in lesser hands it could have been a sappy soap opera, but James L. Brooks did a great job balancing the film's tone and multiple storylines.  It's entertaining, hilarious at times, and tragic too.  The cast was first-rate.  Winger, too little seen in recent years, was in her prime.  MacLaine had one of her better roles.  Nicholson, older and fatter than we'd seen him before, put in one of his more memorable performances, which is saying a lot.  Oscars went to MacLaine and Nicholson for acting, and three times to Brooks, for writing, directing, and producing the film, 1983's Best Picture.
---
Terms of Endearment 
(1983)
James L. Brooks, director
James L. Brooks (screenplay), Larry McMurtry (novel), writers
Trailer
---
Terms of Endearment 
(1983)
Debra Winger
---
Quote of Note
Aurora Greenway
:  Do you have any reaction at all to my telling you I love you?
Garrett Breedlove
:  I was just inches from a clean getaway.
—Aurora Greenway (Shirley MacLaine), Garrett Breedlove (Jack Nicholson),
Terms of Endearment
(1983)
…58…59…60.