Wednesday Minute
No. 124 | June 23, 2010

The Art of the Heist

Our theme this week
Heist films
Featured this week (theme introduction)
Monday         —   The Thomas Crown Affair (1968, 1999)
Tuesday         —   Rififi (1955)
The Asphalt Jungle (1950)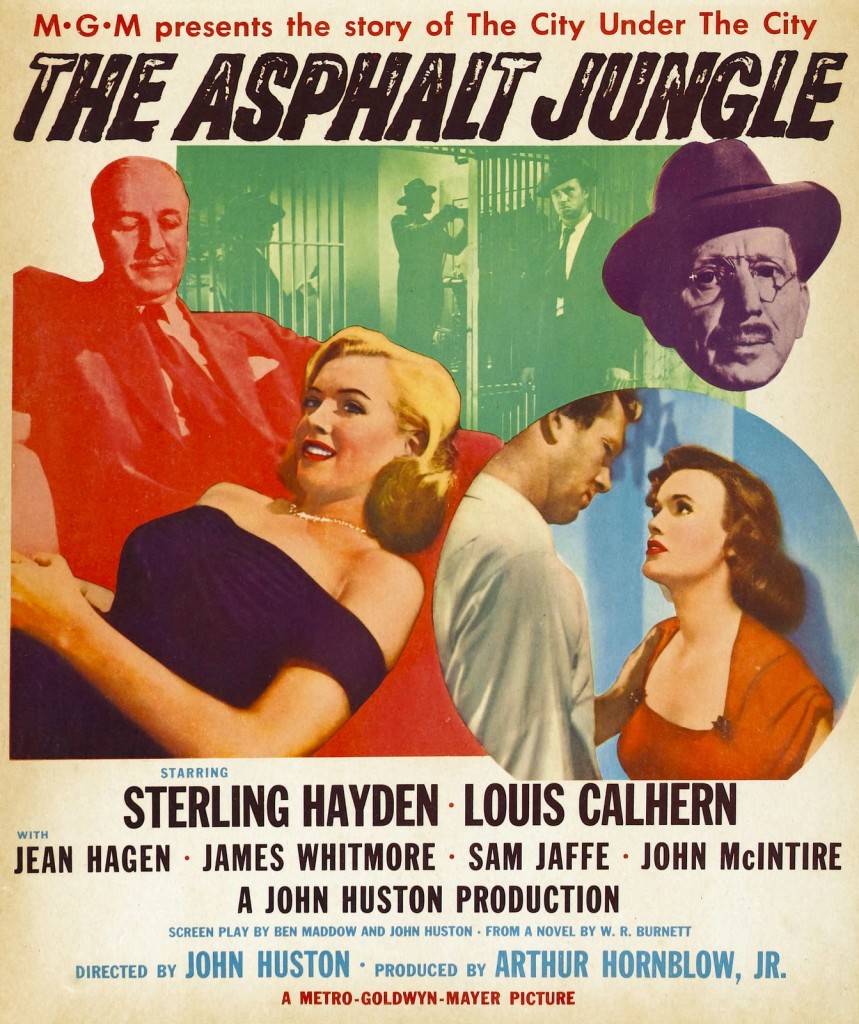 The Asphalt Jungle is a heist film in the noir tradition, directed by a master of film noir, John Huston, and adapted from the novel by a master of crime fiction, W.R. Burnett. 
The plot elements are not unlike what you see in other films of the genre.  A criminal gets out of prison and rounds up a team of crooks.  They plan a big score, knocking off a jewelry store.  The crime is carried off with precision—the break-in, disabling the alarm, evading the electric eye.  Then, something goes wrong.  A watchman interrupts the heist.  A shot is fired, wounding one of the criminals.  The men escape.  One of the criminals double-crosses the others.  Separately, the men try to elude a police manhunt.  Fate finds each of them, one way or another.
Sounds familiar, but that's not to say The Asphalt Jungle is derivative.  Just the opposite.  It's the movie that a thousand other heist films have borrowed from, some directly, some a few generations removed.
The plot is clean and compelling, but the real appeal of the story is the characters.  The thieves are ordinary men, real flesh and blood, not just types.  They're not the kind of bad guys you often see in early gangster films.  You understand where these men come from.  You see the world through their eyes.  They make crime seem like just another line of business.
The stellar cast includes Louis Calhern as  Alonzo D. Emmerich, the lawyer whom the criminals need to finance the operation.  Sam Jaffe is the mastermind just out of prison, Doc Riedenschneider (a name borrowed years later by the Coens).  Doc's picks for the break-in team include tough guy Dix Handley, memorably played by noir favorite Sterling Hayden; the driver Gus Minissi, an early role for James Whitmore; and the safecracker Louie Ciavelli,  portrayed by character actor Anthony Caruso.  Two of the women to watch are Jean Hagen, in one of her best performances, and Marilyn Monroe, in the first of a pair of small roles in 1950 (the other, in All About Eve) that helped launch her career.
---
The Asphalt Jungle
 (1950)
John Huston, director
Trailer
---
The Asphalt Jungle
 (1950)
Sterling Hayden, Jean Hagen
---
Quote of Note
May
:  Oh Lon, when I think of all those awful people you come in contact with—downright criminals—I get scared.
Alonzo
:  Oh, there's nothing so different about them.  After all, crime is only a left-handed form of human endeavor.
—May Emmerich (Dorothy Tree), Alonzo D. Emmerich (Louis Calhern),
The Asphalt Jungle
(1950)
…58…59…60.