Wednesday Minute
No. 84 | April 28, 2010

Deal Me In

Our theme this week
Card games at the movies
Featured this week (theme introduction)
Monday         —   The Cincinnati Kid (1965)
Tuesday         —   Rounders (1998)
The Sting (1973)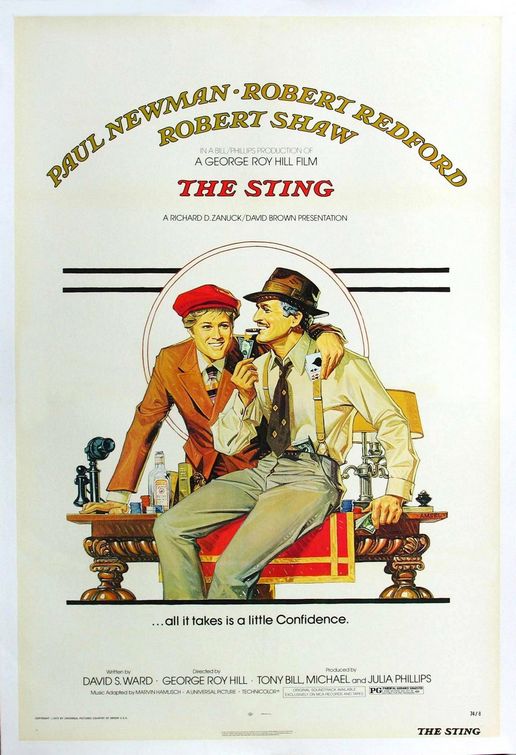 "You can't con an honest man" always has struck me as a suspect piece of wisdom—but the converse is a truism I can agree with.  A crooked man can be conned.  When it happens, it's fun to watch, and that's a good part of the pleasure behind The Sting, a clever and stylish period piece starring Paul Newman and Robert Redford.  It's a Depression-era story made for a Watergate-era audience with the uplifting moral that the good guys are sometimes better cheaters than the bad guys.  (The look of the film is mostly appropriate for its 1936 setting, including Norman Rockwell-like illustrations for the titles.  The music, however, borrows from an earlier time, with a memorable score largely based on the ragtime of Scott Joplin.)
The film is expertly plotted, as con men Henry Gondorff (Newman) and Johnny Hooker (Redford) set up and execute an elaborate sting to swindle crime boss Doyle Lonnegan, played by Robert Shaw.  One small part of the operation is the "hook," a high-stakes poker game on the Chicago train, in which Lonnegan is foiled by his own cheating.
The Sting was a big hit with critics and with audiences—the Best Picture winner of 1973 and #1 film at the box office the following year. 
---
The Sting
George Roy Hill, director
Paul Newman, Robert Redford
---
The Sting

Paul Newman, Robert Shaw
"The Hook"
---
Quote of Note
Beckert
:  I can't help what I do!  I can't help it, I can't.
Criminal
:  The old story!  We never can help it in court!
Beckert
:  What do you know about it?  Who are you anyway?  Who are you?  Criminals?  Are you proud of yourselves?  Proud of breaking safes or cheating at cards?  Things you could just as well keep your fingers off.  You wouldn't need to do all that if you'd learn a proper trade or if you'd work.  If you weren't a bunch of lazy bastards.  But I—I can't help myself!  I have no control over this, this evil thing inside of me, the fire, the voices, the torment!
—Hans Beckert (Peter Lorre),
M
(1931)
…58…59…60.