Friday Minute
No. 71 | April 9, 2010

Play Ball

Our theme this week
Baseball movies
Featured this week (theme introduction)
Monday         —   Documentaries:  The Life and Times of Hank Greenberg (1998)
Tuesday         —   Biopics:  The Pride of the Yankees (1942)
Wednesday    —   Kids at Play:  The Bad News Bears (1976)
Thursday        —   Comedies:  Bull Durham (1988)
Today's feature
Baseball Dramas & Myth
Best in class
Bang the Drum Slowly (1973)
For the real fan
Uh-oh.  Here are the two "great" films about baseball and I'm not even giving them an Honorable Mention?  I expect I may be in the minority on this, at least among fans of the game.  Both films are first-rate productions, with fine performances and other virtues too.  Each aspires to be that mythic tale that tells the great baseball story.  You could say they're swinging for the fences, but perhaps they should have laid off the pitch.  There is no joy in Mudville.  Like Mighty Casey, they have struck out.

The Natural (1984) — Your reaction to the movie may depend on a couple of things:  whether you're a baseball fan, and whether you've read the novel by Bernard Malamud.  If you're a fan, you may find enough to like about the picture that you'll excuse its many faults.  If you've read the book, though, you'll know there's no excuse for what they've done to the story.  A few points (consider this your spoiler warning), and let's start with the end.  Roy Hobbs clobbers a long home run into the night, shattering the stadium lights that explode like fireworks on the Fourth of July.  If you've read the book, you know how wrong that is.  Hobbs is not the hero in the end, he's the goat.  I'm usually sympathetic to filmmakers who change a story when they adapt it for the screen, but there's a limit.  You wouldn't film The Pride of the Yankees with Lou Gehrig conquering his illness to return to the team.  Likewise, you don't end The Natural with a Roy Hobbs home run.  It's fake, it's condescending to the audience, and it shows you don't know a thing about the book you're adapting.  That aside, there is another problem with the home run.  Roy Hobbs is bleeding.  The doctor had told him he's risking his life if he continues to play ball.  So anyone watching thinks that everything is on the line in the final at bat.  What a sacrifice.  That home run is going to kill him.  Except it doesn't.  The next shot, and last of the film, is Hobbs playing ball in a field with his son.  The movie cheats not only Malamud, but also its own logic.  The poor audience is taken for suckers.  It's the single most manipulative and phony scene I can remember in any sports film.  (There's a great sports movie where they did it right, by the way.  See The Wrestler.)  I don't know who is responsible, but I suspect Robert Redford had a part in it.  Redford is an appealing actor in many ways, and his contributions to film, especially independent film, cannot be overstated.  But he has one glaring fault:  his vanity.  His portrayal of Roy Hobbs was of a mythic god; if he had been a mortal man, it would have made a better movie.
Field of Dreams (1989) — The movie had me all the way until Ray Kinsella hears the first voices.  Unfortunately, those voices come about three minutes into the story.  When Ray hears the voices—which keep coming right on schedule, every time the plot needs a twist—I think there may be one of two explanations:  either he misses his father so badly that he's imagining things, or he's just completely bonkers.  Either of those options would be a movie I'd like to see.  Unfortunately, this movie chooses a third option:  the voices are real.  When that became clear, I concluded that either I was bonkers or the movie was, and I opted for the latter.  Yes, I understand fantasy and the need to suspend my disbelief.  I understand treacle too, and the need to watch my blood sugar level.  That said, the performances here are very enjoyable:  Amy Madigan (the kind of wife you want on your side when people think you're bonkers), James Earl Jones (better here than his old ballplayer in The Sandlot; in 1976 he was a not-so-old ballplayer in The Bingo Long Traveling All-Stars & Motor Kings), Burt Lancaster (always a class act), and Kevin Costner (not bonkers after all).  A few other ballplayers were raised from the dead, yet after going to all that trouble, they never quite came to life.
Bang the Drum Slowly
"'Twas once in the saddle I used to go dashing,
'Twas once in the saddle I used to go gay.
First to the dram-house, and then to the card-house,
Got shot in the breast, and I'm dying today."
"Oh, beat the drum slowly and play the fife lowly,
And play the dead march as you carry me along;
Take me to the valley, and lay the sod o'er me,
For I'm a young cowboy and I know I've done wrong."
—"Streets of Laredo (Cowboy's Lament)"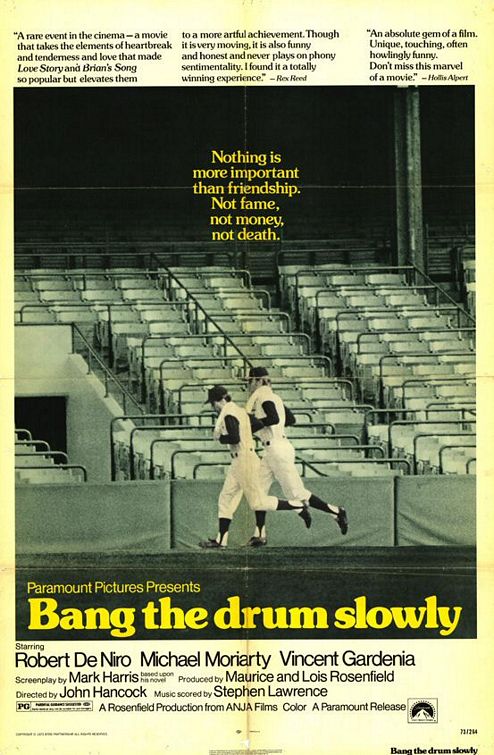 The baseball novel by Mark Harris was adapted for a 1950s television production, starring Paul Newman, then for film, in 1973.  The movie stars Michael Moriarty as Henry Wiggen, star pitcher for the pennant-contending New York Mammoths, and Robert De Niro as the team's catcher, Bruce Pearson, who is neither very bright nor very talented and is dying of Hodgkin's disease.
Bang the Drum Slowly is less a film about baseball than a study of the relationship between two men who happen to be ballplayers.  Wiggen is determined to give his friend a measure of joy during his final months.  They have their poignant moments, some tenderness and humor, nothing melodramatic.  The performances are noteworthy, especially Moriarty and De Niro, who at the time was a virtual unknown (but not for long:  Mean Streets, opening weeks later, changed that).  Vincent Gardenia is memorable as the team's manager.
Bang the Drum Slowly is an unusual film about sports.  It's not about winning or losing, and it's not about how to play the game.  It's hardly action-filled.  You could even say it's slow, taking its cue from the title.  The point, more subtle than preachy, is that what happens on the field is not that important.  The game is not the thing that truly matters.
Extra Innings
One week is not enough to cover all the baseball movies I've seen, not to mention the many I haven't.  If you're looking for more, this list is about as comprehensive as any I've seen.
---
Bang the Drum Slowly

John D. Hancock, director
---
Bang the Drum Slowly

Robert De Niro, Michael Moriarty
---
Bang the Drum Slowly

Vincent Gardenia
---
Quote of Note

"When the Washington Sentinels left the stadium that date, there was no ticker-tape parade, no endorsement deals for sneakers or soda pop, or breakfast cereal.  Just a locker to be cleaned out, and a ride home to catch.  But what they didn't know was that their lives had been changed forever, because they had been part of something great.  And greatness, no matter how brief, stays with a man.  Every athlete dreams of a second chance, these men lived it."
—Jimmy McGinty (Gene Hackman),
The Replacements
(2000)
…58…59…60.