Friday Minute
No. 86 | April 30, 2010

Deal Me In

Our theme this week
Card games at the movies
Featured this week (theme introduction)
Monday         —   The Cincinnati Kid (1965)
Tuesday         —   Rounders (1998)
Wednesday    —   The Sting (1973)
Thursday        —   Born Yesterday (1950)
Casino Royale (2006)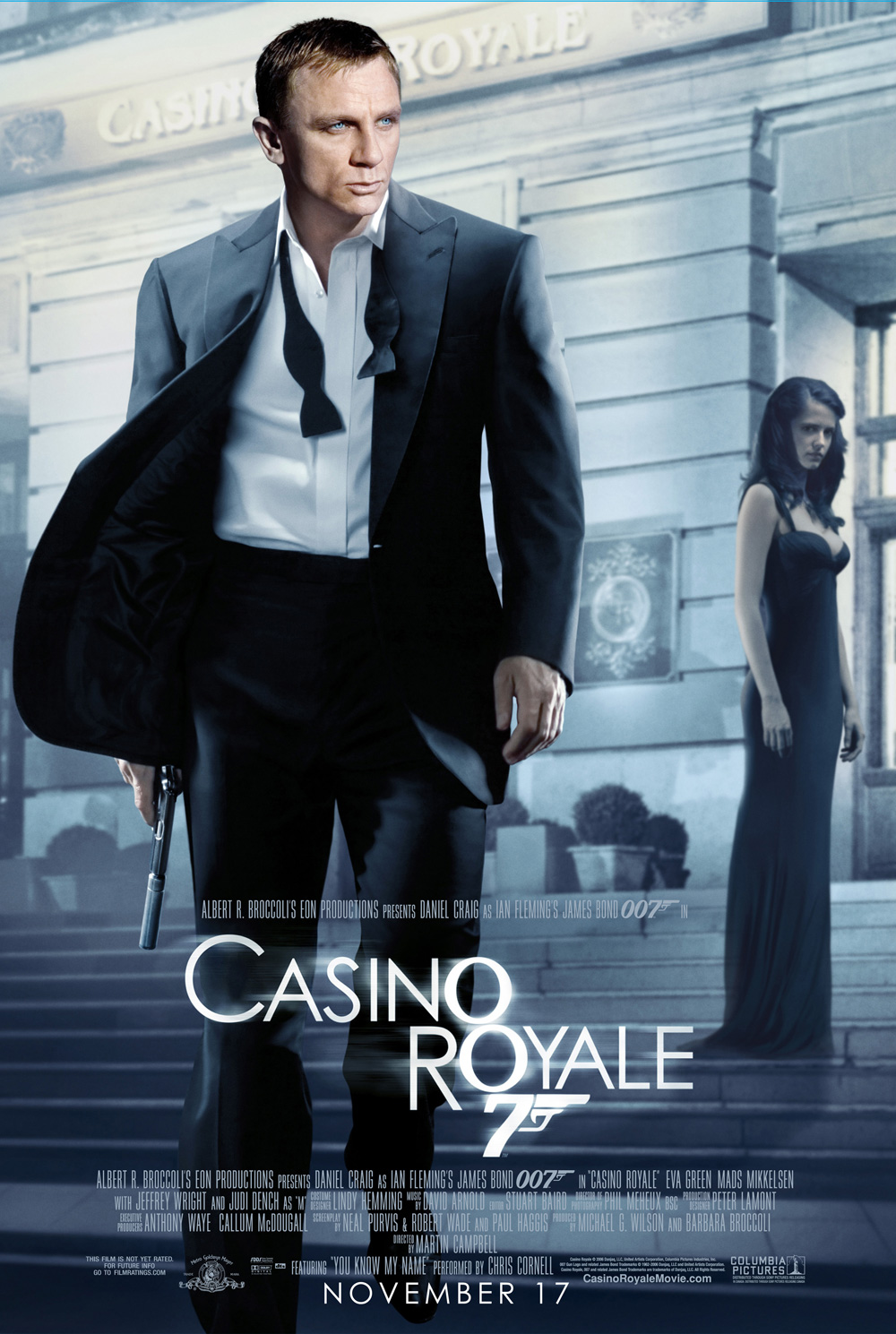 Casino Royale was the first of Ian Fleming's James Bond novels, published in 1953.  The 1967 film spoof doesn't qualify for canon status with Bond-philes (though star David Niven was apparently one of Fleming's favorites to play 007), but the 2006 film makes the official list as Bond 21.  The "franchise reboot" stars Daniel Craig as a darker and tougher incarnation of the MI6 agent, once again at the beginning of his career.
In an update to the novel (and '67 film), Bond's game is not baccarat but Texas hold 'em.  His opponent remains Le Chiffre ("the cipher"), this time a banker (a prescient choice for the villain) who is a supporter of terrorists, a mathematical genius, and a formidable foe at the poker table.  Bond is still earning his license to kill, but his license to gamble with government money (just like a banker himself) is revoked after he blows his $10 million tournament buy-in.  New funding from his CIA man keeps Bond in the game for another shot at a showdown with Le Chiffre.
Casino Royale is the second Bond film for Martin Campbell, who also directed the first of Pierce Brosnan's 007 films, GoldenEye, in 1995.  Both were big hits at the box office.  Daniel Craig reprised his role in Quantum of Solace (2008) and is set to appear in Bond 23, though because of financial problems at MGM, production on the latter has been suspended indefinitely.
---
Casino Royale
Martin Campbell, director
Daniel Craig is James Bond, Mads Mikkelsen is Le Chiffre
---
James Bond, the gambling man
Sean Connery,
George Lazenby,
Roger Moore, Timothy Dalton, Pierce Brosnan, and Daniel Craig
are
James Bond
---
Quote of Note

"Some of the boys are saying that if we ain't gonna fight we could just settle the whole business with a little high-stakes poker.  Wouldn't that be a sight?  A bunch of fellas sitting in the middle of this field drawing cards."
—Sergeant Pepper (Tom Everett),
Dances With Wolves
(1990)
---
Final Friday Five, the monthly mini-quiz
1.  Fill in the blank with the name of a card game to complete the film title.
The ___ (Bette Davis)
___ Grams (Naomi Watts)
The ___ at Remagen (George Segal)
Kind ___ and Coronets (Alec Guinness)
The Milagro Beanfield ___ (Rubén Blades)
2.  Name the actor who appeared in ten films directed by Preston Sturges.
Joel McCrea
Eddie Bracken
William Demarest
Robert Greig
Brian Donlevy
3.  Put the five films co-starring Spencer Tracy and Katharine Hepburn in order of release date.
Desk Set
Adam's Rib
Pat and Mike
State of the Union
Woman of the Year
4.  For the films listed below, match the original with its remake.
Originals
Death Takes a Holiday
The Heiress
Infernal Affairs
I Am a Camera
Wings of Desire
Remakes
Cabaret
City of Angels
The Departed
Meet Joe Black
Washington Square
5.  Fill in the blanks to complete the five film titles (one missing word per title).
Go, ___, Go! (1959; Alan Freed)
Dance, ___, Dance (1940; Maureen O'Hara)
Run, ___, Run (1998; Franka Potente)
Die, ___, Die! (1965; Boris Karloff)
Gone, ___, Gone (2007; Casey Affleck)
…58…59…60.