I don't know when our fascination with movie lists began, but I am pretty sure there will be no end.  There was a proliferation of lists about fifteen years ago, coinciding with the 100th anniversary of the birth of movies, and with the rise of popularity of the internet.  Prior to then, a list may have had 10 movies.  Movie lists today are super-sized.  Anything less than 100 seems rather meager, and lists of 1,000 are not uncommon.  I've seen some lists approaching 10,000.  That's a rather big menu if you're just looking for a movie to watch on Saturday night.
The value of movie lists is questionable.  Movies are not made to be judged and ranked; they are made to be watched and experienced.  When watching a movie, it's best not to give a damn what anyone else thinks.  Experience the film for yourself (and that experience changes from one viewing to the next).  It's immaterial whether a movie is on a list or not.  Movie lists are really beside the point, and that's a point that seems to get lost sometimes with our obsession about lists.
Yet lists can be useful.  How do you know what movies are worth seeing?  There are many thousands of choices out there, and word-of-mouth only goes so far.  It's worth having an established canon of films that movie-literate people can agree are (for lack of a better word) "essential," i.e., films that rise above the rest in terms of artistic merit, and are important in knowing for understanding the art of movies.
No list is definitive.  Lists are judgment calls made by people.  Different lists have different movies, reflecting the different tastes of the people that made them.
There are lots of lists out there, and during the month ahead I plan to take a look a some of them.  For starters, here are a couple of lists of top movies that could not be more different.
TSPDT's 1,000 Greatest Films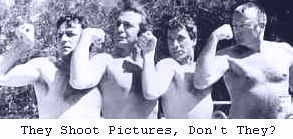 They Shoot Pictures, Don't They? is an internet site launched in 2002 that's designed primarily to highlight the work of top directors.  The TSPDT list of 1,000 Greatest Films is really a list of lists, a compilation of opinion from a wide range of critics, filmmakers, and other leading voices.  It's about as close as you'll get to the consensus judgment of elite thinking about movies.  (Don't be fooled by the picture above.)
Here's a look at the top 10 movies currently on the TSPDT list:
1.  Citizen Kane (1941);  Orson Welles; U.S.
2.  Vertigo (1958); Alfred Hitchcock; U.S.
3.  The Rules of the Game (1939); France
4.  2001:  A Space Odyssey (1968); Stanley Kubrick; U.K.
5.  8½ (1963); Federico Fellini; Italy
6.  The Godfather (1972); Francis Ford Coppola; U.S.
7.  The Searchers (1956); John Ford; U.S.
8.  Seven Samurai (1954); Akira Kurosawa; Japan
9.  Singin' in the Rain (1952); Stanley Donen, Gene Kelly; U.S.
10.  Battleship Potemkin (1925); Sergei Eisenstein; Russia
 IMDb 250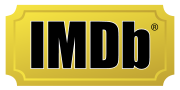 The IMDb launched in 1990, and it's been the site for movie information for as long as I've been on the internet.  Registered users at the site can rate movies on a scale of 1 to 10.  The weighted ratings are used to rank movies from top to bottom.  The key point:  it's "democratic"—the voting is open to everybody.  The top film has about half a million votes.
Here's a look at the top 10 movies currently on the IMDb 250 list:
1.  The Shawshank Redemption (1994);  Frank Darabont; U.S.
2.  The Godfather (1972); Francis Ford Coppola; U.S.
3.  The Godfather Part II (1974); Francis Ford Coppola; U.S.
4.  The Good, The Bad and the Ugly (1966); Sergio Leone; Italy
5.  Pulp Fiction (1994); Quentin Tarantino; U.S.
6.  Schindler's List (1993); Steven Spielberg; U.S.
7.  12 Angry Men (1957); Sidney Lumet; U.S.
8.  One Flew Over the Cuckoo's Nest (1975); Milos Forman; U.S.
9.  Star Wars:  Episode V—The Empire Strikes Back (1980); Irvin Kershner; U.S.
10.  The Dark Knight (2008); Christopher Nolan; U.S.
Wow.  At least everybody likes The Godfather.  No other movie, though, made each of the top 10's. 
The big difference is generational.  On the IMDb list, movies since 1990 place 4 times in the top 10, and 15 times in the top 30.  On the TSPDT list, the top movie made since 1990 is GoodFellas—placing at #96!  I find each of those points remarkable. 
Are we so blessed that half of the greatest movies made in the 115-year history of movies were made in the past 20 years?  I don't think so.
Has it been so bad lately that just one of best 100+ movies of all time was made since 1990?  Not the case either.
The bottom line is that the movies closest to our time are the hardest to judge.  It does take the passage of time before any real assessment can be made on the lasting value on any movie.  In the case of the TSPDT list, the critics and filmmakers are much too conservative about recent films.  In the case of the IMDb list, people are way too easy on the new stuff.
Overall, I still give the TSPDT list high marks.  The list is as close to an unofficial canon of films you're likely to find anywhere.
The IMDb list, on the other hand, has some big problems.  The Shawshank Redemption is a fine film, one that I like, but with some flaws, and it is simply not the greatest movie of all time.  That's not even debatable.  Putting it at the top of the list is not an honor to the film.  It is an advertisement to anyone reading the list that says "do not take these rankings seriously."  I'd guess there is a strong demographic bias to the IMDb list (as with any list, but it much more noticeable here).  Also, a lack of critical thinking, and a bad case of cultural amnesia.  It seems either younger people don't like to watch older movies, or don't know how to appreciate them.  Either way, that's too bad.