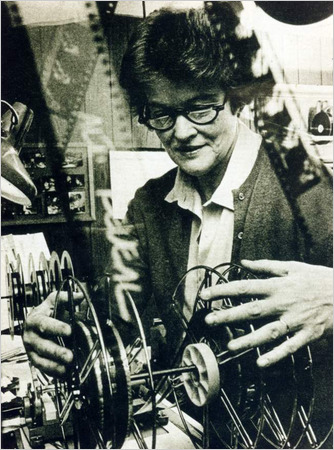 Dede Allen, one of the top editors in the history of film, died Saturday.  She was 86.  You can read her obituary here.  (More at IMDb, Wikipedia)
Here are a few of her film credits:
The Hustler (1961; d. Robert Rossen)
Bonnie & Clyde (1967; d. Arthur Penn)
Little Big Man (1970; d. Arthur Penn)
Serpico (1973; d. Sidney Lumet)
Dog Day Afternoon (1975; d. Sidney Lumet) *
Reds (1981; d. Warren Beatty) *
The Breakfast Club (1985; d. John Hughes)
The Addams Family (1991; d. Barry Sonnenfeld)
Wonder Boys (2000; d. Curtis Hanson) *
* Academy Award nomination.
Film editing is a fascinating but largely unsung part of the filmmaking process.  If you want a great inside look at what editing is all about, I'd recommend The Conversations: Walter Murch and the Art of Editing Film, from novelist Michael Ondaatje.  Murch is one of the great editors himself.  He and Ondaatje discuss Allen along with other women editors:
Murch:  In fact, many of the editors of early films—back in the silent days—were women.  It was a woman's craft, seen as something like sewing.  You knitted the pieces of film together.  And editing has aspects of being a librarian, which used to be perceived as a woman's job.

Ondaatje:  And the man is the hunter-gatherer, coming back with stuff for her to cook!

Murch:  The men could bring it home, but they didn't know what to do with it.  But there was a big shift when sound come along in 1927.  Sound was somehow a "man" thing—it was electric.  It was complicated in a different way, an engineering way.  A lot of men started coming into editing at that point, and women left.

But if you made a list of the ten best editors ever, Ann Coates and Dede Allen would be in there.  They've been an inspiration to a whole generation.  Dede got her start in New York.  I never ran into her there, because I had moved out here to the West Coast, but Richie Marks, Barry Malkin, Steve Butler, and many other New York editors my age grew up under her guidance.
A couple of other women that Murch cites among the top editors:  Margaret Booth and Thelma Schoonmaker.