Yes, I'm still here.  Actually, I haven't gone anywhere, though activity on the MADness—the Blog side has been quiet lately.  For a while, my routine had been a few blog posts a week (in addition to Movie Minute posts every weekday on the front page), but then nothing.  Somehow, nearly a month has slipped by.  What happened?  I got busy.  Demands on my time seem to be growing by the week, so I'll be dropping in to say something whenever I can, but the schedule may be sporadic for a while.  I'll aim to keep the weekday Movie Minutes coming as usual, though I may need to revert to "summer hours" at some point.
So what's been going on?  Some old news, perhaps, but a few items worth noting:
Remembrances of Dennis Hopper (1936-2010)
F.X. Feeney in the L.A. Weekly:
At its depths, behind the camera or in front of it, Hopper's legacy as a filmmaker is defined by a multitude of excellent performances, each alive with the iconic honesty Dean had pressed him to seek in himself. His particular genius as an artist was that he made himself at home within his own contradictions — and was perpetually eager to invite the rest of the world to join him there, laughing at the darkness.
How many odd turns can one man's life and career take? There's probably no limit, but Dennis Hopper, who died at 74 after a long battle with cancer, took a lot of them: From young actor of film and TV in the 1950s to counterculture icon of the 1960s and '70s (while adding director to his resume and still working with the likes of John Wayne); from nearly unemployable because of drugs to a career comeback in the mid-1980s before frequent returns to TV. On the side, he managed to find time to be a prolific photographer, painter and sculptor. His later years also brought the strangest twist for the hippie hero: he became a Republican. Still, it's his film and TV work that will be his legacy.
I have a couple of recollections of Hopper, aside from his film work.  One, hearing him talk about working with James Dean, in Rebel Without a Cause and Giant.  He was in awe of Dean, and learned a lot from him.  Mostly, though, I remember Hopper's fascination with acting.  It was just great to listen to him.  Two, seeing him work, which I had the chance to do on a film called Boiling Point, from 1993.  (If you look real hard, you can see my shoe in one of the scenes, my moment of glory on the big screen.)  Hopper and Wesley Snipes were the co-stars, but Hopper was the guy I wanted to watch.  He seemed to be an accessible, decent guy behind the scenes, and he gave a very good performance too.  I'll remember Hopper for his films, more than anything, and particularly these:  Easy Rider, Apocalypse Now, Blue Velvet, and Red Rock West.
Cannes
Apichatpong Weerasethakul won the Palme d'Or for Uncle Boonmee Who Can Recall His Past Lives, the first Thai film to win the top prize.
Recaps and perspectives worth reading:  Roger Ebert on the not-so-hot festival.  Manohla Dargis on the end of film.
The Gulf Oil Tragedy
James Cameron offers to help.  BP says no, thanks.  (I saw an interview with Cameron on TV.  He actually has expertise and access to equipment for deep-sea dives that might be helpful, to the government perhaps if not to BP.)
Program note:  a week of oil at the movies, starting Monday, on the front page.
Movie to See
There'll be plenty of others this summer, but here's one that's got my curiosity:  Double Take.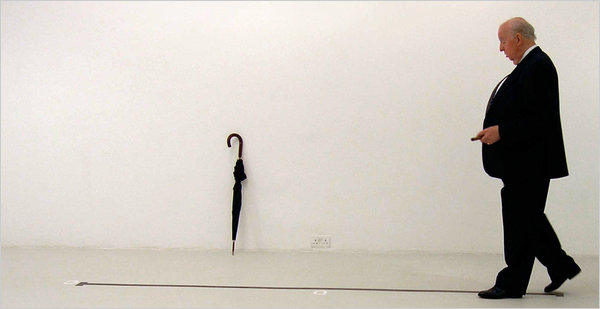 Now playing at New York's Film Forum.  (Only 2,407 miles from here, says Moviefone, but maybe not this weekend for me.)
MAD About Movies Site News
It's been a while since the last crossword, but another is on its way, soon as I get a chance to clue it.  That probably will not happen this week, unless I surprise myself.  The calendar is a tyrant.
A sincere thanks to those of you who have found the site and stop by to read about movies.  I started in January, not sure what to expect, and (except for a few time crunches along the way) I'm enjoying it.  Traffic is steadily growing every month.  May numbers were about 50% above April, so it's good to know somebody (that's you!) is out there.