The Book Club
The Film Club
By David Gilmour
I opened things up with a brief introduction to Hitchcock, Jesse as always on the left side of the couch, a coffee in his hand.  I said that Hitchcock was an English director, a bit of a prick with a mildly unhealthy thing for some of the blond actresses in his films.  (I wanted to capture his attention.)  I went on to say that he made a half-dozen masterpieces, adding, unnecessarily, that anyone who didn't agree with that probably didn't love movies.  I asked him to look for a couple of things in the film.  The staircase inside the villain's house in Rio de Janeiro.  How long was it?  How long would it take to go down it?  I didn't tell him why.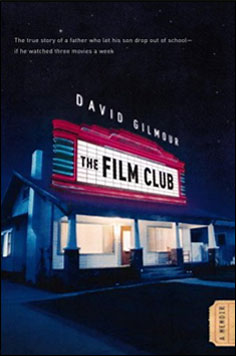 That's David Gilmour with his fifteen-year-old son, Jesse, sitting down to watch Hitchcock's 1946 classic, Notorious, in one of the more memorable, and pleasurable, books I've read in recent years. 
The Film Club tells the story of an unusual arrangement between the two Gilmours.  Jesse is flunking high school and nothing the father or his ex-wife can do offers any help.  David sees the pain and damage that his son is suffering, and he fears losing him for good.  The father proposes a solution, one not likely to be high on the list of recommendations to parents of troubled teens.  Jesse can drop out of school if he wants to, with no need to find a job or pay rent, under one condition:  the father and son will sit down three times every week and watch a movie.
The father and son are the sole members of "the film club" of the title, and the book follows their relationship over the three years of the film club's weekly lessons.  The movies are a radical departure from Jesse's education at school.  He's learning not just about movies, of course, but about life, often with films selected by the father that relate directly to the son's concerns.
David Gilmour is hardly cavalier with his experiment, and he worries, in fact, that it may do more hard than good.  He clearly has a deep affection for his son, who goes through many trials during those difficult years when a boy learns to become a man.  One day he's involved with a girl, the next day he's not.  So it is with jobs, and assorted troubles.  His anchor, the film club and a movie with his father.
A novelist, David Gilmour has an observant eye and a keen talent for introspection, making the story a pleasure to read.  The book is filled with sweetness and wisdom, and no easy answers.
Gilmour for many years was a film critic on Canadian television.  He knows his movies, and he's got plenty to say about them.  You may wish you were there for the many meetings of the film club, but it's a treat nonetheless to drop in on the conversations about film he has with his son.
Like this one following Notorious:
     Jesse looked over at me a few times, smiling, nodding, getting it.  We went onto the porch after; he wanted a cigarette.  We watched the construction crew for a while.
     "So, what do you think?" I asked in an offhand voice.
     "Good."  Puff, puff.  Hammer, hammer across the street.
     "Did you happen to notice the stairway in the house?"
     "Yeah."
     "Did you notice it at the end of the movie?  When Cary Grant and Bergman are trying to leave the house and we don't know if they're going to get away or not?"
     He looked caught out.  "No, I didn't."
     "They're longer," I said.  "Hitchcock built a second set of stairs for that final scene.  You know why he did that?"
     "Why?"
     "Because that way it would take longer to get down them.  Do you know why he wanted to do that?"
     "To make it more suspenseful?"
     "Can you guess now what Hitchcock is famous for?"
     "Suspense?"
     I knew enough to stop right there.  I thought, You taught him something today.  Don't kill it.  I said, "That's all for now; school's out."